Microscopy & Imaging Shared Resource
Contact Information
Director: Michael Johnson, PhD
(202) 687-0217
johnsom@georgetown.edu
Research Building W416
Multi-photon imaging and fluctuation microscopy: Suman Ranjit, PhD
Suman.Ranjit@georgetown.edu
Basic Science building 235B
Cytogenetics: Jan Blancato, PhD
(202) 444-1536
blancatj@georgetown.edu
LL184 Lombardi Building
Manager: Peter Johnson
(202) 687-1916 or 7-4296
pj42@georgetown.edu
Research Building W408
Address
Research Building Suite W407,
Preclinical Science LC-2
Georgetown University
3970 Reservoir Rd NW
Washington, DC 20057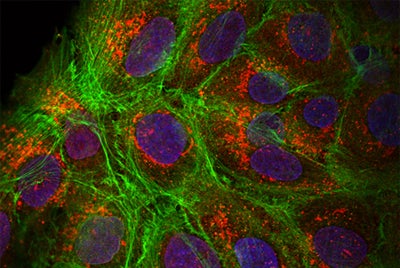 Overview
The Microscopy & Imaging Shared Resource (MISR) provides instrumentation and expertise for light microscopy. Users incorporate a variety of imaging techniques into their studies including total internal reflection microscopy (TIRF), laser scanning and spinning disk confocal, and automated image acquisition for screening of multiwell samples. Applications include fluorescence resonance energy transmission (FRET), fluorescence lifetime intensity microscopy (FLIM) for FRET measurements, fluorescence recovery after photobleaching (FRAP), and other live imaging applications; multispectral emission imaging, and epifluorescence and brightfield time-lapse microscopy, microinjection, immuno-light microscopy and image analysis to study tumor cell biology.
For specific inquiries:
Acknowledgements
In all publications that include data derived or methods used from the Microscopy & Imaging Shared Resource, please acknowledge our resource. The Microscopy & Imaging Shared Resource is partially supported by NIH/NCI grant P30-CA051008.
MISR Intranet
Microscopy & Imaging Shared Resource is on LombardiNet where you can access the MISR intranet site for more information including descriptions of the equipment available, reagents, protocols and much more. A Georgetown University NetID and password are required.