Georgetown Lombardi Communications
About Us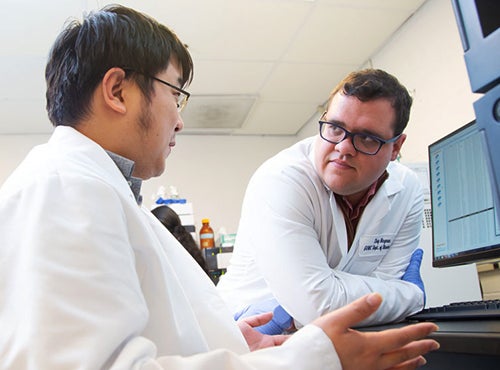 Internal and external communications at Georgetown Lombardi Comprehensive Cancer Center are supported by the Office of Communications at Georgetown University Medical Center. Please contact us to find an expert or for more information regarding Georgetown Lombardi.
Because Georgetown University is a private institution, we respect our students' rights to privacy. We also recognize that the media have tight deadlines, and we make an effort to respond to requests in a timely manner. Journalists interested in arranging interviews and/or attending events at the medical center must contact our media relations representative before arriving on campus.
Brand Standards
Find our basic brand standards here. For more information about Georgetown Lombardi branding, please contact the Lombardi Communications Team.
---
External Communications
Visiting Georgetown Lombardi
On-Campus Visits: News reporters and camera crews must schedule all visits to university grounds with the media relations team. Video, photographic images or audio of students must not be captured without written consent from the individuals being recorded.
Attending Events: Events at Georgetown University Medical Center are mainly for the benefit of students, faculty, staff and invited guests. Media who wish to cover an event should contact the media relations team to determine logistics. Due to space limitations, not all events are able to be video-recorded.
Communications, Media Requests Contact:
Karen Teber
Senior Director, Strategic Communications
Email
---
Internal Communications
Online Newsletters, Websites & Social Media
Submit Information for Lombardi This Week E-Newsletter / Website Updates and Corrections:
Email
Internal Communications Contact:
Karen Teber
Senior Director, Strategic Communications
Email
---
General Inquiries
Georgetown University Medical Center Office of Communications (202) 687-5100
For information regarding MedStar Georgetown University Hospital, please contact the hospital's media office.
For information regarding the Georgetown University (non-medical center), please contact the university's press office.