Community Engagement
Georgetown Lombardi is dedicated to serving the residents of the Washington, DC, and Bergen County, New Jersey, areas.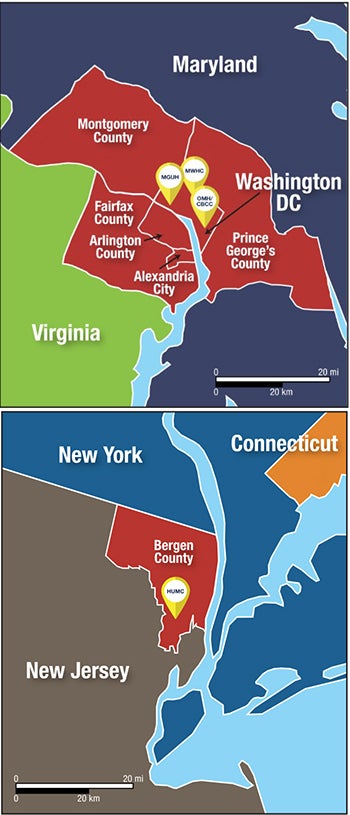 Georgetown University's Lombardi Comprehensive Cancer Center is a resource for the community on many levels.
Locally, as we serve residents of Washington, D.C., and Bergen County, New Jersey.
Regionally, as we are the only Comprehensive Cancer Center in the greater D.C. metropolitan area.
Nationally and internationally, as we advance our mission with research and education collaborations globally.
Georgetown Lombardi is dedicated to serving the Washington, D.C., area and Bergen County, New Jersey, through our research relationship with John Theurer Cancer Center. These areas have some of the highest cancer incidence and death rates in the country. Faculty at Georgetown Lombardi along with colleagues across Georgetown University, at MedStar Health (our clinical partner) and at John Theurer Cancer Center are working on new ways to address the underlying causes of these health disparities so that strategies to mitigate these disparities can be launched and refined.
Our efforts focus on:
Identifying and assessing the cancer burden and risk factors within our catchment area (the D.C. metro area and Bergen County area pictured).
Fostering research that addresses the cancer burden in our catchment area with special emphasis on community-based research on vulnerable and underserved populations.
Enhancing and strengthening community-based partnerships and programs to deliver evidence-based cancer education and resources with impact within and beyond the area we serve.
National Capital Area Minority/Underserved NCORP

The National Capital Area (NCA) Minority/Underserved (MU) National Cancer Institute Community Oncology Research Program (NCORP) is based at Georgetown Lombardi Comprehensive Cancer Center and comprises Medstar Georgetown University Hospital and MedStar Washington Hospital Center.
As one of only 14 sites across the U.S., the NCA MU NCORP joins a nationwide network that aims to bring cancer clinical trials and cancer care delivery studies to people living in underserved areas in the Washington area.
Minority Health & Health Disparities Research
The Office of Minority Health & Health Disparities Research actively engages in research focused on reducing cancer disparities among the underserved and ethnic minority populations in the District of Columbia including African-Americans, Latinos, and Asian Americans.
Learn More about this Work
Capital Breast Care Center
Capital Breast Care Center (CBCC) provides navigation and access to culturally sensitive breast cancer screening services, and health and wellness education guided by evidence-based practices to all women in the Washington, D.C., metropolitan area, regardless of their ability to pay.
More about CBCC