Patient Care
Access state-of-the-art cancer care at Georgetown Lombardi, the only National Cancer Institute-designated comprehensive cancer center in the Washington, D.C., area.
Georgetown University's Lombardi Comprehensive Cancer Center is a modern, patient-focused facility situated on the Georgetown University and MedStar Georgetown University Hospital campuses. It offers patients access to the latest diagnostic technologies to diagnose, stage and monitor cancers, including high-resolution spiral CT, MRI and PET scans, along with state-of-the-art pathology services. The array of treatment options include chemotherapy, hormone therapy, monoclonal antibody therapy, radiation therapy including proton therapy and cutting-edge clinical trials. We also provide comprehensive education and support services — integral components of patient care.
Arts & Humanities Program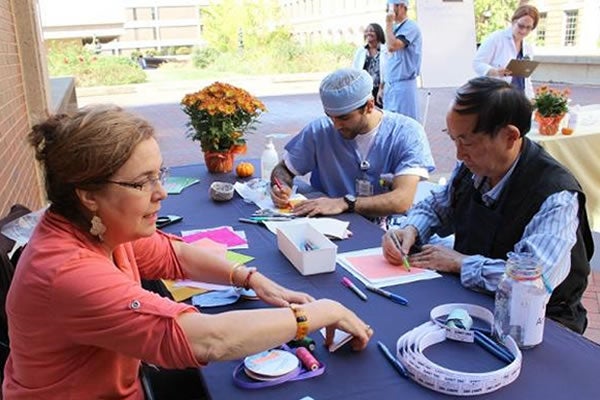 The Georgetown Lombardi Arts & Humanities Program promotes cura personalis, or care of the whole person, for MedStar Georgetown University Hospital patients, family members, caregivers, medical staff and visitors through its programs of music, expressive writing, dance and visual arts. These therapeutic art modalities encourage a creative and constructive response to illness.
Georgetown University's Lombardi Comprehensive Cancer Center and MedStar Georgetown University Hospital have received many awards, including:
Breast Health "Center of Excellence"

The breast imaging center at MedStar Georgetown University Hospital has been named a Breast Imaging Center of Excellence by the American College of Radiology (ACR), making it the only breast imaging center in the Washington, DC, area to receive the designation. The Center of Excellence designation indicates that breast imaging at the Betty Lou Ourisman Breast Health Center has the mandatory accreditation and has voluntarily participated in a rigorous review process to ensure it has met and exceeded nationally accepted patient care standards. This Center of Excellence status has been granted to only 2% of certified breast imaging centers in the United States. Learn more about breast health at MedStar Georgetown University Hospital.
National Cancer Institute-Designated "Comprehensive Cancer Center"
Georgetown University's Lombardi Comprehensive Cancer Center is the only Comprehensive Cancer Center in the Washington, DC, area as designated by the National Cancer Institute. To receive this designation, a cancer center must meet strict criteria that includes:
A strong core of basic laboratory research in several fields.
The ability to translate those research findings into therapies that can one day be used to treat patients.
A program of high-priority clinical trials.
A commitment to community service and outreach activities related to cancer prevention and control.
Nursing Magnet Hospital

MedStar Georgetown University Hospital is the first and only hospital in Washington, DC, to attain Magnet Recognition by the American Nurses Credentialing Center (ANCC). This prestigious award recognizes hospital-based nursing teams that meet the nation's highest standards. Magnet Recognition places our nursing team among the top 6 percent in the nation. In short, it is a seal of approval for quality nursing care and an environment that is supportive of their nurses. Learn more about MedStar Georgetown Nursing.
"Top Doctors"
Washingtonian magazine sent questionnaires to 6,500 area (Baltimore-Washington) physicians asking them which doctors they would send members of their families to in 34 medical specialties. The "Top Doctors" selections in some respects constitute an all-star list. We are very pleased that many Georgetown physicians are frequently listed among the "Top Doctors" year after year.