About Our Catchment Area
Georgetown Lombardi's catchment area (service area) is defined by where at least 80% of our patients reside.
This highly diverse area has two components in the District of Columbia and New Jersey. Overall, our catchment area contains a large minority population, with 23% identifying as Hispanic/Latino and a quarter as Black or African American.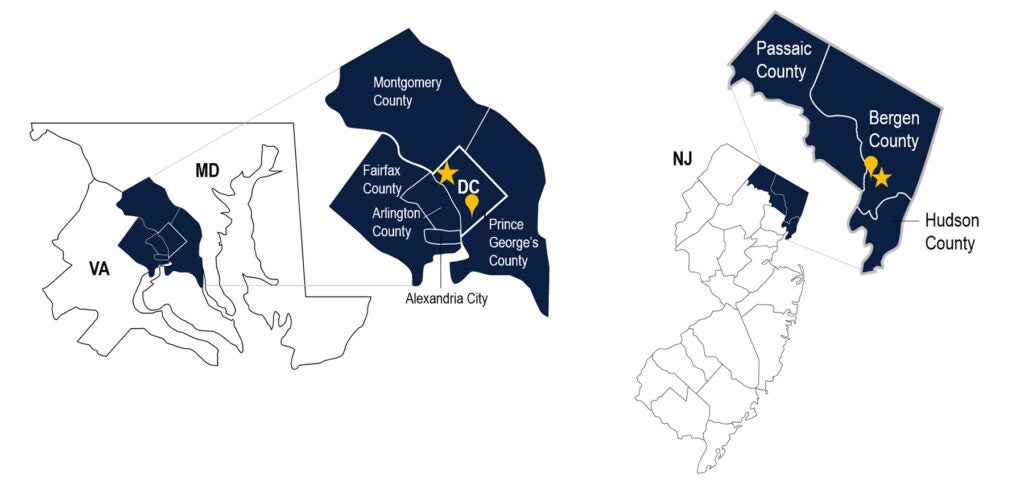 About the D.C. catchment area:
Includes Washington, D.C., and the adjacent counties of Montgomery and Prince George's County, Maryland; Fairfax and Arlington Counties, Virginia; and Alexandria City, Virginia
Population: 4.3 million people
Racial/Ethnic Composition: 31% Black, 17% Hispanic/Latino, 12% Asian, 51% White
About the New Jersey catchment area:
Includes Bergen County and the surrounding counties of Passaic and Hudson in northern New Jersey
Population: 2.1 million
Racial/Ethnic Composition: 33% Hispanic/Latino, 15% Asian, 12% Black, 70% White
Cancer Burden and Mortality
The Georgetown Lombardi catchment area has lower overall cancer incidence and mortality compared to the U.S. average:
Incidence (per 100,000): 406 (439 U.S.)
Mortality (per 100,000): 129 (146 U.S.)
However, when broken down by cancer type, this trend does not hold:
Incidence of female breast, prostate, uterine and pancreatic cancers are higher in the catchment area compared to the U.S. overall. 
Seven of the top 10 cancers in the catchment area (breast, prostate, colorectal, pancreatic, uterine, liver and ovarian) have higher mortality rates than the U.S. average.
Our Work Within Our Catchment Area
Georgetown Lombardi works to address the distinctive cancer burdens of those who live in its catchment area.
Community outreach and engagement efforts:
Reduce cancer burdens in underserved racially and ethnically diverse populations
Actively engage Georgetown Lombardi's clinical partners to reduce disparities in access to screening, prevention, clinical trials and clinical care
Interface between catchment area needs and the work being done by Georgetown Lombardi researchers