Clinical Departments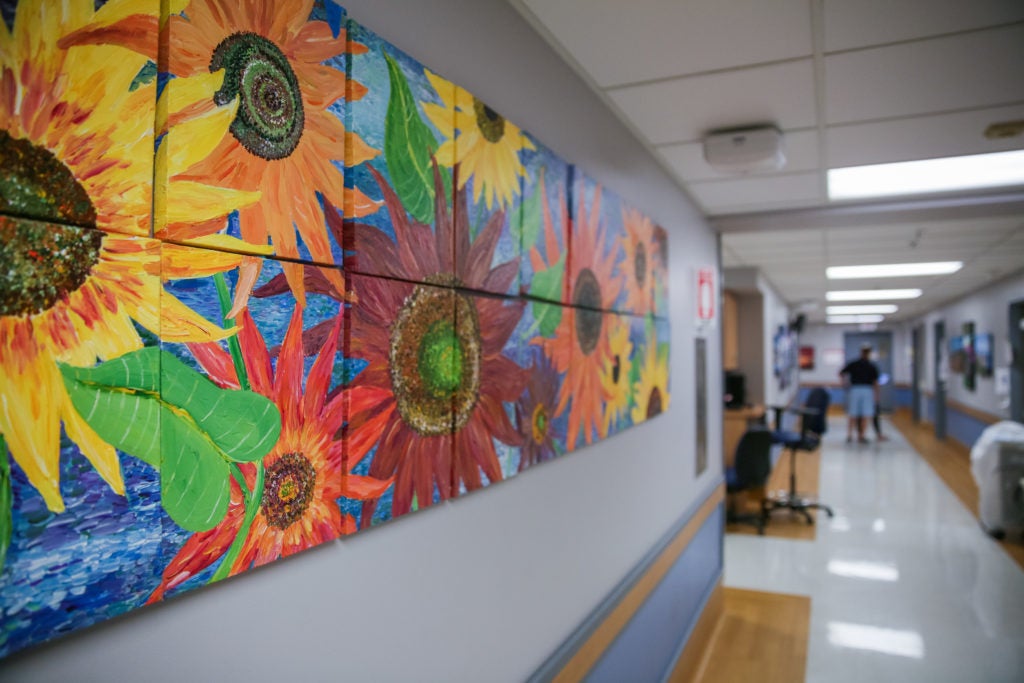 Georgetown Lombardi is Washington's only National Cancer Institute-designated Comprehensive Cancer Center. Our mission is centered on research — in the laboratory, in the clinic and with the populations we serve.
We are fortunate to partner with the region's largest not-for-profit health care system, MedStar Health, for delivery of care.
Use the links below to read more about our clinical departments.
Adult Hematology/Oncology Clinic
Physicians of the Division of Hematology and Oncology are dedicated to the medical treatment and care of adults with cancer. Our physicians may specialize in Oncology, Hematology or both. Many are involved in translational research, meaning they conduct research studies, enabling many new treatments to be brought to you as soon as they are approved for use. Several of our physicians also teach in our medical school. We believe this combination of research, education and clinical treatment helps ensure that care provided you is on the cutting edge.
The Division of Hematology and Oncology offers appointments Monday through Friday from 8:30 a.m. to 5:00 p.m. Contact our appointment line at 202-444-2223 for the availability of your specific doctor and the type of service you require. Each physician may not be available on all days.
Learn more about the Hematology Program at Georgetown Lombardi.
Betty Lou Ourisman Breast Health Center
The expertise and range of services offered at this comprehensive facility are unrivalled in the Washington, DC, area. Dedicated in the fall of 1998, the Betty Lou Ourisman Breast Health Center at MedStar Georgetown University Hospital is a one-of-a-kind clinic designed to provide the most professional breast health care possible by coordinating services across specialties to maximize efficiency and produce optimal outcomes.
Interdisciplinary breast professionals, working within steps of each other, offer seamless, confident, accurate and efficient management of breast care. In one visit, you may be seen by a doctor or a nurse practitioner who specializes exclusively in breast health, by a radiologist who dedicates their practice to interpreting only mammograms, or by a surgeon who exclusively practices breast surgery. You may have a consultation with a risk assessment group, led by one of the world's leading experts in breast cancer risk assessment.
Betty Lou Ourisman Breast Health Center (link goes to MedStar Health website)
Phone: 202-444-3315
Lucy Maria De La Cruz, MD, Director
Blood and Bone Marrow Transplantation
The bone marrow transplantation program (link goes to MedStar Health website) at Georgetown University's Lombardi Comprehensive Cancer Center is committed to both clinical and laboratory research.
The clinical realm involves allogeneic transplantation using matched related donors, unrelated donors and cord blood transplantations. One particularly active area of research is in high-risk breast cancer patients. We have been evaluating the use of immune therapy following high dose chemotherapy and stem cell infusions since 1994.
In the laboratory, the researchers and physicians are evaluating ways to stimulate a patient's immune system after transplantation using the patient's own cells. This type of therapy has extended to treatment of breast cancer and hematologic malignancies, including the lymphomas. We are also working in collaboration with other institutions evaluating new therapies for multiple myeloma.
Bone Marrow Transplant Clinic Phone: (202) 444-5527
Clinical Coagulation Laboratory
Besides its reputation for excellence in oncology, Georgetown University's Lombardi Comprehensive Cancer Center is also renowned in hematology. Under the direction of Craig M. Kessler, MD, Georgetown Lombardi's Center for Thrombotic and Bleeding Disorders and the federally funded Comprehensive Hemophilia Care Center are among the most respected treatment and research programs in the country. In addition, the Division of Hematology is recognized for its high quality of patient care and research in other hematologic diseases.
The Clinical Coagulation Laboratory provides consultations and diagnostic studies related to the problems of hemorrhage and thrombosis. In addition to regular studies, the laboratory is capable of assaying for all coagulation factors, factor inhibitors, platelet function tests and antithrombin III. The focus of recently introduced tests is on laboratory evaluation of hypercoagulability (thrombophilia). Close coordination between laboratory personnel and the director permits clinicopathological correlation.
Hours: Monday – Friday, 8:30 a.m. – 5:00 p.m.
Phone: (202) 444-6691
Contact: Craig M. Kessler, MD
Genetic Counseling
Some families have a hereditary predisposition that increases the chance to develop cancer. Genetic testing for cancer risk is complex and rapidly evolving. Genetic counseling before and after testing is more important than ever. Partnering with a certified genetic counselor to learn about risks and options can be empowering for patients. It can help them and their families be proactive about managing their cancer risks.
Georgetown University's Lombardi Comprehensive Cancer Center has the region's longest running genetic counseling program. View more information about this program (link goes to MedStar Health website).
Call for more information or to schedule an appointment with a genetic counselor: (202) 444-0023
Gynecologic Oncology
Georgetown University's Lombardi Comprehensive Cancer Center provides comprehensive, multidisciplinary treatment for women with gynecologic malignancies (including ovarian, cervical and endometrial). Services include evaluation and treatment of precancerous and cancerous conditions of the cervix, uterus, ovaries, and vulva. Treatment modalities can include surgery, chemotherapy, or radiation; all administered under the direction of an experienced, board certified gynecologic oncologist.
Current information about gynecologic cancers (ovarian, cervical, endometrial, and more), incidence and survival statistics, treatment options, causes and prevention, coping strategies, clinical trials, and research, are available online from the National Cancer Institute at the National Institutes of Health.
Phone: (202) 360-8613
Infusion Center
Chemotherapy and blood component therapy are administered in MedStar Georgetown University Hospital's dedicated oncology infusion center, which has 14 infusion chairs and a six-bed day hospital. The infusion center also is equipped with a laboratory to facilitate pharmacokinetics studies that require repeated blood sampling.
Patient Appointments: Please call Monday – Friday, 8:30 a.m. to 5:00 p.m.
Phone: (202) 444-4399
Contact: Robert Warren, MD
Palliative Care & Pain Management
The goal of the Palliative Care & Pain Management Program at Georgetown University's Lombardi Comprehensive Cancer Center is to help patients achieve the highest-possible quality of life throughout every stage of illness. The palliative care team applies a wide variety of clinical techniques to address medical, emotional and social needs important to patients and their families.
Pediatric Hematology/Oncology
Pediatric Hematology/Oncology at Georgetown University's Lombardi Comprehensive Cancer Center delivers compassionate, family-centered, state-of-the-art clinical care and education through a multi-disciplinary approach in an academic environment grounded in spiritual and ethical values.
Psychosocial Oncology
A psychologist works in conjunction with the oncology team to address the emotional well-being of patients and their families. Therapy may address issues such as distress, adjustment, anxiety, depression, family issues, and coping techniques. View more information about this and related services (link goes to MedStar Health website).
To learn more or to make an appointment, please call: (202) 687-6925
---
Related Hospital Departments