Clinical Trials
Georgetown Lombardi supports clinical trials that promote the translation of science along the spectrum from basic discovery through clinical testing, application, and policy impacts.
What are Clinical Trials?
Clinical trials are research studies that test new drugs, treatments or medical procedures to determine their effectiveness and safety. Clinical cancer trials are conducted only after their design meets the approval of the U.S. Food and Drug Administration (FDA).
These research studies help inform doctors and scientists about new and emerging cancer therapies, how those therapies should be used, and which patients will benefit the most from these approaches. Almost every standard cancer treatment currently in use was first made available to patients who participated in clinical trials.
Through these studies, Georgetown Lombardi and other medical centers aim to understand how to better provide personalized medical treatment to each patient.
---
Clinical Trials at Georgetown Lombardi
Search for Available Clinical Trials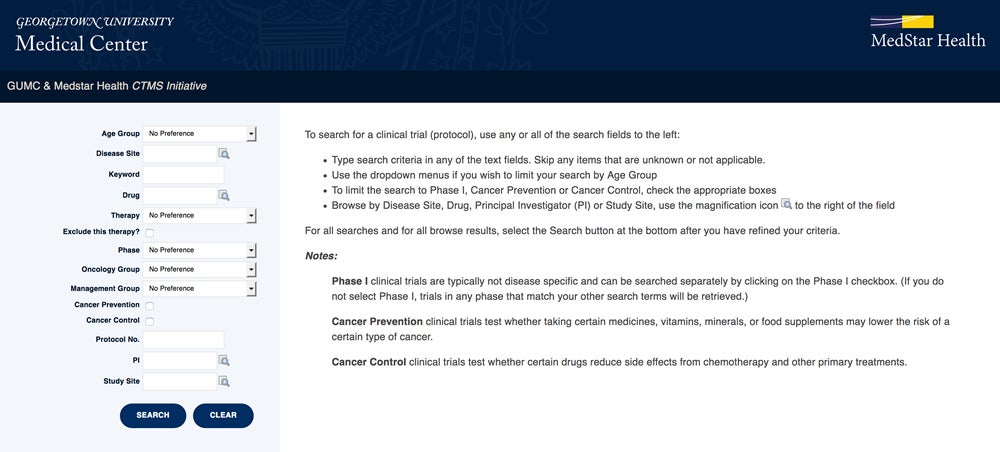 (Note: You will leave the Georgetown Lombardi website.
Click your browser's back arrow to return.)
Information about active clinical trials offered by Georgetown Lombardi physician-researchers at hospitals throughout the MedStar Georgetown Cancer Institute can be accessed via the OnCore Cancer Study Portal.
This online portal provides an advanced search page to allow you to find clinical trials by disease site, keywords and other variables. Results will display with a link to the NIH ClinicalTrials.gov that leads to more specific trial information, such as inclusion criteria and contact information.
Additional Ways to Find Clinical Trials
ClinicalTrials.gov — U.S. National Institutes of Health's database of national and international clinical trials
Researchmatch.org — A resource that brings together people who are trying to find research studies and clinical trials, and researchers who are looking for volunteers.
More Information about Clinical Trials
Georgetown Lombardi Clinical Trials Office
The Georgetown Lombardi Clinical Trials Office provides administrative, regulatory, nursing, and data management support for interventional cancer clinical trials conducted by Georgetown Lombardi investigators.