Brand Standards
If you have any questions about Georgetown Lombardi branding, please contact the Lombardi Communications Team.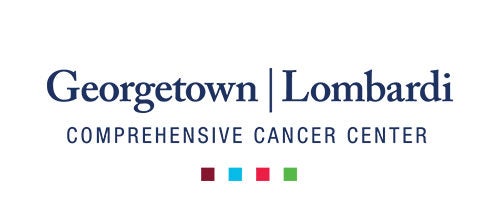 High-resolution logo available upon request.
Boilerplate
Georgetown Lombardi Comprehensive Cancer Center is designated by the National Cancer Institute (NCI) as a comprehensive cancer center. A part of Georgetown University Medical Center, Georgetown Lombardi is the only comprehensive cancer center in the Washington, D.C., area. It serves as the research engine for MedStar Health, Georgetown University's clinical partner. Georgetown Lombardi is also an NCI recognized consortium with John Theurer Cancer Center/Hackensack Meridian Health in Bergen County, N.J. The consortium reflects an integrated cancer research enterprise with scientists and clinicians from both locations. Georgetown Lombardi seeks to improve the diagnosis, treatment, and prevention of cancer through innovative basic, translational and clinical research, patient care, community education and outreach to service communities throughout the Washington region, while its consortium member John Theurer Cancer Center/Hackensack Meridian Health serves communities in northern New Jersey. Georgetown Lombardi is a member of the NCI Community Oncology Research Program (UG1CA239758). Georgetown Lombardi is supported in part by a National Cancer Institute Cancer Center Support Grant (P30CA051008).
Connect with Georgetown Lombardi on Facebook (Facebook.com/GeorgetownLombardi) and Twitter (@LombardiCancer). 
Georgetown Lombardi Presentation Templates
Templates for research posters and PowerPoint slides are available to use when presenting Georgetown Lombardi-sponsored research at professional meetings. Access the templates on Box (NetID required).
When using these templates, please do not alter or add to the Georgetown Lombardi logo in the top left corner or change the overall border/colors.