Microscopy and Imaging Shared Resource (MISR)
Services and Instrumentation
Services offered by the Microscopy and Imaging Shared Resource include:
Consultation on experimental design and the choice of the most appropriate imaging modalities and systems.
Initial and ongoing training on the various imaging platforms
Assistance with the acquisition of images and experimental troubleshooting
Training and assistance with the use of image analysis software and the development of custom analysis approaches
Acquisition and processing of data on some systems.
Molecular cytogenetics service
Help preparing the relevant sections of grant submissions and manuscripts
Supply optimal tissue culture ware and other consumables for pilot projects
Supply a range of validated imaging reagents and DNA constructs
Periodic lectures and workshops on a range of imaging and analysis topic
MISR Instruments and Key Features (DC campus)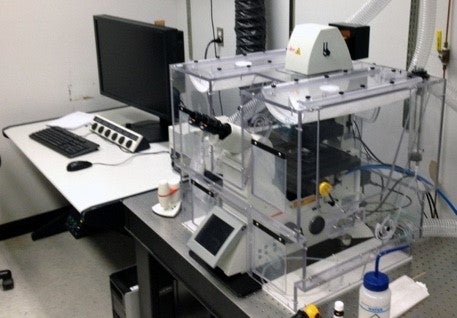 Leica SP8AOBS++. Laser scanning confocal microscope with 10 laser lines (405, 442, 458, 476, 488, 496, 514, 561, 594, 633nm), 8 channel ABOS, 8 Channel AOTF, 5 channel spectrometer (400-800nm/5nm), 3 HyD photon counting detectors, 2 Hamamatsu PMTs, bright-field detector with DIC, tandem scanner (12KHz TCS, 24 KHz resonance), closed loop auto focus, scanning stage (20X40nm R, 1um A), a range of objectives including 10x/0.4, 20x/0.75 W/G/O, 40x/1.03 O, 40x/1.1 W, 63x/1.4 O, a full chamber with heat/CO2, full range of LAS software modules to facilitate FRE, FRAP, multi-point time-lapse confocal imaging, etc.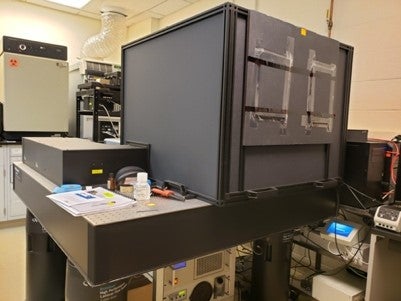 Olympus FVMPE-RS with DIVER detector: Custom imaging system for multiphoton and fluorescence lifetime imaging. Built on an Olympus FVMPE-RS upright frame equipped with Insight x3 (700nm – 1300nm pulsed) and DPSS 405nm lasers, a range of objectives (including 10x/0.04 A, 20x/0.7 A, 25x/1.05W, 40x/0.8 W), galvo (pixle time 2ms – 1S) and resonant (30-438 fps) scanners, 2 cooled GaAsp-PMTs + multi-alkali photomultipliers, DIVER detector and FLIMBox (ISS) for deep imaging, NADH/FAD imaging, second and third harmonic generation FLIM and Phasor based fluorescence lifetime imaging/analysis, and an array of acquisition and analysis packages to support available imaging modalities and for multiple area time-lapse imaging (MALT), metabolic analysis, etc.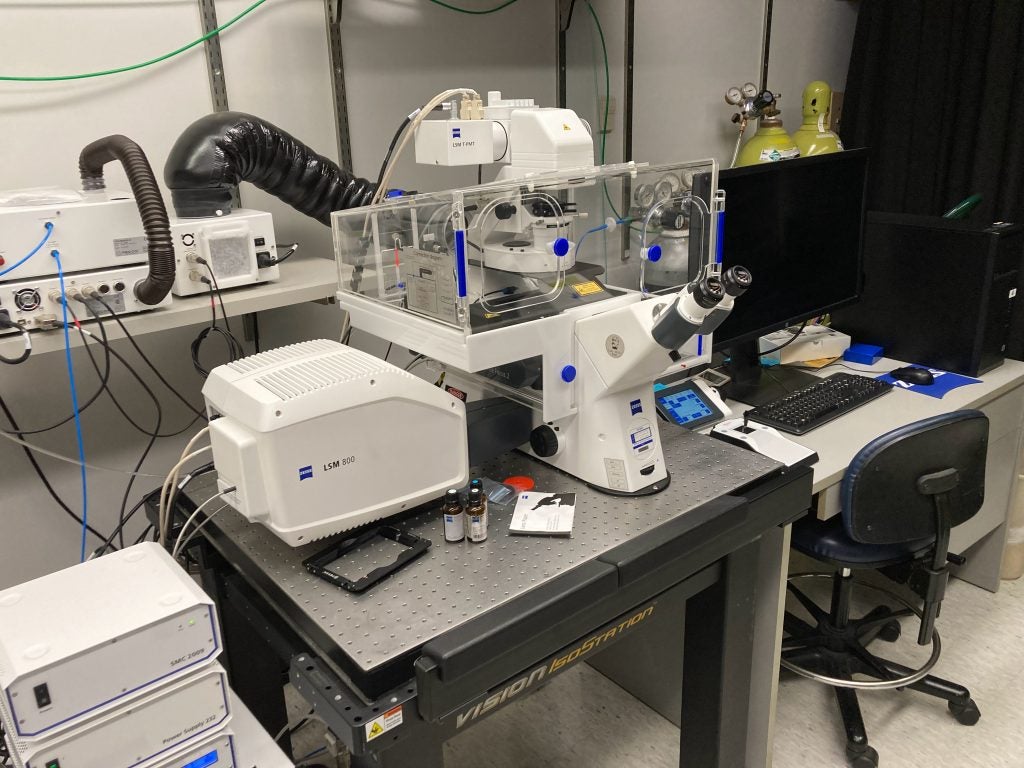 Zeiss LSM 800: Laser scanning confocal microscope designed primarily to support wide-area confocal time-lapse imaging. The system which is housed in an environmental chamber with controlled temperature, humidity and CO2 leves, is equipped with 4 laser lines (405, 488, 568, 647nm), objectives (including 10x/0.3, 10x/0.45, 20x/0.8, 63x/1.4 O, 63x/1.2 W), three GaAsP detectors including a super-resolution Airyscan detector, coded motorized stage (130×100 step), Colibri 7 solid-state light source and AxioCam 506 monochrome camera to facilitate widefield fluorescence imaging in addition to confocal super-resolution modes.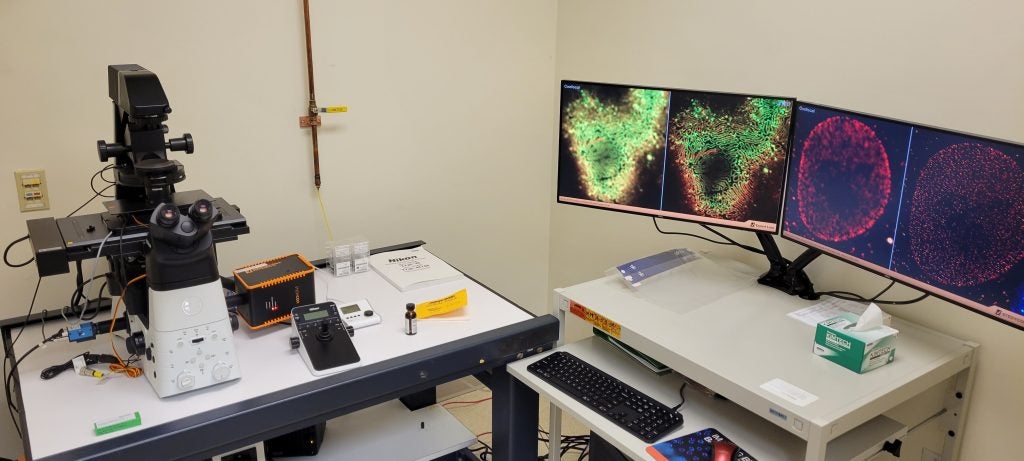 Abberior STEDYCON: Based on a Nikon Ti2-E inverse body, the Abberior STEDYCON super-compact Nanoscope provides access to STED-based super-resolution microscopy (<40nm R) as well as LS confocal microscopy and fluorescence lifetime imaging (FLIM) capabilities. The system is equipped with 4 laser lines (405nm – cw, and 488nm, 561nm, 640nm pulsed), and a STED laser (775nm pulsed), a 100X 1.45NA STED oil objective and 20X air objective for ROI identification, two STED and four confocal imaging channels with 4 single photon counting APD modules, providing three detection bands (500–550nm, 580-630nm, and 650-700nm). The Picoquant TimeHarp imaging hardware provides 25ps time resolution with a sustained count rate of 40MHz, with a synchronization unit between the Picoquant and Abberior hardware. The stage is equipped with an incubator chamber and stage-top z-piezo for z-drift compensation.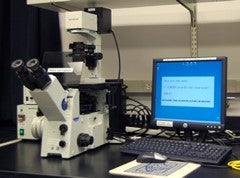 Olympus IX71 Inverted Epi-Fluorescent Microscope: The Olympus IX71 epi-fluorescent microscope is a "drop in" wide field fluorescence system for investigators who need quick access to a simple imaging platform to evaluate samples by brightfield and/or fluorescence, to determine transfection efficiency etc. The instrument is equipped with a range of objectives (including 10x/0.30, 20x/0.40, 40x/0.60), and filters for DAPI/Hoechst, FITC, TRITC.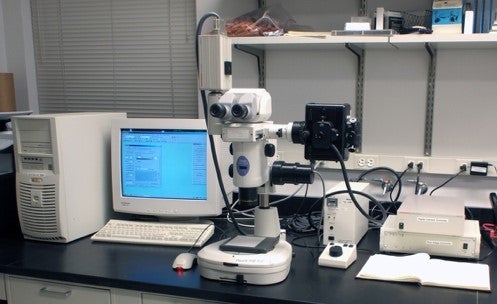 Nikon SMZ-1500 Fluorescent Stereoscope: The SMZ-1500 stereoscope allows the stereoscopic visualization of tissues in brightfield using reflected or transmitted light, pseudo darkfield imaging, and by epi-fluorescence. Objectives available include 0.5x (0.375x – 5.6x), 1.0x (0.75x – 11.25x), and 1.6x (1.6x – 18x), and filters are installed for GFP (Ex 480nm/40nm, Di 505nm, Em 535nm/50nm), DsRed (Ex 545nm, Di 570nm, Em 620nm), and Q-dots ( Ex 460nm, Di 475nm, Em 655nm).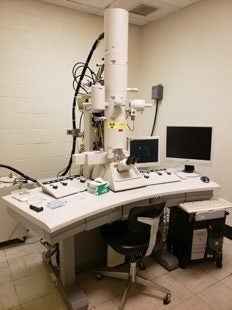 Hitachi H7600 Transmission Electron Microscope: The Hitachi H7600 transmission electron microscope has an accelerating voltage of 40-120KV, and is capable of a low magnification range of 50-1000x and in high magnification mode of 700-60,000x, and is equipped with a CCD camera for image acquisition. The instrument is supported by a dedicated laboratory space equipped with the necessary ancillary equipment including a Reichert Ultracut E ultramicrotome, and a dedicated chemical fume hood. Investigators must work with the MISR manager to use this instrument.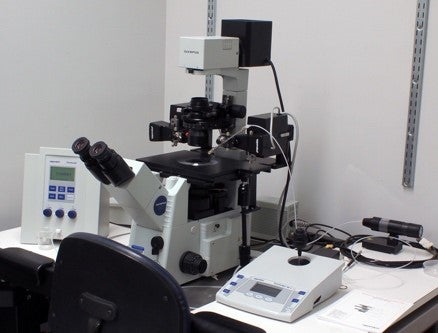 Olympus IX71 – Eppendorf FemtoJet Microinjection System: The dedicated micro-injection system consists of an Olympus 1X71 inverted microscope equipped with 10x/0.3 and 20x/0.4 objectives for brightfield and Normaski imaging and an Eppendorf Femtojet holding and micro-injection system. This platform allows the microinjection of adherent or suspension cells and is idea for pro-nuclear injection of mouse embryos and the manipulation/injection of blastocysts.
MISR Instruments and Key Features (NJ campus)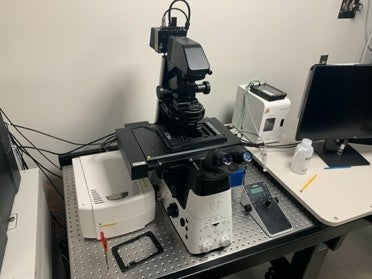 Nikon Ti2 A1R LSM Confocal Microscope (NJ): The Nikon Ti2 microscope equipped with an A1R LSM confocal unit and a Tokai Hit incubation chamber is ideal for imaging both fixed and live cell samples. The instrument has laser lines for DAPI, FITC, TRITC, Alexa-647 (405, 445, 488, 514, 561, 640nm) and a range of objectives (4x, 10x/0.45 A, 20x/0.75 A, 40x/0.95 A, 40x/1.3 O, 60x/1.4 O).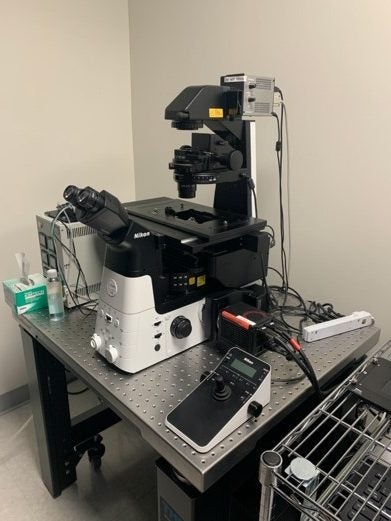 Nikon Ti2 widefield Epi-Fluorescence microscope (NJ): The Nikon Ti2 epi-fluorescent microscope is equipped with a range of objectives (4x, 10x, 20x, 40x, 60x O, 100x O), and filters for DAPI, FITC, TRITC, Cy5, CFP, YFP, mCherry, and a Tokai Hit incubation chamber. The system is ideal for brightfield and widefield fluorescent imaging of fixed and live-cell specimens with images captured with a Hamamatsu camera.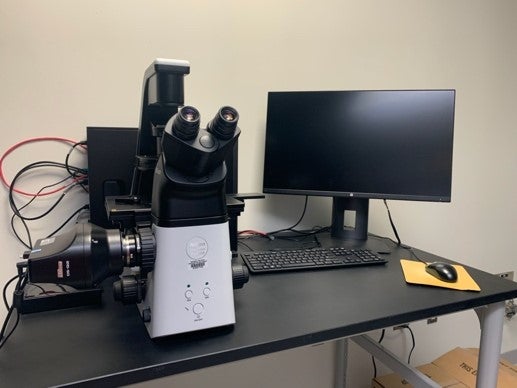 Nikon Ti2R with DS-Qi2 color camera (NJ): The Nikon Ti2R epi-fluorescent platform is equipped with a range of objectives (4x, 10x, 20X, 40x, 100x O), and filters for DAPI, FITC, TRITC, and Cy5. The color Ds-Qi2 camera makes this platform ideal for brightfield and fluorescent imaging of a range of samples.
Image Analysis Workstations
Multiple stand-alone image-processing workstations are available on the DC and NJ campuses. These workstations are equipped with off-line versions of a variety of image acquisition/analysis packages including NIS-Elements, MetaMorph, Volocity , Huygens, ImageJ with custom plugins etc.