William Wegman
FEBRUARY 2, 2015 — Famed photographer and artist William Wegman visited Georgetown Lombardi Comprehensive Cancer Center Jan. 29 to share his work with young patients and members of the community.
Wegman's whimsical Weimaraners—the breed of dog that he captures most often in his work—brought a smile to many young patients as part of an event sponsored by the Georgetown Lombardi Arts and Humanities program, Tracy's Kids and the Hope for Henry Reads program in the pediatric hematology-oncology clinic at MedStar Georgetown University Hospital.
"Weimaraners love to be on stage," said Wegman. "My dogs love the attention."
Wegman is known for his distinctive artwork of Weimaraner dogs in various costumes and poses. His work has been featured in children's books, calendars, galleries and on Sesame Street for the past 40 years.
For many young patients, Wegman's Weimaraners proved to be the perfect distraction during their care.
"His work is so beautiful and meaningful. It's great that Wegman is able to weave in family with fun in this book," said Aziza Shad, MD, chief of pediatric hematology-oncology at MedStar Georgetown. "We might focus on the dog and what it is wearing, but we must not forget that it is also about family, which relates to our focus on family-centered care here."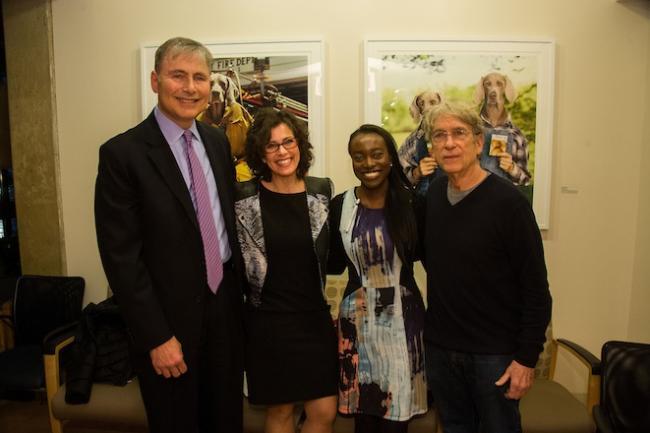 Magical Moments
Families gathered around Wegman as he read his new book "Flo & Wendell Explore," a story about a brother and sister adventure. As Wegman turned a page, patients did the same, thanks to Hope for Henry Read's generous donation of "Flo & Wendell Explore" books, reading lights and tote bags for the young attendees.
"As the kids followed Flo and Wendell on their adventure they had the chance to leave the hospital for a time and just enjoy being a kid. That's why we created Hope for Henry – to provide magical moments like this for kids going through treatment here at MedStar Georgetown University Hospital," says Laurie Strongin, executive director of Hope for Henry.
Dressed casually in jeans and sneakers, the artist noted that while his subjects have never had formal obedience training, he begins working with them as puppies so they are comfortable with the process from a young age.
Weimaraners are known as good working dogs, he explained, which helps Wegman position the dogs to stand on random surfaces and endure elaborate costumes or sets. The Weimaraners' stoic expressions, floppy ears and natural grey coats help create the perfect canvas.
Following the reading, Wegman led a puppet-making session using cutouts of Weimaraner faces, with craft supplies donated by Tracy's Kids.
"We loved having William Wegman as a guest in our art therapy space. He generously provided photos of Flo and Wendell and helped the kids make them into puppets," says Tracy Council, program director of Tracy's Kids and art therapy director in the Division of Pediatric Hematology-Oncology. "There was an astronaut, a ballerina, batman, a 'preppie' puppet; he seemed to really enjoy being with some of his youngest fans."
Famed photographer William Wegman visits Lombardi Comprehensive Cancer Center.

Wegman signs a book for Maya, one of the patients at the pediatric cancer clinic.
Promoting Healing Through Art
Wegman's interest in dogs, art, and children made the event a success, according to Julia Langley, director of the Arts and Humanities Program.
"It's very important to show that great art belongs in a place of great need," said Langley. "It gives us a moment to reflect and realize that even though this is sometimes a difficult place, bringing in an artist like William Wegman can change the tone and promote healing."
Emily Helck, Wegman's former assistant and a young breast cancer survivor, echoed Langley's perspective.
"Art and dogs are so good for your health, and it's great that Bill's artistic thinking is always on. It never stops! The dogs are everywhere," Helck said.
Wegman's team donated five of the 27 dog portraits hanging in the Lombardi atrium in honor of Helck and her journey through breast cancer. The other 22 portraits are for sale with a portion of the proceeds going to Georgetown Lombardi.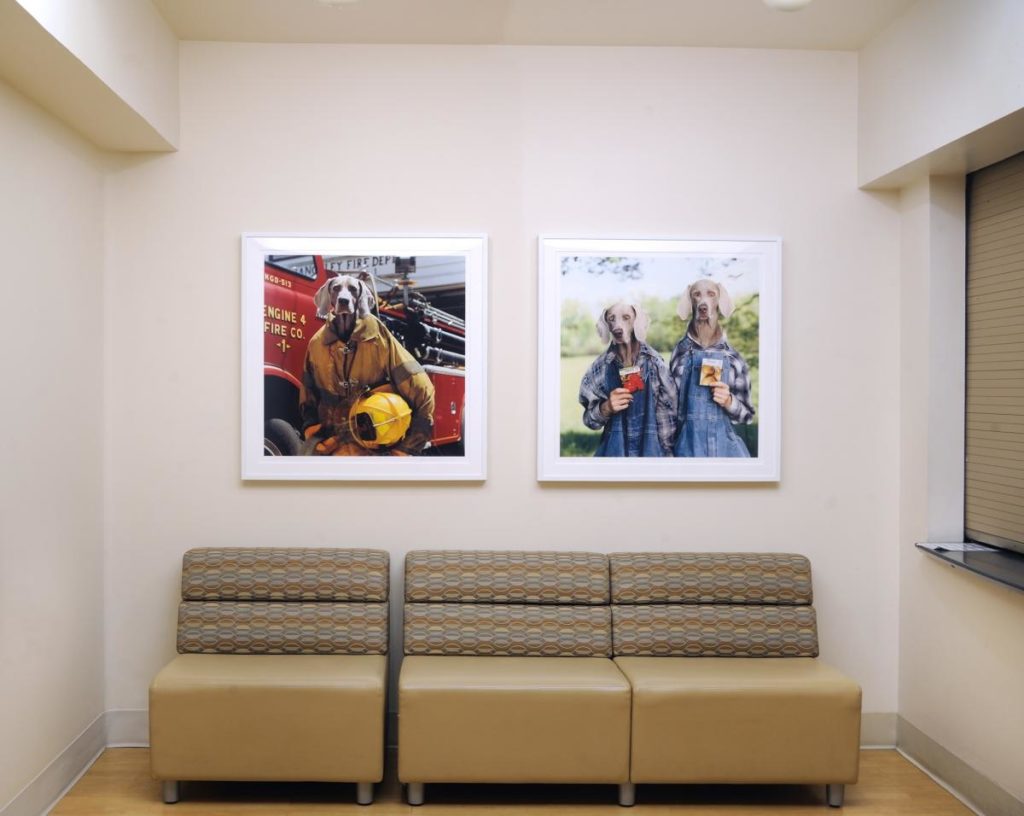 Later in the day Georgetown Lombardi hosted a reception with Wegman for the opening of the exhibition, titled: "William Wegman: Out of the Box."
"Coming to Lombardi is not easy for our patients; it is a stressful time in their lives and it can be a traumatic experience. It is also a high-intensity and emotional experience for the doctors, nurses and staff who care for them," Georgetown Lombardi Director Louis M. Weiner, MD, said at the reception. "Having the beauty of the arts is a way of dealing with the challenge that we all face as a community—it is one of the marvelous examples we have here at Georgetown of cura personalis ("care of the whole person") and represents our commitment to using the arts as part of the healing process."
'Whimsical and Profound'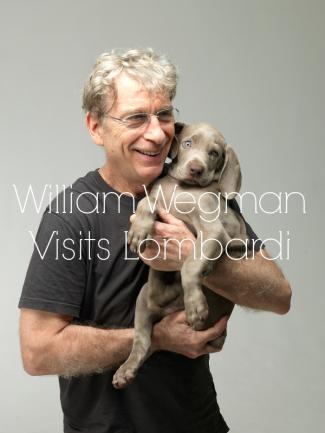 Weiner added that the Wegman works are "whimsical and profound."
"The more you look at them, the more you get out of them."
Wegman said that Georgetown Lombardi is "an amazing place to have a show."
"It is really much better than the Whitney [museum] or even MOMA [Museum of Modern Art]," he said.
"Giving this work is pleasurable knowing that it's not going to just be stored in some room, but will actually be seen and enjoyed."