Visual Arts
Knitting, paintings, drawing and more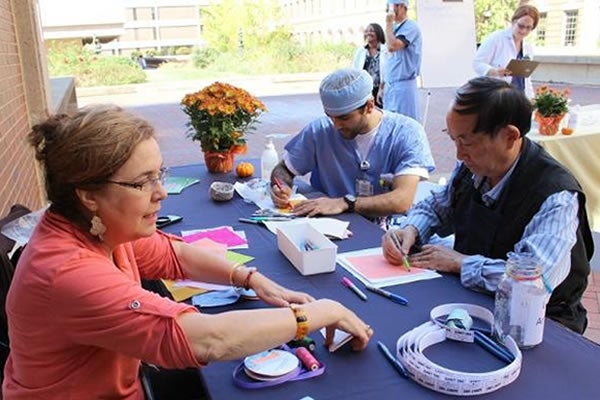 ---
A Tribute to Artist, Sam Gilliam: In Memoriam
When internationally renowned painter, Sam Gilliam passed away in June at the age of 88, he left behind an outsized legacy. Gilliam was a pioneering abstract painter, best known for freeing his canvases from the frame and draping them from the ceilings, or pinning them to the walls, instead. As a painter who came of age during the turbulence of the 1960's and 70's, Gilliam's radical approach to art and abstraction set him apart. He was the first Black artist to represent the United States in the 1972 Venice Biennale. Gilliam, and his work, continue to serve as a source of civic pride for his adopted city of Washington, DC.
For the Lombardi Comprehensive Cancer Center atrium, Gilliam created a permanent installation called, Frieze. Consisting of 11 colored monotypes, Frieze is a unique work of art. Gilliam worked with master printmaker, Susan J. Goldman to realize the work of art. At the opening reception for Frieze, Goldman told the crowd that "Sam is a national treasure."
Julia Langley, Faculty Director of the Georgetown Lombardi Arts and Humanities Program, served as the Cancer Center's art consultant for the project. "One of my favorite days at work," she says, "was the day Sam came to arrange the 11 colored squares that made up Frieze. Sam directed Susan Goldman, her daughter, Isi, and me as we moved the sequence of each individual monotype until he was satisfied with the way the colors looked next to each other. I remember Anthony Imamura, an Arts and Humanities Program Advisory Committee Member who happened to be in the atrium that day, say that watching the process of installing Frieze "was like watching Sam build a rainbow."
Sam Gilliam will be greatly missed.
---
Artist Gavin Glakas drew on experiences as a patient to create his new painting in MGUH's infusion waiting area
Last month, "Sunrise in Manassas", a new painting by artist, Gavin Glakas, was installed in MedStar Georgetown University Hospital's Patricia B. Sagon Patient Lounge. Using warm, vivid colors, Glakas depicts a lone, rugged tree overlooking the field where Civil War soldiers once fought the Battle of Bull Run in Prince William County, Va.
Patients and caregivers who see Glakas' painting may not realize it, but the artist's personal story is nearly as inspiring as his powerful new artwork now on display.
Twenty-two years ago, Glakas himself sat in a waiting area outside an operating room in MGUH preparing himself for surgery to remove a tumor from his lungs. Just 24 years old at the time, he was scared, in pain, and full of anticipation about the procedure's outcome.
Glakas had grown up in Bethesda, Md, dreaming of becoming an artist but chose not to follow his passion after graduating from college. Instead, he worked as a Senate staffer on Capitol Hill and planned to go to law school.
But coping with a serious illness motivated him to pursue a career as an artist. "I have to be an artist," he recalls telling himself while recovering from surgery. "I don't know how I'm going to do it, but I'll figure it out."
Glakas found art teachers and took a job at an art gallery. In time, his paintings began to sell, and he started teaching art at Yellow Barn Studio in Glen Echo, Md.
Today, Glakas is renowned for his portrait and landscape paintings, which are a part of numerous public and private collections, including the United States Capitol, the Virginia State Capitol, universities, and two museums: the Society of the Four Arts in Palm Beach, Fla. and the Ratner Museum in Bethesda, Md. He has painted portraits of public officials, including Sen. Harry Reid, Rep. Ike Skelton and Gov. Terry McAuliffe.
As he painted "Sunrise in Manassas," Glakas reflected on the health challenges he dealt with in his 20s and on the patients and caregivers who would soon be viewing his artwork. "I've been in that position before, on both ends, as the patient and as the visitor," he said. "I know how unpleasant it is."
"People dealing with illness and disease need something to focus on that provides comfort, distraction and positivity," he said. That's what he hopes his painting will do. "I just wanted it to be as warm and as hopeful and optimistic and uplifting as possible."
In the painting, the artist chose to present an old, gnarled tree that has been battered by the elements. But Glakas painted it to feel optimistic and life affirming by bathing it in golden morning sunlight.
Julia Langley, Faculty Director of the Georgetown Lombardi Arts and Humanities Program, consulted with Emily Riffle, MGUH Vice-President of Philanthropy, to commission Glakas to paint, "Sunrise in Manassas."
Previously, Langley had worked with Georgetown Women in Medicine (GWIM) to bring in Glakas to paint two portraits for the Women on the Walls campaign. His portrait of Dr. Estelle Ramey, PhD hangs in the Georgetown University School of Medicine, and his painting of Dr. Miriam Toporowicz is installed in MGUH's Goldberg Auditorium.
"I knew Gavin would be the perfect artist to make a painting for the infusion waiting area," Langley said. "His luminous landscapes are endlessly engaging."
---