Visual Arts
Knitting, paintings, drawing and more
The Georgetown Lombardi Arts and Humanities Program (AHP) has a variety of visual artists-in-residence. Claire Wagner, our knitter, has been apart of the program for many years and continues to teach knitting to Lombardi patients in the Outpatient Waiting Room as well as patients bedside (upon request). Claire continues to provide noontime knitting workshops on Wednesdays in the AHP office located in the Nina Hyde Resource Room in the Lombardi Outpatient clinic. Paper arts artists, Michelle Berberet, works with patients in the Lombardi Outpatient clinic to create cards and other paper arts projects. Additionally, Nevin Bossart, our painter, provides workshops for staff members upon request with projects such as creating sunflower murals and painting flower pots.
Lauren Kingsland doing art with staff members

Nevin Bossart, holds painting workshops for patients, caregivers, and staff members

MedStar Georgetown University Hospital staff members paint with Nevin Bossart.

Lauren Kingsland assists the creation of bracelets for patients and staff members

Knitting workshop with Artist-in-Residence Claire Wagner (on right) with knitter and friend, Issa Lara (on left)
MGUH and Georgetown University Medical Center departments call the AHP to ask for multi-week projects to help their staff find equilibrium during times of difficulty and change. Nevin is beloved among the staff and is often called to work on a multi-week staff projects in various departments.
---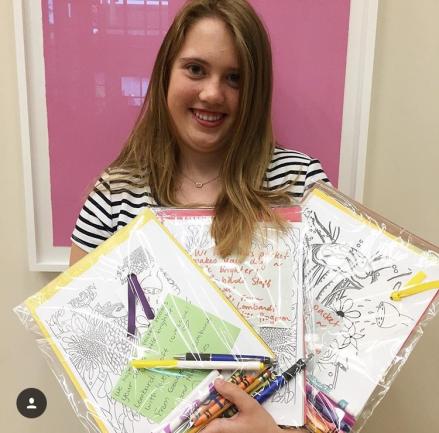 Request an Art & Puzzle Packet
The AHP brings arts and puzzles, free-of-charge, to patients bedside. Self-directed art and puzzle packets include coloring book pages for all ages, puzzles, a bookmark to color in, paper for writing and drawings and a board to support your creations in bed. Each packet also comes with crayons, a pen and markers.
For all art and puzzle packet inquiries, please contact program coordinator, Morgan Kulesza at (202) 444-1171 or morgan.kulesza@georgetown.edu.