Visual Arts
Knitting, paintings, drawing and more
The Georgetown Lombardi Arts and Humanities Program (AHP) has a variety of visual artists-in-residence. Claire Wagner, our knitter, has been apart of the program for many years and continues to teach knitting to Lombardi patients in the Outpatient Waiting Room as well as patients bedside (upon request). Claire continues to provide noontime knitting workshops on Wednesdays in the AHP office located in the Nina Hyde Resource Room in the Lombardi Outpatient clinic. Paper arts artists, Michelle Berberet, works with patients in the Lombardi Outpatient clinic to create cards and other paper arts projects. Additionally, Nevin Bossart, our painter, provides workshops for staff members upon request with projects such as creating sunflower murals and painting flower pots.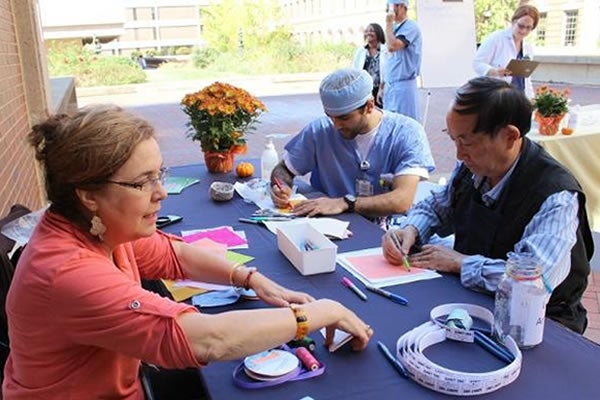 MGUH and Georgetown University Medical Center departments call the AHP to ask for multi-week projects to help their staff find equilibrium during times of difficulty and change.
---
Jennifer Wilkin Penick provides Big Block Printing workshop for staff:
Jennifer Wilkin Penick brought a new art project to members of the Lombardi Comprehensive Cancer Center administrative staff this year. A workshop called, "Big Block Printing" was such a success, she offered it twice – once in the summer and once in November. In the workshop, each participant made a relief stamp out of easy-to-use craft foam and painted and printed their stamps onto tote bags and greeting cards. Jennifer taught the staff how to make simple designs that replicate well. Attendees were pleased with how well their printed projects turned out.
---
Self-Portraits by "Hand"
Lauren Kingsland led a three-week self-portrait workshop for the administrative staff of MGUH's Hand and Foot Clinic. The self-portrait was a multi-media project, focused on a personal "hand print" made with fabric. During the workshops, Kingsland encouraged participants to share something about themselves through their art. By the end of the third week, each staff member had completed a work of art that reflected something about their personality. Along the way, the staff got to know one another better, and share stories about what brought them each into healthcare. Workshop participants reported that the sessions with Lauren were relaxing, therapeutic, and fun.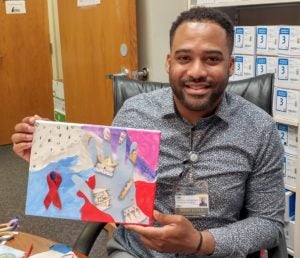 ---
Garden Meditation:
The second phase of Garden Meditation, an artwork by Suzanne Fierston, was completed in 2019. In April, Fierston expanded the original concept of 8 painted columns to include all of the columns in the staff break area on the Podium level of MGUH. Using soft colors, Fierston created a peaceful and restful space. Morgan Kulesza helped Fierston complete the columns in a very short span of time in order to finish the work for the MGUH staff appreciation picnic. The next and final stage of this project will be to paint the columns around the Freddy and Diana Prince Labyrinth. We aim to complete Garden Meditation in Spring 2020.
---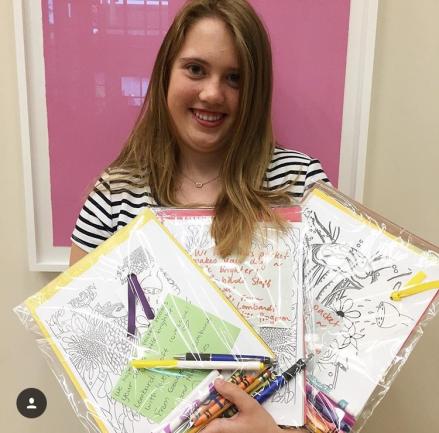 Request an Art & Puzzle Packet
The AHP brings arts and puzzles, free-of-charge, to patients bedside. Self-directed art and puzzle packets include coloring book pages for all ages, puzzles, a bookmark to color in, paper for writing and drawings and a board to support your creations in bed. Each packet also comes with crayons, a pen and markers.