Expressive Writing
Therapeutic Writing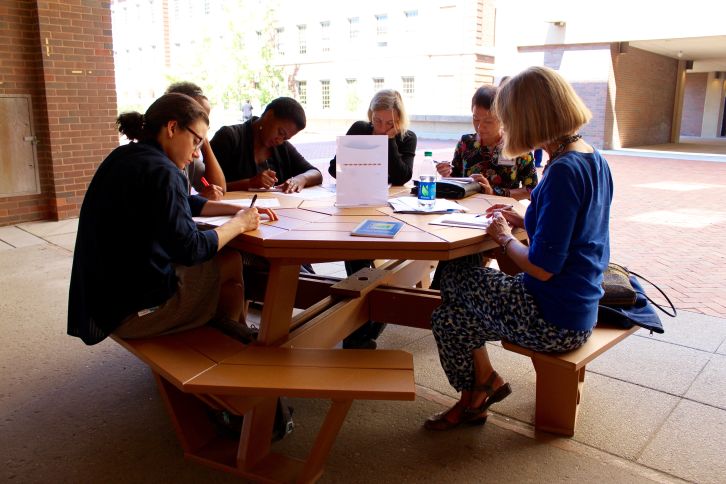 Tuesdays are writing day at Lombardi. The day begins with a trip to 2Bles, the oncology inpatient unit. Nancy Morgan, armed with journals and a weekly writing prompt, knocks lightly, walks in the patient room and introduces herself.
"I am Nancy Morgan and am part of a team of artists who are here to remind you that expressing yourself is part of good health." I represent the writers. Our research supports decades of studies that find writing down your thoughts and feelings – not your grocery list- but your deepest thinking, can have a positive impact on your health. If you are having difficulty sleeping, jot down a few words and research suggests you'll soon be sleeping soundly!"
This information often elicits a response, an affirmation of the benefit of writing based on personal experience, and often a description of a project in progress. One woman described her conversation with a blackbird on a phone wire outside her window. The bird is now her counselor, making projections, offering comfort and wise words. She is animated, describing stories that are personal and vital to her peace of mind. She was invited to share her blackbird stories through 'Lombardi Voices' so others going through cancer treatment might benefit from her personal expressions. Her tales extend to family members in need. She is writing to and for them, with heartening results.
Writing with Staff
Each week staff has an opportunity to come together and write as a respite from work. Workshops take place at noon, during lunch, and last twenty minutes or so. People check in, review the prompt, record their response and then one by one, share what they wrote. Most have written together for a good while and are comfortable reading and listening. Everyone gains insight from each other's perspectives. We are grateful for the courage demonstrated, the compassion expressed. Writing helps the day continue fresh and stress-free.
Writing with Medical Students in the Lifelong Care Interest Group
Towards the end of the year, medical students in the lifelong care interest group elected to attend a weekly writing workshop for their own benefit and to gain experience leading expressive writing sessions with their own patients.
Walk a Mile Research Project
For the second year in a row Nancy Morgan participated in a research study led by Dr. Shimai Fitzgibbons that is designed to improve role clarification between doctors and nurses. Each group is given a formal opportunity to shadow one another on rounds.
To document their experiences, Nancy Morgan introduces expressive writing, encouraging both thoughts and feelings as med students and new–to-floor nurses describe what they see. The long term goal is to enhance understanding of one another's roles and strengthen the collaborative medical team.
---
For more information on the writing program and various writing opportunities the Arts and Humanities Program provides, please contact: Program Coordinator, Morgan Kulesza at (202) 444-1171 or morgan.kulesza@georgetown.edu.