Exhibitions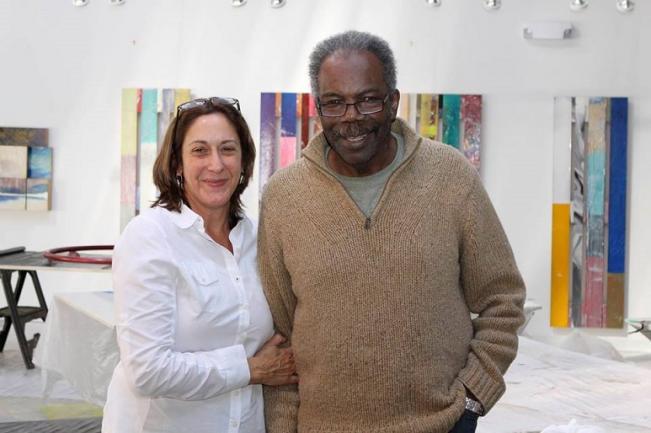 The Georgetown Lombardi Arts and Humanities Program (AHP) is located in MedStar Georgetown University Hospital (MGUH) Lombardi Comprehensive Cancer Clinic (LCCC), in the middle of the Lombardi Outpatient Clinic waiting room. Starting with the Lombardi Outpatient Clinic, the AHP decorates the walls with both permanent pieces and rotating works of art. The AHP select and showcases various artist exhibitions throughout the year.
In 2017, the AHP brought in local D.C. artist, Sam Gilliam, and master printmaker, Susan Goldman, to create a permanent site-specific installation in the remodeled Lombardi Atrium entitled Frieze. It is important to the AHP to create a space in which patients, caregivers and staff have the opportunity and are supported in creating their own art with the assistance of visual artists-in-residence, but also for the hospital environment to be enhanced by amazing works of art bringing life and color to the environment and making it less sterile.
Sam Gilliam is an internationally renowned artist with works in the permanent collections of the National Gallery of Art, MoMA, the Tate Modern and Guggenheim Museum. He is a pioneer of both Color Field and abstract painting. For more than fifty years he has worked and lived in Washington D.C..
Frieze, created in partnership with master printmaker Susan Goldman, is composed of eleven framed monotypes, each printed in a richly dense and uniform hue. Wrapping around the Lombardi Atrium in surprising and unexpected combinations, Frieze invites viewers to experience both the individual and collective power of color.
Frieze, is an original site-specific installation commissioned by the Georgetown Lombardi Arts and Humanities Program. The Georgetown Lombardi Comprehensive Cancer Center community is grateful to Sam Gilliam and Susan Goldman for their vision and for their contributions to this project.
"One of my favorite aspects of Frieze is how the colors highlight individuals. When a person walks past Frieze, his profile fits into each frame. For a split second it's like he becomes an icon on a beautiful bed of pure color. And then, as he moves past one color and then the next and the next, it feels as if one is watching a movie. The individual's action literally moves frame by frame. When I saw this for the first time, I couldn't believe it, so I staked out a place in the atrium and watched people go by. It's completely amazing." – Faulty Director, Julia Langley
We are extremely grateful to Sam Gilliam and Susan Goldman for their creation of Frieze. Patients, medical staff, caregivers, visitors, as well as undergraduate and graduate students encounter Frieze daily and can experience the healing power of color.