A Path Through Darkness, Susan Goldman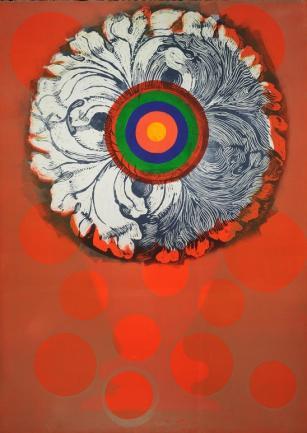 Master printmaker, artist, and documentary film maker Susan J. Goldman exhibited her new prints from November 3, 2014 to December 30, 2014 at Georgetown Lombardi Comprehensive Cancer Center. Her exhibition at Georgetown Lombardi Comprehensive Cancer Center entitled, "A Path Through the Darkness: Whole, Sound, Color, Light" featured 30 stunning woodcut monotypes designed to help people struggling with cancer and other illnesses find relief in art.
According to Goldman, color- especially extremely saturated color- has a far greater power than what the yes alone can see. Color can be sense by the body both viscerally and physically. Its use in Goldman's work is meant to facilitate meditation and calm.
Goldman states, "I believe art has the power to take you out of your everyday existence, to another place of awareness about one's self via thought, reflection, and emotion. Color is so powerful as a transformative element in the artistic process and in the healing process. Color can alter your feelings. Color is light, waves of energy reflected back into our eyes, absorbed into our bodies; we experience it on a very primal level. Art transforms us by capturing our minds, our senses and teaches our eyes to see, our mind to question and our body to feel. I hope the power of these prints will take many here on a journey away from their troubles and challenges they face, and bring them some relief, peace, energy, and the determination to continue the fight ot get well and live their lives as they so desire."
An opening reception was hosted at the Lombardi Comprehensive Cancer Center on Thursday, November 13, 2014. Pieces from "A Path Through the Darkness: Whole, Sound, Color, Light" can be viewed in the clinic and patient waiting areas.