Mass Spectrometry and Analytical Pharmacology Shared Resource (MSAPSR)
Mass Spectrometry Imaging Instrumentation and Services
The aim of the mass spectrometry imaging (MSI) resource is to provide services and expertise to advance research and enable the identification of novel and efficacious therapeutic regimens. Mass spectrometry imaging is a label-free molecular imaging technique that enables the detection and spatial localization of exogenous and endogenous molecules within tissue sections. During an MSI experiment, a mass spectrum is acquired at predefined locations across thin tissue sections that are prepared in the same manner to those used in clinical histopathology. The ions (pharmaceuticals, lipids, metabolites, glycans, peptides and proteins) detected at each location are then overlaid with their histologically stained sections to enable the spatial distribution of each ion of interest within distinct cellular regions.

A mass spectrum is acquired at a predefined spatial resolution across the entire tissue section. Drug, lipid and metabolite ions in the mass spectrum can then be selected and their spatial localization visualized. Accurate mass and on-tissue fragmentation enables structural identification of each ion of interest.
The MSAP resource is available to researchers to carry out clinical and preclinical MSI investigations on tissue sections and 3D spheroid/organoid models. MSI experiments can be tailored to experimental needs but examples include; drug and metabolite penetration and distribution; metabolism (cancer/immune); cancer stem cell markers and metabolism; lipid alterations; dysregulated glycosylation profiles.
Mass Spectrometry Imaging Services offered by the shared resource include:
Consultation and study design.
Advice and guidance on sample preparation, experimental design and data interpretation.
Support for technical and scientific writing of grant proposals and manuscripts.
Mass Spectrometry Imaging Applications
Pharmaceuticals

Drug and metabolite distribution

Biomarkers of efficacy/toxicity

Lipids and Metabolites

Sphingolipids and glycosphingolipids

Hexosamine biosynthetic pathway metabolites

Pentose phosphate pathway metabolites

Glycans
Mass Spectrometry Imaging Instrumentation
Bruker SolariX 2xR 7T Hybrid QqFT-ICR Mass Spectrometer

: The MSAP resource houses a solariX 2xR that features a dual ESI/MALDI ion source and combination of the latest Magnetic Resonance Mass Spectrometry (MRMS), ParaCell and Magnetron control technology. This is prerequisite for the highest possible mass spec resolving power available and results in routine access to Isotopic Fine Structure (IFS) information. This enables scientists to see vital "hidden" information that is missing in data from other types of mass spectrometers.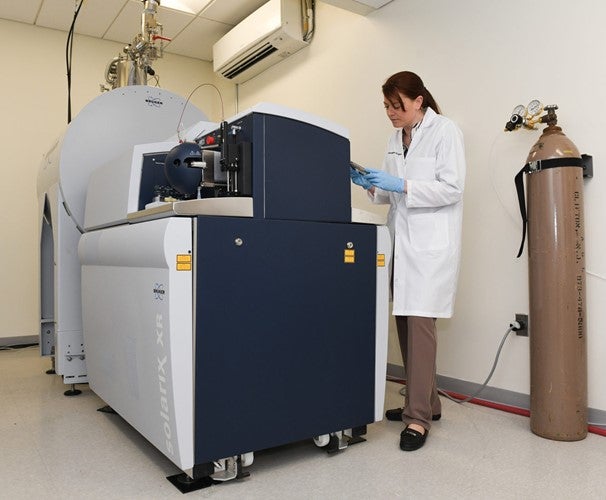 Thermo MALDI LTQ Orbitrap XL: The MSAP resource houses two Orbitrap instruments that enable both MS and MS/MS imaging experiments, and MSn fragmentation studies, for deeper structural elucidating of target analytes.