Medical Humanities Education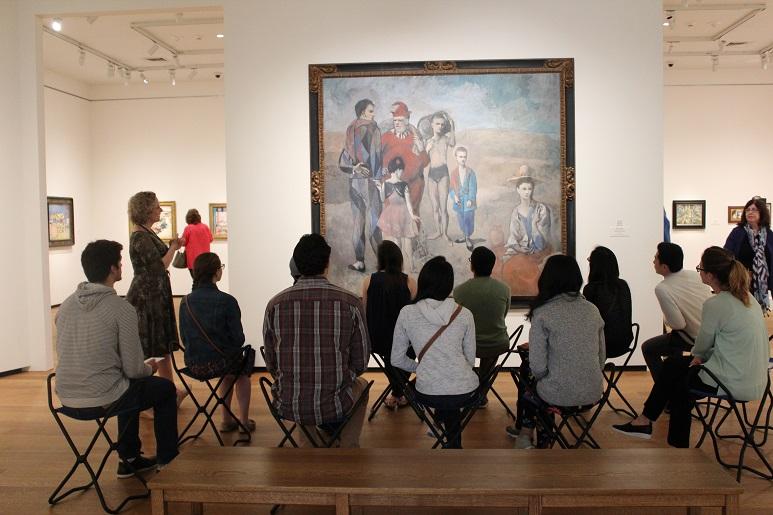 The Georgetown Lombardi Arts and Humanities Program (AHP) is supported by four essential pillars: Patient Care, Staff Morale, Research and Education.
Since 2016, AHP Faculty Director, Julia Langley and Lorena Bradford, Head of Accessible Programs, The National Gallery of Art have worked together to provide workshops and courses to medical and nursing students and professionals, using art as tool to enhance skills that can benefit patient care and staff morale.
Langley and Bradford teach an annual elective course at the Georgetown University School of Medicine entitled, "The National Gallery of Art and the Making of the Modern Physician." In this course students critically analyze original works of art to build skills that support visual literacy, communication and empathy. While closely examining works of art, students articulate and acknowledge their personal preconceived notions, collaborate on problem-solving, and increase communication through analysis and discussion.
In addition, Langley serves as a lead teacher in The National Gallery of Art's Art of Care program for medical professionals.
For more information on various education opportunities and research partnerships please contact Julia Langley, Faculty Director at (202) 444-7228 or julia.langley@georgetown.edu.
---
"With this class and our exposure to the pieces of art housed at the National Gallery, I learned the valuable tool of time. Even though I may feel as if a single glance at the painting gives me the whole story that I need to know, time and time again at the museum, I learned that first impressions are almost never the true meaning behind an artist's work. First, I learned that by taking my time to personally observe every inch of a painting slowly, I could better formulate an idea as to its true meaning. Second, and even more importantly, I learned that by sharing and discussing with my classmates, I had a much greater insight into the meaning of the artworks, often from a viewpoint that I personally never would have thought to approach the art from. I am so thankful that have been able to have the unique experience this class has given me and hope that I can carry lessons from it with me to the wards years from now to better care for my future patients.

– Saumik Rahman, M.D. candidate, Georgetown University School of Medicine, class of 2020