Amy Herman, Art of Perception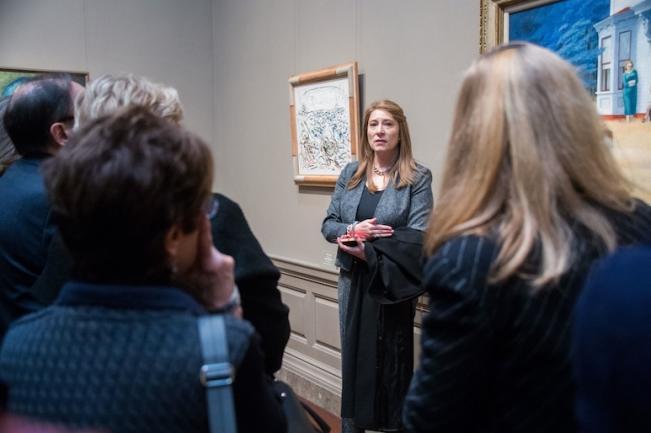 DECEMBER 9, 2014—The group stood in front of the two portraits by American artist Thomas Eakins, discussing the attire of each of the featured male subjects.
"The man in the painting on the left looks wealthier than the man on the right," observed one participant.
"Why do you say that?" challenged another participant.
"Well, to start, he is wearing a nicer suit than the other man, and he has a gold pocket watch."
Someone else chimed in: "What if he borrowed that suit? We don't know if he is wealthy or not. We can't jump to that assumption."
The conversation continued this way—with participants debating and challenging each other on their most basic assumptions about the works—as it had about several others at the National Gallery of Art in Washington.
The observers were not art critics, or even necessarily art aficionados. They were a group of faculty, staff and community members that were convened Dec. 4 by the Art and Humanities Program at Georgetown Lombardi Comprehensive Cancer Center to take part in a program called "The Art of Perception."
A Universal Need
Amy Herman, MA, JD, The Art of Perception's designer and leader, describes the program as a way to enhance observation and perception skills, and to communicate inferences more effectively. Originally developed for medical students to improve their observation skills, it has since been expanded and adapted for law enforcement professionals including the New York City Police Department, the Federal Bureau of Investigation, the Department of Justice and the U.S. Secret Service.
Herman, a self-described "recovering attorney" who formerly worked as head of education at The Frick Collection in New York City, says she has learned that the same needs that apply in medicine also apply to other fields such as law enforcement.
"The need for better observation is universal. The consistent breakdown across the professional spectrum is in the effective communication of what we observe," Herman said.
"No two people see anything the same way. We don't see problems, situations, environments, people, or—most of all—solutions the same way," she added.
The idea of using fine art to enhance diagnostic skills was pioneered by Yale School of Medicine's Irwin Braverman, MD, who first incorporated it into training for dermatology residents.
Across all fields and disciplines, whether one is a homicide detective or a trauma surgeon, everyone uses what Herman terms the "four As" of critical inquiry: Assess; Analyze; Articulate; and Adapt. Herman's program uses art as a way to sharpen these skills.
"The goal is to help people rethink their observation and perception skills, and I just happen to use art as the vehicle to do that," she said.
Julia Langley, director of the Arts and Humanities Program, organized the morning session at the museum as well as a separate two-hour afternoon session on campus for students, faculty and staff. She says this type of programming is the perfect harmonization of the sciences and the arts.
"Visual literacy is an essential 21st century skill, especially in the field of medicine, where issues must be seen and addressed quickly. Many people, however, have never been taught how to look," Langley says.
She noted that the Arts and Humanities Program presented The Art of Perception thanks to support from the Arnold P. Gold Foundation.
"We hope to bring more programming like it to Georgetown in the near future," Langley adds.
Reconnecting as Physicians
Louis M. Weiner, MD, director of Georgetown Lombardi, and his wife Harriet—an artist—were among the morning session attendees at the National Gallery of Art. He said this program is an invaluable opportunity for health care professionals at all stages of their careers "to connect the work we do to all of our senses."
"Technology and medicine has exploded over the last half century. We have tools we never dreamt possible 50 years ago," Weiner said. "But we stopped learning how to make that human connection with patients as much as we used to. We don't spend as much time observing, thinking, understanding the nuances."
He added: "We need to go back to some of the more powerful tools that have been developed over millennia—and one of those tools is art."
Georgetown's School of Medicine is looking to incorporate more visual arts into the medical school experience to enhance the observational skills of future physicians.
Medical students were among the attendees of the afternoon session, along with Stephen Ray Mitchell, MD, MBA, dean for medical education at the School of Medicine.
"The business that we are in is teaching the healing art. And this art itself involves the perception of what the patient sees, which is often different than what the doctor sees," says Mitchell. "What this educational session does is to teach us all how to see differently. I thought it was spectacular."
By Lauren Wolkoff
GUMC Communications