Leadership Team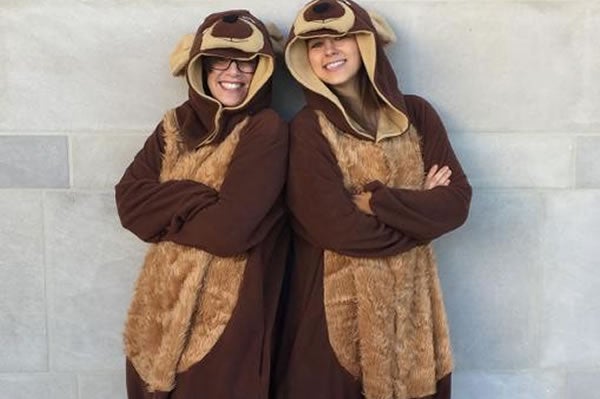 Faculty Director, Julia Langley (left) and Program Manager, Morgan Kulesza (right), dress up as bears for Halloween 2017, spreading big bear hugs and Halloween candy to patients, caregivers and staff throughout MGUH
---
Julia Langley
Julia Langley, Faculty Director, Georgetown Lombardi Arts and Humanities Program, is a pioneer in the field of arts in medicine. As the first art historian to serve on faculty of a major university medical center, Julia leads and manages a program of fifteen professional artists-in-residence and two Georgetown University undergraduate student groups. Julia regularly lectures on the importance of the arts in healthcare and in medical education. As a contributor to the growing field of visual literacy, Julia advocates for using art to improve skills of observation, physician-patient and interprofessional communication, bias and resilience to national and international audiences. Prior to her employment at Georgetown University, Julia worked as a teacher in the Education Department of The National Gallery of Art and as an adjunct professor of art history at Montgomery College. Before moving to the east coast, she was Director of Development at the University of California, San Diego and at the San Diego Museum of Art. She received her undergraduate and graduate degrees at the University of California, Los Angeles, where she specialized in ancient Greek art history.
Contact:
Julia Langley
julia.langley@georgetown.edu
(202) 444-7228
---
Morgan Kulesza
Morgan Kulesza, Program Manager, Georgetown Lombardi Arts and Humanities Program, provides administrative support in the development, implementation, and marketing of the Arts and Humanities Program as well as program initiatives. She assists in the preparation and execution of exhibits and events. Among other artistic contributions to the program, Morgan draws the babies in the MedStar Georgetown University Hospital Neonatal Intensive Care Unit (NICU) without the tubes and bandages, a gift to the parents who are not allowed photography in the NICU. This position perfectly utilizes Morgan's dual degrees in Art and Anthropology/Sociology, obtained from Rhodes College where she graduated in 2016. Morgan's love of using art therapeutically in healthcare led her to volunteer at St. Jude's Children's Research Hospital while in college. At St. Jude's she led a weekly art program for patients and families where she experienced first hand the positive impact art can have on people in hospitals.
In May 2020 she will receive her Masters of Arts in Liberal Studies degree from Georgetown University.
Contact:
Morgan Kulesza
morgan.kulesza@georgetown.edu
(202) 444-1171