Julia Langley, Faculty Director
Georgetown Lombardi Arts and Humanities Program Director Joins Medical Faculty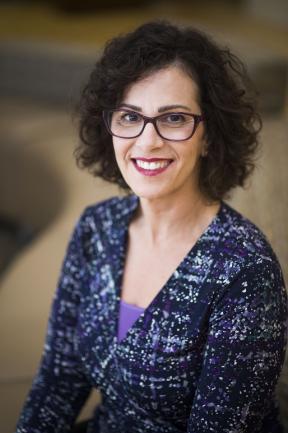 August 17, 2017 – Since she started serving as the director of the Arts and Humanities Program at Georgetown Lombardi Comprehensive Cancer Center in 2014, Julia Langley has created therapeutic experiences for patients, caregivers and hospital staff using professional artists, musicians and dancers.
Recently, Langley received another title – instructor at Georgetown University School of Medicine department of oncology in the medical education track. While her new position may make her the first art historian appointed to the faculty at a major medical center, Langley is focused on using the opportunity to train the next generation of medical professionals to approach patient care from a different perspective.
For example, one of the things Langley has done is develop a course in collaboration with the National Gallery of Art that helps future health care providers become more skilled at observation, communication and recognizing explicit biases. For one exercise from the class, Langley asks students to describe what's happening in a large painting full of detail and action, challenging them to use precise language without making assumptions.
"Our job is to teach people how to see," she said.
'It Was The Job I Was Born to Do'
Langley's education, as well as her personal and professional experiences, make her uniquely qualified for her position at Georgetown Lombardi. However, working at a cancer center was not part of her original career plan.
An art historian by training with a graduate degree in art history from UCLA, Langley studied dance for 15 years and music for six years. She also worked at the University of California – San Diego as assistant director of the Stuart Collection of outdoor sculpture and director of development for the vice chancellor of health sciences. In that position, Langley developed a magazine that profiled the research and clinical programs at the university's medical center. She enjoyed interviewing doctors about their research but writing about cancer felt different. "I remember going into the cancer center and thinking, I hope I never have to come back here," Langley said. "It was so sad."
Two years later, after moving to Washington, DC, Langley was diagnosed with breast cancer and received treatment at Georgetown Lombardi for six years. When she was finally declared cancer-free and ready to return to work, Langley learned of an opening in the Arts and Humanities Program.
"I thought, I never want to go back to Lombardi again," she said. However, a friend insisted she check it out, so Langley arranged a visit with the retiring director, Nancy Morgan, who gave her a tour. While watching a violinist interact with patients, "it was like I was hit in the head with a hammer," Langley said. "I thought, of course, this is where I am supposed to be. I absolutely feel it was the job I was born to do."
Developing Effective Programs
In Langley's course at the National Gallery, medical students critically analyze original works of art to build skills that support visual literacy, communication and empathy. Through interactive exercises in the galleries and group reflection, the students think through how they can apply what they've learned to their work, enhancing relationships with patients, other members of medical teams, caregivers and colleagues.
Langley is also working with collaborators to evaluate different ways of using the arts to enhance patient care to see which are the most effective. They are currently studying whether playing music in the NICU helps babies grow and thrive, the use of dance to treat people with movement disorders and how art can prevent burnout in doctors and staff.
Doctors are increasingly looking to help patients using non-pharmacogenic techniques, including mindfulness and stress reduction, Langley said. "The therapies offered by our professional artists, which include music, expressive writing, handwork and guided imagery, give patients and staff effective coping techniques they can use whenever they need them," she said.
Creating a Welcoming Home for Patients and Staff
When Langley isn't teaching, doing research or leading Arts and Humanities Program activities, she can be found in her office in the middle of the cancer center. Choosing an office was one of the first things she did when she started working at Lombardi, and Langley later realized that decision was fortuitous.
The space previously functioned as the Nina Hyde Resource Center, a large room with brochures and other materials made obsolete by websites. Langley transformed the room into a welcoming space filled with sofas, chairs and art, as well as desks for her and her assistant.
"Now, people walk through my office all day long," Langley said. "We're like this little central area of happy people in the middle of this really difficult place." She and her assistant answer questions and generally just try to be present for people, she said, something that the health care system has left most staff unable to do due to lack of time.
"The thing about illness is that it's absurd," Langley said. "You come into a health care environment and you feel everything is taken from you – your identity, your future." To counter that, "we just try to love and support people all day long."
Kathleen O'Neil
GUMC Communications