Preclinical Imaging Research Laboratory (PIRL)
Instrumentation and Services
Customized services offered by the PIRL include:
Advice and guidance on the efficient use and novel applications of these imaging methodologies and on experimental design
Research and development to generate and tailor imaging protocols to fit users' specific needs
Training on the safe and proper use of imaging equipment and in image processing and quantitative analysis
Support for the writing of properly powered imaging-based grant proposals and scientific manuscripts
Mentoring of faculty, postdoctoral fellows and students involved in PIRL projects
Technologies available include:
Magnetic Resonance Imaging
Optical Imaging (bioluminescence and fluorescence)
Ultrasound
X-Ray
Animal hematology
Image post-processing and quantitative analysis
---
Magnetic Resonance Imaging
Magnetic resonance imaging is ideal for longitudinal non-invasive preclinical high-resolution imaging of all tissues. Our MRI system includes a new (2021) Bruker 7-tesla/30 cm USR Bruker AVANCE Neo spectrometer with four receiver channels and ParaVision 360 software. The scanner is outfitted with cardiac and respiratory gating, customized integrated anesthesia and animal monitoring systems and new single and multichannel RF coils for mice and rats. The MRI also has high power amplifiers for multi-nuclear imaging.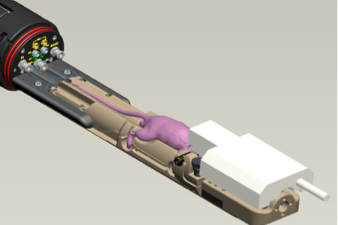 Anatomical Imaging
High resolution imaging of tissues
Quantification of tumor burden with and without contrast-enhancement
Dynamic contrast enhanced imaging of liver and kidney function
Apparent diffusion coefficient (ADC) imaging, fractional anisotropy (FA), diffusion tensor imaging (DTI) tractography and diffusion weighted imaging (DWI)
Voxel-based morphometry
MRI time of flight angiography
Arterial Spin Labeling angiography
Quantification of brown and white adipose tissues
Molecular Imaging
Metabolic imaging by MR spectroscopy of tissues, including fat
Functional Imaging by blood oxygen level diffusion (BOLD MRI), DCE imaging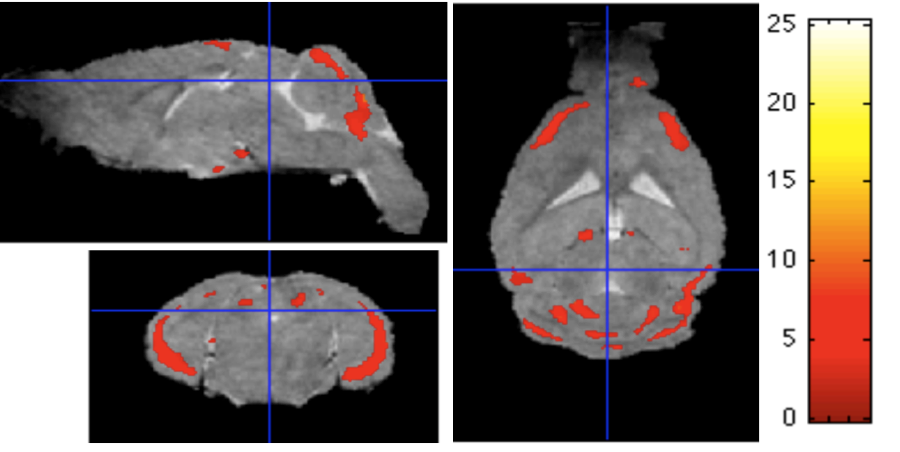 ---
Bioluminescence and Fluorescence Imaging
The IVIS Lumina III In Vivo Imaging System is capable of longitudinal, non-invasive, quantitative fluorescent and bioluminescent optical imaging in animals and ex vivo samples. A SOP for the use of the IVIS in both DC and NJ can be found here.
Features and applications: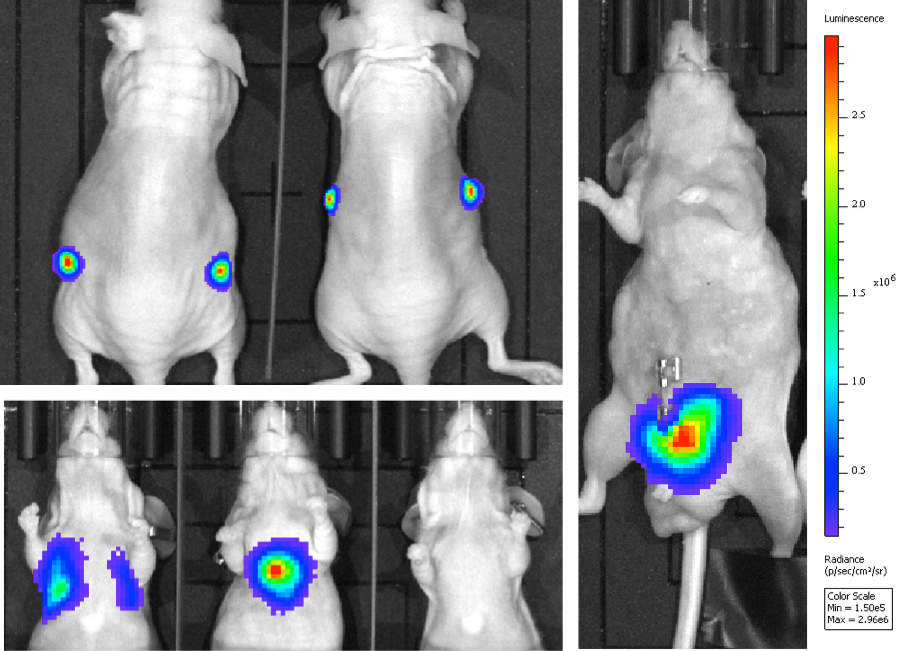 Equipped with up to 26 filter sets that can be used to image reporters that emit in the green to near-infrared range.
Allows spectral un-mixing for increased signal-to-noise ratio, to separate co-localized probes and enhanced fluorescence sensitivity.
With bioluminescence, the amount of light is proportional to the number of luciferase-labeled cells.
Dynamic contrast enhancement.
Typical applications include oncology and infectious diseases studies.
For fluorescence imaging, activateable and targetable probes can be used.
---
Ultrasound
The new (2020) VisualSonics Vevo 3100 is capable of real-time, high-resolution ultrasound imaging for rats and mice. The Vevo LAB software includes Auto LV, Vevo Strain, Vevo Vasc and Vevo CQ. A SOP to access the Vevo 3100 in DC and NJ can be found here.
Features and applications: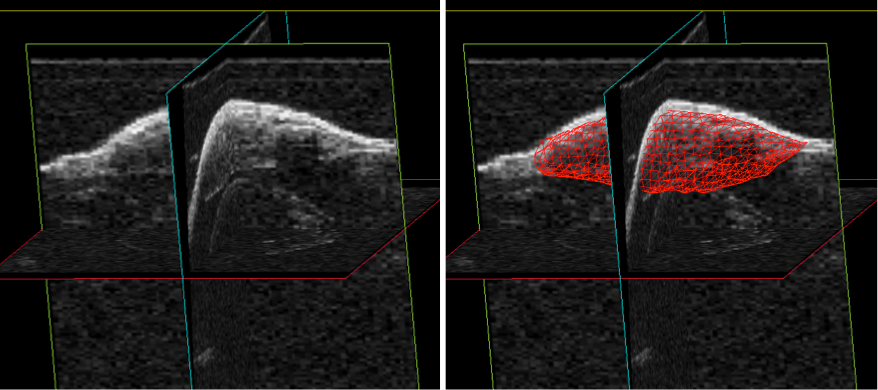 High resolution down to 30 μm.
Motorized stage
Construction of 3D images.
Image acquisition up to 30 frames per second.
Integrated anesthesia.
Tumor detection and tumor volumetry in 2D and 3D
Power and color Doppler imaging
Tissue vascularity and perfusion
Kidney function and fibrosis
Liver fibrosis
Contrast enhanced imaging
Echocardiograph in 2D, 3D and 4D for assessment of cardiotoxicity, cardiac hypertrophy and MI
4D strain analysis
Embryo injection
---
X-Ray
The Faxitron 43855 X-Ray Imaging System, a shielded and easy to operate workstation, is capable of high contrast, high resolution X-ray imaging.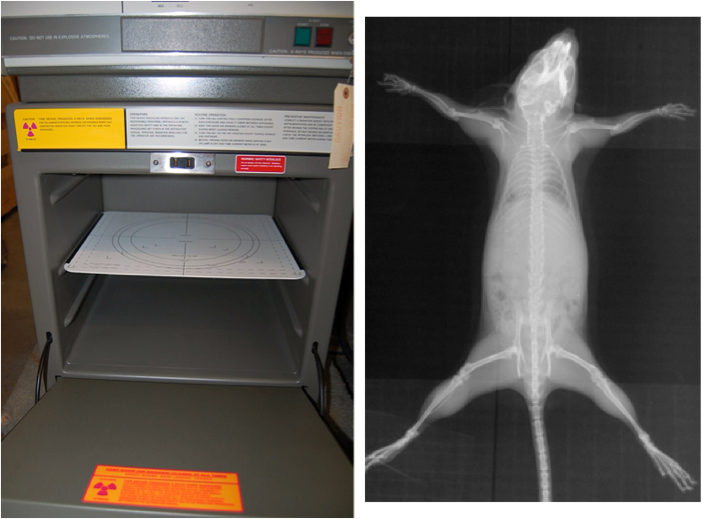 ---
Hematology
The Abaxis VetScan HM5 Hematology System is a fully automated, 5-part cell counter designed specifically for veterinary applications, offers a comprehensive 22-parameter complete blood count with cellular histograms in just minutes.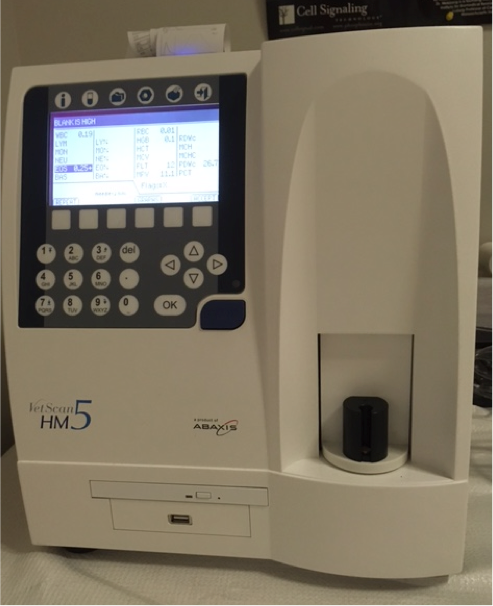 White Blood Counts:
Number and percentage of lymphocytes, monocytes, neutrophils, eosinophils and basophils.
Hemoglobin, red blood cell counts, hematocrit, mean corpuscular volume, red blood cell distribution width, mean corpuscular hemoglobin, mean corpuscular hemoglobin concentration.
Platelets, mean platelet volume, platelet count, platelet distribution width.
Species: mouse, rat, rabbit, ferret, guinea pig, alpaca, llama, primates.
Sample: 50 ul of EDTA-treated whole or diluted blood.