Clinical Trial Underway to Test Innovative Cancer Treatment Based on Georgetown Discoveries
Posted in Lombardi Stories | Tagged cancer, cancer research, clinical trials, Ewing sarcoma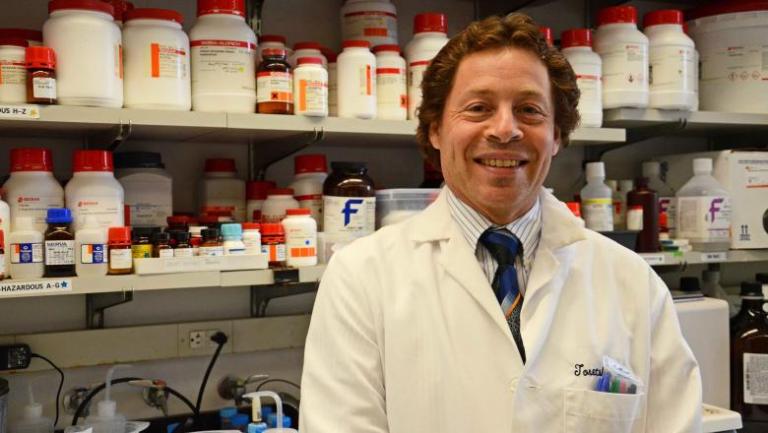 (September 30, 2016) — More than 20 years ago, Georgetown's Jeffrey A. Toretsky, MD, started studying Ewing sarcoma, a bone cancer that primarily affects adolescents and young adults and is diagnosed in about 500 persons in North America every year.
Depending on the outcome of a new clinical trial launched just weeks ago, his years of work may pay off, potentially benefiting current and future patients with Ewing sarcoma and other cancers.
This August, the first patient in a multi-center clinical trial being conducted by Oncternal Therapeutics began receiving an innovative new investigational cancer therapy based on discoveries made by Toretsky, professor and leader of the molecular oncology program at the Georgetown Lombardi Comprehensive Cancer Center, and his colleagues.
The treatment targets a fusion protein that is a major driver of Ewing sarcoma.
"Developing therapies that target fusion proteins in pediatric cancer is one of the ten areas identified for expanded research in the recent Cancer Moonshot Blue Ribbon Panel recommendations," said Michael B. Atkins, MD, deputy director at Georgetown Lombardi. "It is a tribute to the promise and importance of the research being performed in Lombardi's molecular oncology program that the Blue Ribbon Panel named Dr. Toretsky's field of research as a major area for future emphasis."
Although survival rates for patients diagnosed with Ewing sarcoma now range from 60 to 70 percent thanks to aggressive initial treatment that includes surgery, radiation and chemotherapy, patients with metastatic disease that fails to respond to chemotherapy have a very poor prognosis and few treatment options. In addition, the chemotherapy typically used to treat Ewing sarcoma can have serious effects on patients' subsequent health and quality of life, including second malignancies.
Dream Discovery
In patients with Ewing sarcoma, an erroneous exchange of genes between chromosomes causes cells to become cancerous. The malfunction creates a fusion protein, EWS-FLI1, which was considered a promising treatment target because it only appears in cancerous cells.
At the same time, EWS-FLI1 is a transcription factor, a specific type of protein that drives the growth of cancer and had been considered "undruggable" by scientists. However, with a team of researchers that included Georgetown medicinal chemists Milton Brown, MD, PhD, and Yali Kong, PhD, Toretsky created YK-4-279, a small molecule that binds to EWS-FLI1 and causes cancer cells to stop growing and die.
First-in-Class Therapy
Toretsky's work on YK-4-279 led to the eventual development of TK216, the first-in-class small molecule that is now being studied by Oncternal Therapeutics in a clinical trial.
"My Georgetown Lombardi colleague Aykut Üren, MD, and I sketched out an idea for creating a therapy for Ewing sarcoma by targeting the protein interactions of EWS-FLI1, the driving protein of this rare cancer, and years later this concept has lead to a promising new drug candidate," Toretsky said. "This trial advances my dream of possibly improving survival while decreasing side effects for cancer patients."
TK216 is the first drug developed to specifically treat Ewing sarcoma and the first pediatric oncology drug to target transcription factors.
Because TK216 targets certain related transcription factors to EWS-FLI1, Toretsky believes that it has potential to work as a treatment for additional types of cancer. Clinical studies of TK216 in patients with glioblastoma, leukemia and prostate cancer are expected to start next year.
"Our work has now been realized thanks to persistent efforts of a very multi-disciplinary team supported by NIH grant funding and by philanthropies that believe in long shots," Toretsky said. His initial research was supported by the Children's Cancer Foundation of Baltimore.
On a Fast Track
This summer, Oncternal received FDA fast-track designation for TK216 in the treatment of relapsed or refractory Ewing sarcoma, which could help streamline the regulatory submission process to get the drug to patients more quickly. Oncternal also received an FDA orphan drug designation for Ewing sarcoma, which will qualify the company for financial incentives. The clinical trial for TK216 is being conducted at Memorial Sloan Kettering Cancer Center, UCLA Jonsson Comprehensive Cancer Center and MD Anderson Cancer Center, each of which have large pediatric cancer programs.
Kat Zambon
GUMC Communications
Georgetown University owns the underlying technology and related intellectual property invented by Toretsky, Brown, Uren and Kong and has licensed the technology to Oncternal for development as a potential therapeutic agent for cancer, including Ewing sarcoma. Toretsky is currently a scientific advisor to Oncternal.