Nina Hyde Center for Breast Cancer Research
The Nina Hyde Center for Breast Cancer Research promotes advanced breast cancer research at the Georgetown Lombardi Comprehensive Cancer Center. The research done at the Nina Hyde Center makes Georgetown one of the leading institutions for breast cancer research. According to ESI Thompson Scientific, Georgetown University is ranked eighth in the world for the number of scientific papers on breast cancer.
The center was established in 1989 as a tribute to Nina Hyde, former fashion editor of The Washington Post. Fashion designer Ralph Lauren and the late Washington Post Company president Katharine Graham founded the center.
The Nina Hyde Center represents a long-standing, concerted, multidisciplinary strategy between Georgetown Lombardi's basic scientists, population researchers, and clinicians. More than 50 Georgetown Lombardi scientists and physicians study breast cancer, striving to uncover the biological basis of the many faces of breast cancer, and to work towards its prevention and cure, particularly in the Washington, DC-Baltimore, MD area.
Breast cancer is one of the top two causes of cancer mortality in women, and the Washington, DC, area suffers the highest incidence of breast cancer nationwide. As the only National Cancer Institute (NCI)-designated comprehensive cancer center in the metro area, Georgetown Lombardi works to address these problems locally and nationally through the Nina Hyde Center.
Since the early 2000s, the research program has grown to include more than $10 million in direct annual funding.
Learn more about the accomplishments of the Nina Hyde Center: 25 Years of Progress.
Support Breast Cancer Research at Georgetown Lombardi
Philanthropic donations to the Nina Hyde Center support one of the world's largest and most respected breast cancer research programs, empowering Georgetown Lombardi scientists to pursue promising ideas still in their infancy. These gifts support the work that is most speculative and most likely to find a cure. Funds donated to the Nina Hyde Center also enable Georgetown Lombardi's administration to encourage and retain the most gifted young researchers.
If you would like to make a gift to the Nina Hyde Center for Breast Cancer Research, you can call the Georgetown Lombardi advancement office at 202-687-2222 or make a secure, online gift through Georgetown Lombardi's giving page. Make sure to select Nina Hyde Center from the drop-down menu to indicate how your contribution should be designated.
About Nina Hyde: Fashion Designer and Advocate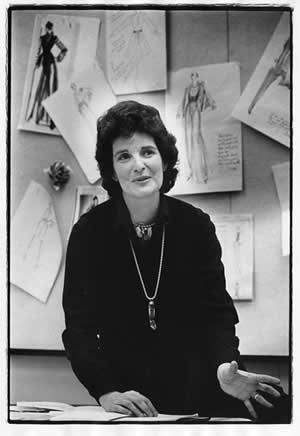 Nina Hyde reigned as fashion editor of The Washington Post from 1972 until her death in 1990 at the age of 57. An acclaimed reporter, she was said to cover a fashion event as others cover a war. Her good writing and deep thinking earned respect and accolades from colleagues at the paper, members of the fashion industry and readers.
As a journalist and an individual, Nina Hyde possessed a penetrating eye. She wrote about fashion as social history, revealing who we are and how we live. When breast cancer befell her, she saw her illness in a broad social context. Breast cancer, she said, was a national calamity besetting one in nine American women, and she challenged all Americans to fight back.
While struggling with unflagging good humor to save her own life, Nina Hyde reached out to educate and inform others. She fervently believed in the benefits of early detection and in research as the vehicle that would eventually provide a cure for breast cancer.
Nina Hyde did not live to see a cure, but she did rejoice in the establishment of the Nina Hyde Center for Breast Cancer Research, here at the Georgetown Lombardi Cancer Center.
Learn more about Nina Hyde's legacy: Remembering Nina Hyde — A Legacy of Hope.