Georgetown University's Cancer Center Receives Coveted 'Comprehensive Cancer Center' Status from the National Cancer Institute
Posted in News Release | Tagged cancer, cancer research
WASHINGTON (May 7, 2019) — The National Cancer Institute (NCI) has renewed Georgetown Lombardi Comprehensive Cancer Center's designation as a "comprehensive cancer center," a distinction first awarded to Georgetown Lombardi in 1974. Of the 1,500 cancer programs in the U.S., only 50 are NCI-designated comprehensive cancer centers and Georgetown Lombardi is the only such center in the Washington, D.C., area.
The NCI Comprehensive Cancer Center designation follows a competitive grant renewal process in 2018 during which the cancer center and its programs underwent a rigorous external peer-review by cancer center experts from across the country. MedStar Georgetown University Hospital and MedStar Washington Hospital Center serve as the cancer center's primary hospital affiliates in D.C.
In addition, the NCI approved Georgetown Lombardi as a research consortium, reflecting a fully integrated cancer research enterprise with scientists and clinicians at John Theurer Cancer Center, part of Hackensack Meridian Health in New Jersey.
Georgetown Lombardi and John Theurer began their research relationship in 2013, and today, the NCI's approval of the consortium represents the culmination of integrated research and collective talent and resources of the two cancer centers.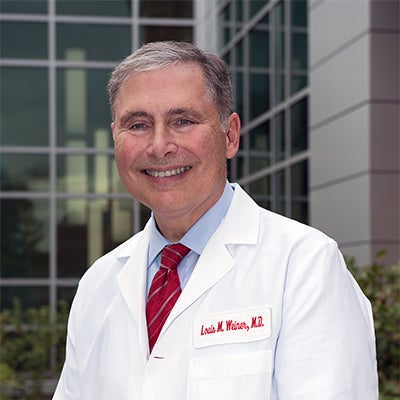 "Our research relationship with John Theurer Cancer Center has deepened our work in the key major areas of basic research, clinical research, population science, community outreach and engagement, and cancer research career enhancement," says Georgetown Lombardi Director Louis M. Weiner, MD. "The combination of this deepening research relationship in New Jersey, along with the excellent clinical care provided by our outstanding clinical partner, MedStar Health, expands the impact our cancer center has on science and delivery of cancer care. Quite simply, it allows us to provide tomorrow's treatments today."
"Our relationship with Georgetown Lombardi is built on an ambitious research-driven agenda to improve cancer care and outcomes. We have worked together since 2013 with a common mission to prevent, treat and cure cancers by linking scientific discovery, expert and compassionate patient care, quality education, and partnership with the community," said Andrew L. Pecora, MD, FACP, president of Physician Enterprise and chief innovations officer at Hackensack Meridian Health and professor of medicine and oncology at Georgetown University. "One of the main drivers in making this collaboration happen is the fact that we know that our institutions are making a greater impact on the fight against cancer by working together, than we can apart. Our consortium adds scientific strength in hematologic malignancies, stem cell transplant and immunotherapy, and we look forward to adding to this through our long-lasting relationship with our research partners in D.C."
Both consortium institutions combine their scientific strengths to accelerate research findings from the laboratory, clinical research trials and studies of populations in the Washington, D.C., and northern New Jersey areas, enhancing patient care and the understanding of underlying causes of cancer.
Separated by distance but connected by commitment, these two unique organizations have united to advance innovation in research, treatment and advocacy in the fight against cancer in the United States.
"This NCI consortium approval was based on a rigorous process and was made possible thanks to hard work and commitment across both teams at Georgetown Lombardi and John Theurer Cancer Center," said André Goy, MD, MS, chairman and executive director of John Theurer Cancer Center and professor of medicine at Georgetown University. "Through the consortium and its support, the National Cancer Institute is looking to expand its core mission of fostering cancer research and advancements that benefit patients across the country. Our relationship with Lombardi has already helped accelerate both programs, particularly around bone marrow transplantation, cell therapy — including CAR-T cells — immunotherapy and new drug development. As research partners, we also want to take advantage of technology and data/analytics to help our mission to improve patients' outcomes and reduce cancer burden across all communities."
In addition to Georgetown scientists and clinicians, the 114 members of Georgetown Lombardi come from MedStar Health hospitals and Hackensack Meridian Health including its Center for Discovery and Innovation and John Theurer Cancer Center. A member must meet set research criteria to join Lombardi. These clinicians and scientists are organized into four integrated and specialized research programs:
Breast Cancer;
Cancer Prevention and Control;
Experimental Therapeutics; and
Molecular Oncology.
In addition to expanding its impact to the north, the cancer center's long-established clinical relationship with MedStar Health has deepened its reach in the Washington, D.C., metropolitan area and led to the creation of the MedStar Georgetown Cancer Institute, directed by Weiner. Georgetown Lombardi serves as its research engine, enabling the execution of more clinical research at six MedStar Health entities across the Baltimore/Washington region.
The populations in Washington, D.C., and in New Jersey have some of the highest cancer incidence and death rates in the country. Georgetown Lombardi researchers are working on new ways to address the underlying causes of these health disparities so that strategies to mitigate these disparities can be launched and refined.
Edward B. Healton, MD, MPH, Executive Vice President for Health Sciences and Executive Dean of the medical school at Georgetown University Medical Center, underscores the critical role of Georgetown Lombardi in the communities it serves.
"An important aspect of the research, outreach and education activities carried out at Georgetown Lombardi focuses on eliminating disparities in minority and medically underserved populations," he says. "This is especially important in the communities served by both Georgetown and Hackensack, as their special collaboration has the potential to be deeply impactful."
M. Joy Drass, MD, Executive Vice President and Chief Operating Officer of MedStar Health, says, "As the clinical partner for Georgetown Lombardi, our patients receive personalized care from physicians who are also, through innovative clinical trial research, offering breakthrough advancements in diagnostics, new technologies and novel therapeutics. Our long-standing partnership provides patients with unparalleled access to a multidisciplinary team of experts, clinicians and researchers who are leading the way in how cancer is detected and treated."
---
Georgetown Lombardi Comprehensive Cancer Center is designated by the National Cancer Institute (NCI) as a comprehensive cancer center. A part of Georgetown University Medical Center, Georgetown Lombardi is the only comprehensive cancer center in the Washington, D.C., area. It serves as the research engine for MedStar Health, Georgetown University's clinical partner. Georgetown Lombardi is also an NCI recognized consortium with John Theurer Cancer Center/Hackensack Meridian Health in Bergen County, New Jersey. The consortium reflects an integrated cancer research enterprise with scientists and physician-researchers from both locations. Georgetown Lombardi seeks to improve the diagnosis, treatment and prevention of cancer through innovative basic, translational and clinical research, patient care, community education and outreach to service communities throughout the Washington region, while its consortium member John Theurer Cancer Center/Hackensack Meridian Health serves communities in northern New Jersey. Georgetown Lombardi is supported in part by a National Cancer Institute Cancer Center Support Grant (#P30CA051008). Connect with Georgetown Lombardi on Facebook (Facebook.com/GeorgetownLombardi (new window)) and Twitter (@LombardiCancer (new window)).