Women and Wine Team Honors Georgetown Lombardi Research Champion
Posted in Lombardi Stories | Tagged Lombardi Women, philanthropy
April 27, 2017 – Since receiving her diagnosis in July, Susan Miller hasn't let breast cancer keep her from smiling, and she didn't let a recent hip replacement surgery keep her from attending Georgetown Lombardi's Women and Wine fundraiser dinner on April 24, where she was honored with the Lombardi Spirit of Life Award.
"I am really not feeling well," Miller said at the event, held at the Ritz Carlton in Tysons Corner. "I'm kind of sick but I rallied to be here. So you're already seeing my spirit."
From its debut 12 years ago with about 100 women in a crowded room at The Palm restaurant, Women and Wine has grown significantly. Featuring a cocktail reception, silent auction and award presentation, the women-only event has raised $1.8 million since its inception for the Nina Hyde Center for Breast Cancer Research at Georgetown Lombardi Comprehensive Cancer Center.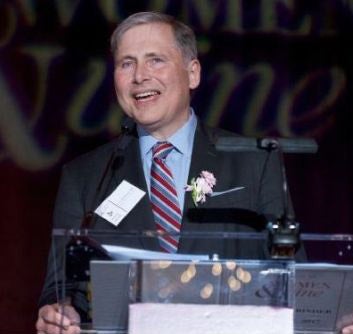 "To give you an idea of the magnitude of the impact that this event has had, the proceeds from this event have been sufficiently large that we are now able to recruit a new breast cancer scientist, a world-class scientist, whose research will one day make sure that your daughters don't have to worry about having breast cancer," said Louis Weiner, MD, director of Georgetown Lombardi Comprehensive Cancer Center.
This year, about 650 attendees, including influential women business leaders in DC, mingled over pink cocktails while bidding on silent auction items including guest passes for the Sundance Film Festival, an oceanfront timeshare in the Cayman Islands, tickets to see Washington's professional sports teams and more. More than $562,000 was raised at the event.
Curing cancer is "a grand challenge that we face in our society, and we can't do it alone," Weiner said. "We do it together. And the way we do it is we develop teams. And the way I feel about this, our team, our breast cancer researchers, clinicians, folks who want to do something to end the problem of breast cancer, grew by about 650 people. Thank you for being here. Thank you for all that you do."
"It Takes a Village and You Guys are the Village"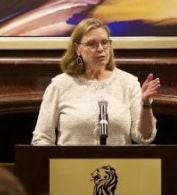 Shawna Willey, MD, director of MedStar Regional Breast Health Program and a member of Georgetown Lombardi and Claudine Isaacs, MD, co-director of the breast cancer program at Georgetown Lombardi, kicked off Women and Wine with a briefing on the state of breast cancer research.
Advances in imaging technology mean that doctors are finding breast cancer at very early stages, said Isaacs. However, most of those diagnosed with early stage breast cancer, including ductal carcinoma in situ (DCIS), receive aggressive treatment for their cancer even though it is unlikely to progress, she added.
"What we're trying to figure out is, who are the women with DCIS where we can leave them alone and say, you're going to be fine, you don't need anything, and who are the ones that really do need an intervention so that we can stop them from developing invasive breast cancer," she said.
In addition to basic science research on early stage breast cancer, funds raised from Women and Wine have supported research on the biological impact of social isolation and its effect on patients, why some patients discontinue hormonal therapy and how to encourage patients to make better use of genetic testing.
"It's these kinds of projects and it's the collaborations that we have that really set Lombardi apart from all of the other places in the area," Willey said. "We are the only NCI-designated comprehensive cancer center [in Washington]. We treat about 400 breast cancers a year and we do that with the help of all of you. We don't do it alone. We need all of the help, all of the community. I know it takes a village and you guys are the village so we appreciate all that you do for us."
"Chemo Brain and Fatigue and Did I Say Chemo Brain?"
Susan Miller was honored at Women and Wine with the inaugural Lombardi Spirit of Life Award, which is given to a cancer survivor who exemplifies character and leadership in the community while promoting cancer research and awareness. After she was diagnosed with stage 3 triple-negative breast cancer in July, Miller, a mother of four children under age 8 with no family history of breast cancer, has faced a number of challenges, some of which she mentioned in her award acceptance speech.
"While I may have an uncanny knack at finding the positive, this is a fundraiser so I should probably also mention some of the worsts," she said. "For example, telling your mom you have breast cancer. Having your child ask if it is contagious, more than once. Your successful career trajectory stolen from you. Explosive diarrhea. C-diff. Pneumonia. Chemo brain and fatigue and did I say chemo brain?"
"But, ever the optimist, I've also found some unexpected upsides of having cancer," Miller continued. "So, for example, spending time with my baby Rowan and being proud of your kids in a way that you can't even imagine, whether it was Flynn raising $1,000 for breast cancer research in a pink lemonade stand, Scarlett explaining chemo to her 6 year-old class, or Sloan, my 4 year-old, asking every bald man she meets if he has breast cancer like her mom."
Miller implored attendees to donate something extra to Georgetown Lombardi at the event. "Based on previous breakthroughs at Lombardi and the fact that we have Dr. Clarke and Dr. Weiner on our team, chances are good that a cure for breast cancer will actually happen at Georgetown," she said. "And what you're buying is hope, for you, for your children, for my four children, for your grandchildren."
Kat Zambon
GUMC Communications