Survivorship Research Initiative's New Director Hopes to Smooth a Rough Road
Posted in Lombardi Stories | Tagged cancer research, survivorship, Survivorship Research Initiative
(June 24, 2022) — Both the American Cancer Society and the National Cancer Institute use the terms survivorship and survivor to refer to anyone with cancer, from the moment of diagnosis to the end of life. As the director of the Survivorship Research Initiative at Georgetown Lombardi Comprehensive Cancer Center, Nina Kadan-Lottick, MD, MSPH, a pediatric hematologist-oncologist and research scientist, views survivorship as optimizing quality of life at every stage so patients feel their best and live their best life despite the challenges they face.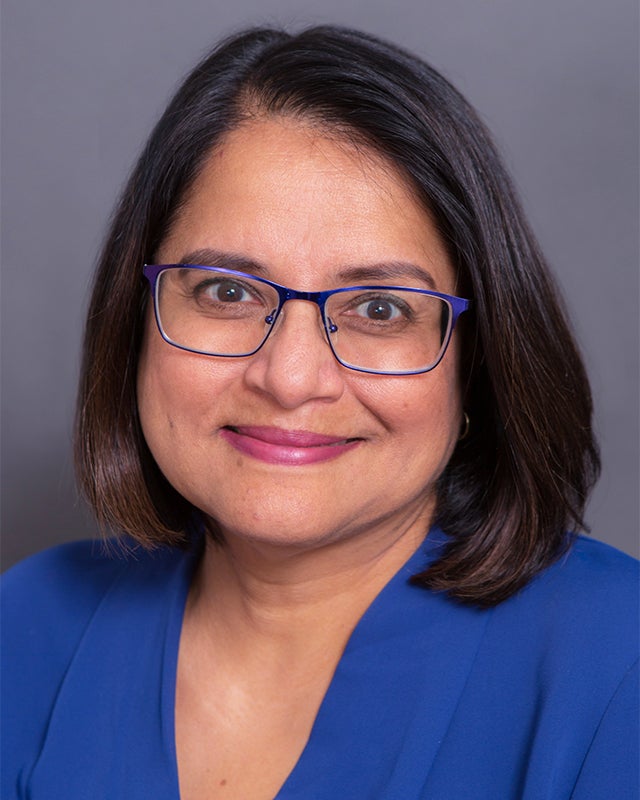 "Cancer is not really an event but a journey," says Kadan-Lottick, who is also a professor of oncology and pediatrics, a member of Georgetown Lombardi's Cancer Prevention and Control Program (CPC), and a principal investigator in the Children's Oncology Group, a clinical trials cooperative group.
"Most people who've been treated for cancer will tell you that it's not like your life snaps back," she adds. "It's never going to be the same: You've gone on a different path. It can still be a good path, but your life has been changed."
Living Their Best Life
The field's focus on optimizing patients' quality of life originated in caring for childhood cancer patients, a specialty with which Kadan-Lottick is intimately familiar. Before coming to Georgetown Lombardi, she founded and was medical director of Yale University School of Medicine's regional HEROS Program, one of the first multidisciplinary research and clinical programs in the U.S. for long-term childhood cancer survivors.
"It sounds like a paradox to say 'optimize the cancer experience.' because we don't want anyone to experience cancer," she says. However, when cancer does occur, the very drugs and other treatments that fight it often can cause long-term health problems months or even years after the end of treatment.
Even when a cancer is not curable, it's often treatable with palliative care to lessen the severity of symptoms and perhaps allow a patient some extra meaningful time with loved ones.
A Young Field
"For so long — and rightfully so — people were thinking that the first, most important thing is just to kill the cancer," Kadan-Lottick notes. Within the last two decades, though, realization has grown that much more is needed. "Survivorship research is taking care of the whole person and taking care of the whole person over time, not just for an event," she says.
That means monitoring not only a patient's physical health, but also their emotional and cognitive health, as well as financial toxicity, which can affect the patient and their entire family in the form of lost income, high out-of-pocket expenses or lost opportunities. Caregivers of cancer patients also report higher rates of emotional distress, depression and physical health issues, so the SRI wants to find ways to better support them.
"I would say that everyone affected by cancer is a cancer survivor, because they lived that experience as well," says Kadan-Lottick. That includes family members, friends and other caregivers.
It's now becoming more common for multidisciplinary teams — which in addition to physicians can include nurse educators and navigators, physical therapists, psychologists and social workers — to tackle cancer care. However, there is still a long way to go.
"Most of the studies, most of the clinical trials, most of the recommendations have been based on data from white patients," notes Kadan-Lottick. "We need to study patients of other races and ethnicities better to understand what particular health challenges or psychosocial challenges or emotional challenges may be particularly important."
Also underrepresented are those whose circumstances leave them vulnerable to various social determinants of health, such as discrimination, violence, lack of employment and insurance, proximity to care, access to a grocery store and transportation. Survivorship research on the geriatric age group has also been limited even though senior adults have the highest incidence of cancer.
Kadan-Lottick says Georgetown Lombardi is committed to leaving no one behind. SRI studies are already underway to examine all of these issues. "What we learn from research has to be disseminated to real people in a way that they can hear and benefit from. … If we want to see change, we have to understand what the barriers are."
'Happenstance and Luck'
Finding her own path involved "a bit of happenstance and luck," Kadan-Lottick says. In high school in New Orleans when the first artificial heart was unveiled, she decided to pursue biomedical engineering at Johns Hopkins University to learn how to help create other artificial organs. However, she found that developing a personal rapport with patients meant more to her than developing cutting-edge technology.
To that end, she went to medical school at Johns Hopkins, initially studying to be an orthopedist. "But then when I was in the OR more with orthopedists, I realized a lot of what they did was with hammers and chisels and not so much talking to patients," she says.
In the middle of her third year, she needed an elective and her first two course choices were unavailable. Third on her list was pediatric hematology/oncology. "It was just transformative," she says. "I love my specialty. I love oncology because I feel that all of us are physician-scientists."
Watch This Space
"I was very excited to be offered this position," Kadan-Lottick says. "I was so excited about having a leadership position in which I had the ability to really build and expand survivorship research. I was impressed that Lombardi was committed enough to survivorship that they had a position such as this and the resources to support that."
The disruption of the pandemic definitely had an impact on her first year leading the SRI. "This is work that's best done as a cooperation and a collaboration and as a team," she says. "Certainly I've had millions of Zoom calls, but very few face-to-face [meetings]. I just think the connection one makes and the ideas and the energy and the brainstorming are greater in-person."
As director, she wants to bring people and ideas together to do work that will change clinical practice. A monthly survivorship seminar invites national leaders in the field to speak about their research. COVID permitting, she plans to hold more in-person events, including retreats and grant writing sessions.
Kadan-Lottick also hopes to see survivorship care become part of day-to-day care for all cancer patients. "I just want to always go forward," she says. "I think that's what we owe to our patients, to always know more and to always just not be content with the status quo."
Michael von Glahn
GUMC Communications