Ruesch Symposium Focuses on Molecular Profiling and the Individual Patient
Posted in Lombardi Stories | Tagged gastrointestinal cancer, Ruesch Center Symposium
"What does tomorrow look like — what are we driving toward and how do we get there?"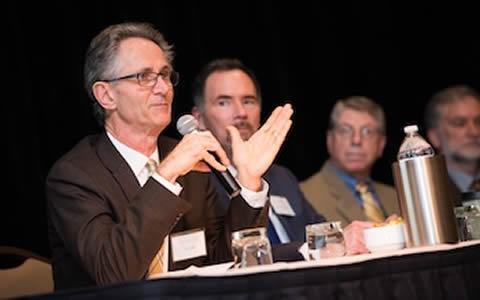 These words about the future of cancer care and molecular profiling from John L. Marshall, MD, director of The Ruesch Center for the Cure of Gastrointestinal Cancers, set the tone for the Center's fourth annual "Fighting a Smarter War Against Cancer" symposium held Dec. 6-7, 2013 at Georgetown University. The Ruesch Center is part of Georgetown Lombardi Comprehensive Cancer Center at Georgetown University Medical Center.
"We are in the cocoon phase of our metamorphosis," said Marshall, introducing this year's topic, genomic sequencing that is transforming how cancer is researched today, and hopefully how it is treated tomorrow. "We're learning … we're in the middle of researching it and learning what to do with it."
'High-Definition Medicine'
As in previous years' events, the symposium convened a vast range of stakeholders, including researchers, clinicians, regulators, insurance industry representatives, community advocates, patients and their families. On the first day, speakers and attendees discussed progress and challenges in molecular profiling to enable targeted treatment for the individual, united in their goal to transform the standard of GI cancer care and to advance the science and practice of personalized treatment.
"The future of cancer treatment is to identify the specific defect in a patient's cancer and develop a treatment specific to that patient's tumor," said Aiwu Ruth He, MD, PhD, assistant professor of medicine at Georgetown Lombardi and a specialist in liver cancer. She and Thomas Fishbein, MD, professor of surgery and executive director of MedStar Georgetown Transplant Institute (MGTI) co-led a special session on hepatocellular carcinoma—the most common type of liver cancer.
The comparison of molecular profiling to earlier cancer research is analogous to comparing high-definition televisions to early generations with antennae, according to Michael A. Pacanowski, PharmD, MPH, director for Genomics and Targeted Therapy in the U.S. Food and Drug Administration's Office of Clinical Pharmacology.
"I like to call it 'high-definition medicine'; instead of an obscure clinical diagnosis, we have a specific molecular look, a very high-definition snapshot of a person's tumor. We're getting to a place where it's more about the molecular information, innovative trial designs and grouping patients by molecular defects rather than types of tumors," Pacanowski said.
The many variations in tumors and in genes, however, present a major challenge both in terms of clinical study design and regulatory strategies, noted keynote speaker Manuel Hidalgo, MD, PhD, associate professor of oncology at the Johns Hopkins University School of Medicine and director of Centro Integral Oncológico Clara Campal in Madrid, Spain.
"We're dealing with complexity, heterogeneity and flexibility–these genes can mutate later and change," noted Hidalgo.
The need for more patient participation in studies and higher decibels of patient voices demanding progress was a recurring and resounding theme over the course of the two-day symposium.
"We need a new direction," said Joe Selby, MD, MPH, executive director of the Patient-Centered Outcomes Research Institute (PCORI), an independent, nonprofit organization authorized by Congress in 2010 to fund research that will provide patients, their caregivers and clinicians with the evidence-based information needed to make well-informed health care decisions.
"There is no condition like cancer to make the case that different patients have different needs," Selby said.
'Cura Personalis' Exemplified
Georgetown's guiding principle, cura personalis, or "care of the whole person," was exemplified at the second day of the symposium, which has become an annual event geared towards patients, caregivers and cancer advocacy groups.
Attendees of the Dec. 7 event were invited to meet medical specialists and leaders of patient advocacy organizations in four GI cancer sessions–pancreas, colon, stomach and liver–and to share experiences.
The symposium concluded with a series of breakout sessions that addressed a broad range of practical issues that patients face, from nutrition needs, pain management, palliative care and legal and insurance issues to day-to-day cancer care organization and logistics, relationship strategies and meditation.
The keynote speaker for the second day was Kevin Fitzgerald, SJ, PhD, associate professor at Georgetown Lombardi and the Dr. David P. Lauler Chair for Catholic Health Care Ethics.
Fitzgerald addressed bioethics, talking about "the importance of putting rapid advances happening in medical research technology into the context of what we want to achieve–best care–while simultaneously avoiding the harms that might pop up as we move forward."
A Jesuit priest, Fitzgerald highlighted the World Health Organization's definition of health as "a state of complete physical, mental and social well-being and not merely the absence of disease or infirmity."
"We haven't cared for the person if we haven't cared for the whole person. We do integrate that into everything we do. There's scientific evidence–if you integrate this into people's lives, they will do better, they will feel more fulfilled."
By Stephenie L. Fu, SLF Strategies
GUMC Communications Contributor
January 9, 2014