Ruesch Symposium Explores Immunotherapy and Personalized Medicine
Posted in Lombardi Stories | Tagged cancer, cancer research, gastrointestinal cancer, Ruesch Center Symposium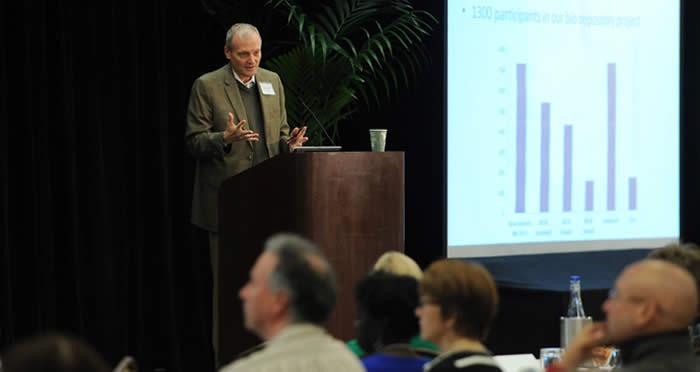 (December 12, 2014) — How will the emerging field of molecular diagnostics and therapeutics impact patient care in the near future? What new developments are there in cancer immunotherapy research and which patients will respond favorably to these new therapies?
These are some of the questions that were raised at the fifth annual "Fighting a Smarter War Against Cancer" symposium held December 4-6 at the Georgetown Hotel and Conference Center. The Ruesch Center for the Cure of Gastrointestinal Cancers hosted the three-part event, which explored recent advancements in gastrointestinal (GI) cancers and immunotherapy treatments. The Ruesch Center is part of Georgetown Lombardi Comprehensive Cancer Center at Georgetown University Medical Center.
"Six billion people on our planet right now do not have access to cancer care, said Ruesch Center director John Marshall, MD, who delivered the event's opening remarks.
"How are we going to take care of our brothers and sisters around the world in a cost effective way? It is going to be through molecular profiling. That's how we'll move forward."
New Hope for GI Cancer Research
This year's symposium brought together various stakeholders in cancer medicine, including medical providers, community leaders, caregivers, and patients, to discuss the treatment landscape for patients with GI cancers.
The symposium opened on December 4 with disease-specific updates from the Ruesch medical oncology team on colorectal, pancreas, hepatocellular, and upper GI cancers. Each speaker presented an in-depth overview of the research progress made within their respective disease specialties, along with a discussion of the advancements and challenges of molecular profiling to enable targeted treatment for patients.
"I think that we are getting into an era when there is new hope for pancreatic cancer where we can actually legitimately explore new ways to treat these patients. The first and hottest topic is immunotherapy," said Michael Pishvaian, MD, PhD. Pishavaian, who is an assistant professor in the Hematology/Oncology department at Georgetown Lombardi, led the session on pancreas cancer.
"I know for myself, my standard option for patients who have progressed on two lines of therapy… the next thing is to look for an immunotherapy trial," Pishvaian added. "Patients' tumors differ at the molecular level, suggesting that we may be doing better by tailoring their therapy based on their molecular profile."
Due to variations in tumors and other biological factors among patients, differing schools of thought exist on whether to transform the standard of GI care to engage a more individualized approach. Although oncologists have historically taken a traditional approach to cancer treatment—chemotherapy, radiation, surgery, or a combination of two or more—each of the event speakers highlighted the future of cancer care as one that incorporates identifying and developing patient-specific treatments.
"We know that cancers are all different, yet we treat them all the same. We need to get away from this and begin treating patients based on their individual tumor characteristics," Marshall noted.
The symposium explored immunotherapy in greater detail on December 5, when event moderators delved into the differences between a personalized approach and conventional therapies. One of the main differences is the target—with traditional cancer treatments the tumor is targeted for treatment, whereas with therapeutic vaccines and other forms of immunotherapy, the target is the immune system.
Another main difference between the two therapeutic approaches is the pharmacologic benefit, explained Jeffrey Schlom, PhD, chief of Laboratory of Tumor Immunology and Biology at the Center for Cancer Research at the National Cancer Institute (NCI), National Institutes of Health (NIH).
"With conventional therapies the benefit is offered immediately, whereas it is often delayed with immunotherapies. This is probably because of the memory response," Schlom explained. "With vaccines and other forms of immunotherapy…the immunity is long-lasting and therefore there can be a memory response. It can be recalled."
"We all see this with herpes viruses," Schlom added. "Almost everyone in this room has had a herpes virus, but you get vaccinated, you develop an immunity to it, and it keeps the virus in check."
The second day of the symposium also included the Schafer Memorial Lecture, which was established in 1999 as a tribute to Thomas R. Schafer. The lectureship brings scientists and specialists who have made significant accomplishments in GI cancer research to the Ruesch Center to share the latest innovations in cancer therapy.
This year's lecture which was delivered by Bernard A. Fox, PhD, who is the chief of Laboratory of Tumor Immunology and Biology at the Robert W. Franz Cancer Research Center at Providence Cancer Center.
"The practice of oncology is undergoing a transformation," said Fox. "There is a new paradigm in oncology and it is that the immune system is the agent that improves outcome and that cures people with metastatic cancer. That's what does it."
Fox also discussed several drugs that are currently under development, along with accompanying targeted therapy and vaccine strategies.
Precision Medicine
The last day of the event was geared towards patients and their families, and was marked by breakout sessions, which provided them with disease-specific information, as well as tools for managing their cancer care.
The keynote speaker on December 6 was Georgetown Lombardi director Louis M. Weiner, MD, who gave a speech entitled, "Our Race for the Cure: Understanding the Future Roles of Immune Therapy, Targeted Therapy, and Chemotherapy."
Dr. Weiner engaged the audience in a discussion of 'precision medicine,' which he defined as "the right treatment for the right person at the right time."
"Is immunology the next great frontier in cancer research? I think it is," said Weiner. "For example, with melanoma there are so many immune-regulatory molecules that can be attacked to help the immune system destroy cancers. And I firmly believe GI cancers are next."
Weiner also discussed some of the personalized therapy strategies he has implemented with his own patients using the Georgetown Database of Cancer (G-DOC), an informatics infrastructure that houses all of the information obtained about a patient's cancer to deduce which patients will respond favorably to certain cancer treatments.
"The truth is we have been at war with cancer throughout human history. This cancer problem did not start with industrialization," said Weiner. "It's always been there. The war on cancer is fought one person at a time. Each of you, each of us."
By Cherisse Cobrand
Georgetown Lombardi Communications