Routine Lung Screening Spots Aggressive Cancer Early, Allows Successful Treatment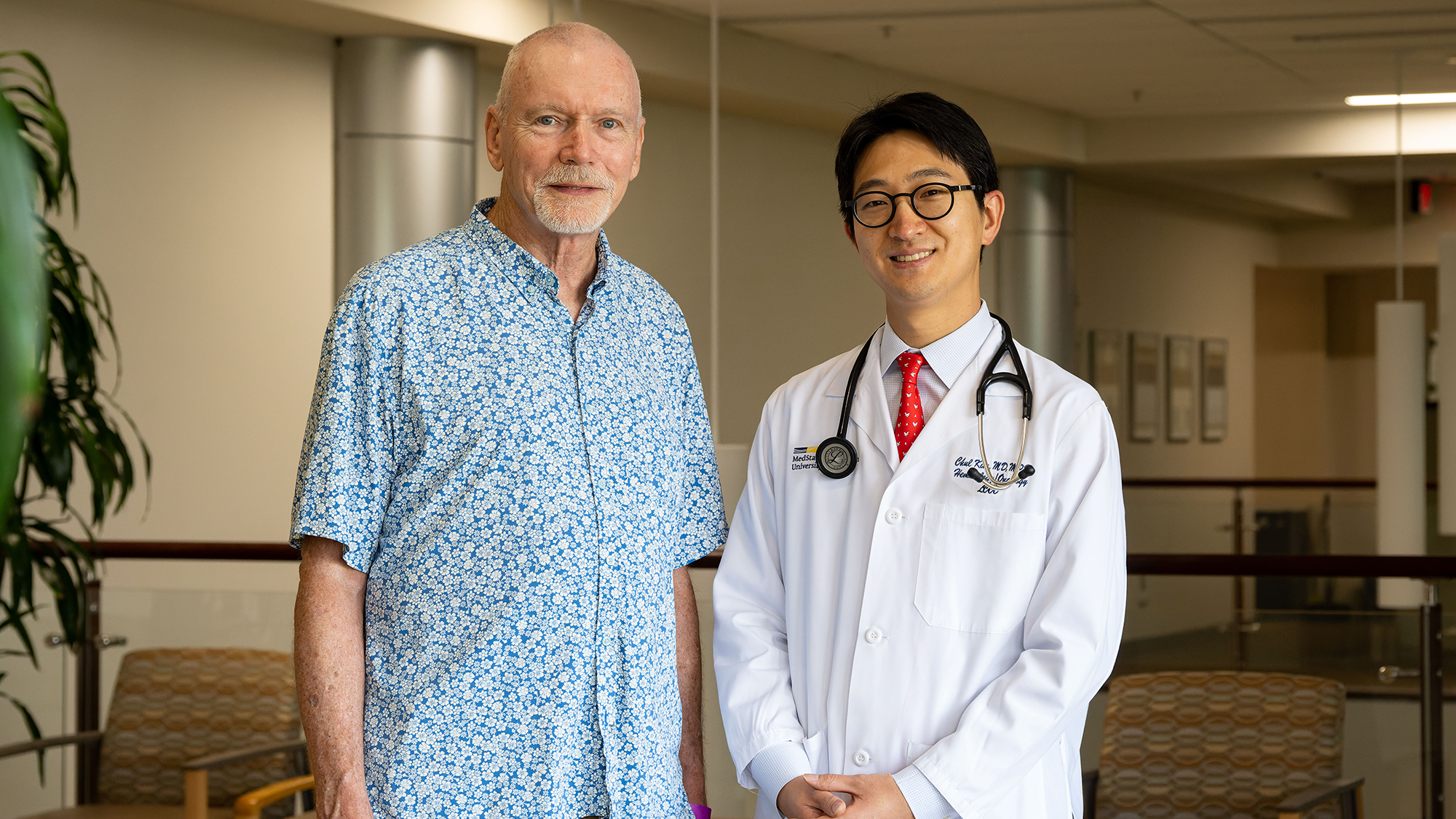 Posted in Lombardi Stories | Tagged cancer, cancer screening, early detection, lung cancer, small cell lung cancer
ACA provision that requires coverage of lung cancer screening now in jeopardy because of court ruling.
(August 24, 2023) — The detection of an aggressive form of lung cancer in a patient treated by experts at Georgetown University's Lombardi Comprehensive Cancer Center demonstrates the importance of routine screenings and a strong relationship between patients and their primary care physicians.
William Aiken, 72, credited his routine lung cancer screening for finding a small nodule in his lung, and possibly saving his life. His insurer was required to cover the procedure done in 2022 because of the Affordable Care Act (ACA).
"I am terribly fortunate to have benefited from legislation that provided for the screening that detected my lung cancer," said Aiken. "My life was probably saved by that routine screening."
But in March 2023, a federal judge in Texas struck down the part of the ACA that mandated private health insurers fully cover, at no cost to the patient, a range of preventive services from screenings for lung and colorectal cancer to drugs that prevent HIV transmission. An appeals court has temporarily stayed the ruling, and the Biden administration is appealing the decision that applies nationwide.
Retirement Interrupted
After retiring as public affairs director for a national nonprofit organization in Washington, DC, Aiken relocated to St. Michaels, Maryland, where he looked forward to spending his days on the water with his wife and dog.
At the insistence of his wife, who is also a cancer survivor, and based on the advice of his primary care physician, Aiken started to receive routine low-dose computed tomography (CT) scans of his lungs.
"It was my primary care physician who knew I had a significant history as a smoker and really encouraged me to get screened," he said. His primary care physician recommended the screenings despite Aiken falling outside the recommendations of the U.S. Preventive Services Task Force.
"The first couple of times, nothing came back, so I wasn't quite sure if I still needed to keep doing the regular screenings, but my wife encouraged me to keep going."
After one of his scans in October 2022, the small nodule was discovered.
"The nodule turned out to be small cell lung cancer, which is a type of cancer that can metastasize really quickly," Aiken said. "I was lucky that it was discovered at such an early stage."
Small cell lung cancer accounts for 10-15% of all lung cancers. Due to the aggressive nature of the illness, most people are not diagnosed until the cancer has already spread beyond the lungs, with only 7% of people living beyond five years of diagnosis.
After the discovery, Aiken was referred to a pulmonologist, who performed a biopsy and recommended further treatment.
"I was fortunate to have an oncologist as a friend who recommended I seek out care for the cancer at Georgetown," said Aiken. He was referred to medical oncologist Chul Kim, MD, MPH, associate professor of medicine and a lung cancer specialist.
"You do not see a lot of early stage small cell cancer patients [like Aiken] because it is not detected until much later because it is so aggressive," said Kim. "The best cure available happens after this type of early detection in the lungs.
"Screenings have been shown to improve mortality, and not using this tool will leave people more vulnerable," Kim said, acknowledging the public health implications of screening with CT scans potentially no longer being routinely covered.
Road to Recovery
Aiken was assigned to a tumor board, a team of Georgetown Lombardi doctors specializing in pathology, surgical oncology, pulmonology and medical oncology. The board collectively reviewed the specifics of his case and made an individualized treatment recommendation.
"The tumor board mapped out the care I would receive, and I just remember their warm support throughout the whole process," he said.
Aiken eventually underwent surgery in February to remove the small tumor present in his lungs and then started chemotherapy at MedStar Georgetown University Hospital.
"From the moment the nodule was found, things moved very quickly," he said. "I'm so appreciative of the prompt response from the doctors and their thoughtful consideration of what was going on throughout my treatment."
Aiken reports that his recent imaging studies do not show any evidence of cancer.
"I've been so fortunate all along, from the early detection to the care I received," he said. "The screenings are so necessary, and it's so important to have a good relationship with your primary care physician."
When he feels recovered from his chemotherapy, Aiken plans to take his boat back on the water with his wife, who also reports being cancer-free after receiving treatment at Georgetown Lombardi.
"We both consider ourselves Georgetown alums now," he said.
Heather WIlpone-Welborn
GUMC Communications