Ralph Lauren Center for Cancer Prevention — Part of Washington's Fabric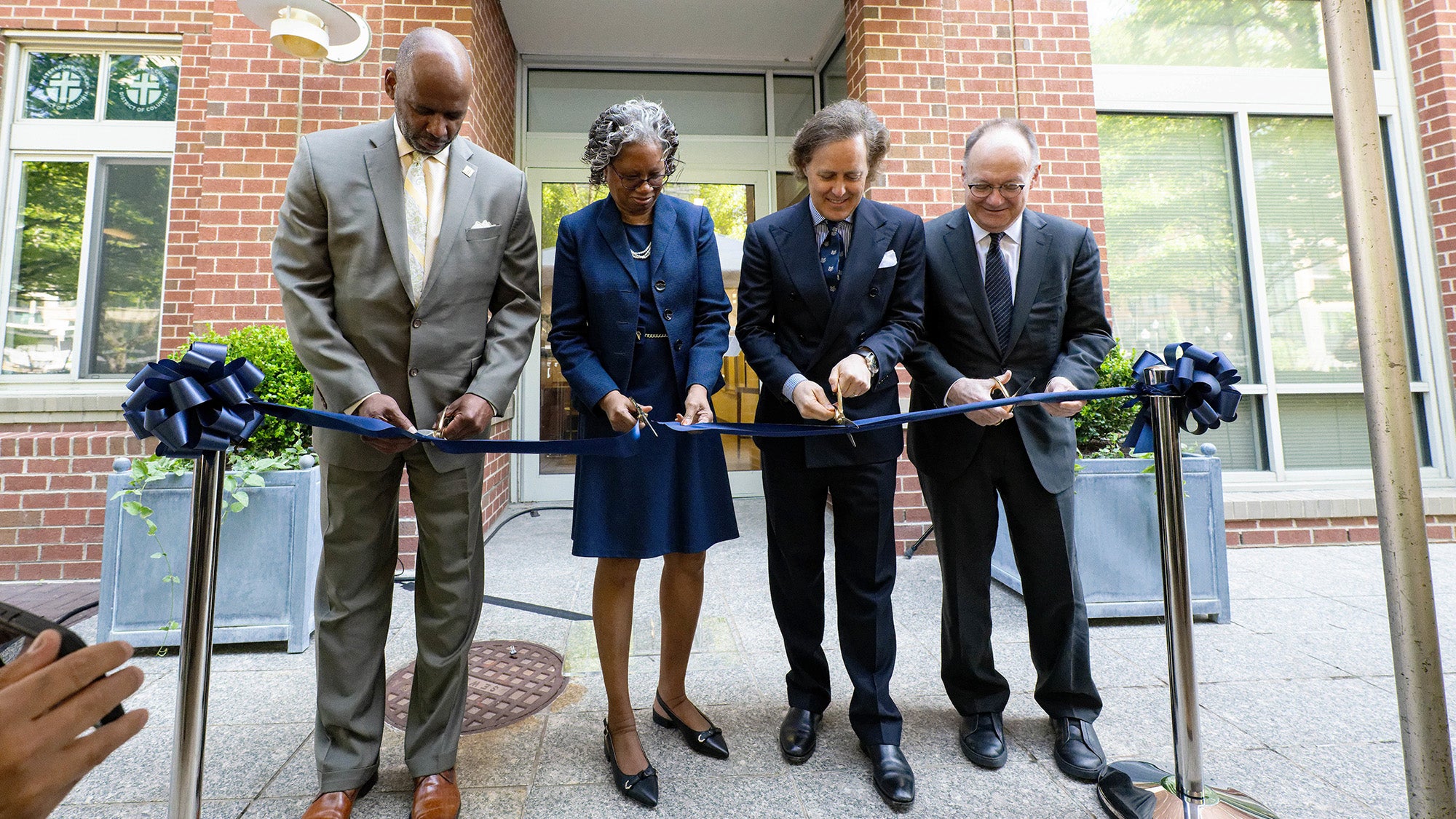 Posted in Lombardi Stories | Tagged cancer prevention, health disparities, health equity, minority health, Ralph Lauren Center for Cancer Prevention, underserved populations
(April 19, 2023) — Lombardi Comprehensive Cancer Center's newly dedicated Ralph Lauren Center for Cancer Prevention brings renewed hope that those who have been historically underserved in the Washington, DC, area will now have access to more cancer-related services, potentially turning the tide on the high rate of cancer in the city.
Formerly the Capital Breast Care Center, the Ralph Lauren Center at 1010 New Jersey Ave., SE, has expanded its offerings beyond the breast cancer-focused services available over the last 15 years to include comprehensive cancer education, community outreach and screening resources for lung, colorectal and prostate cancers. When necessary, the center also navigates patients across the continuum of care.
Community-Focused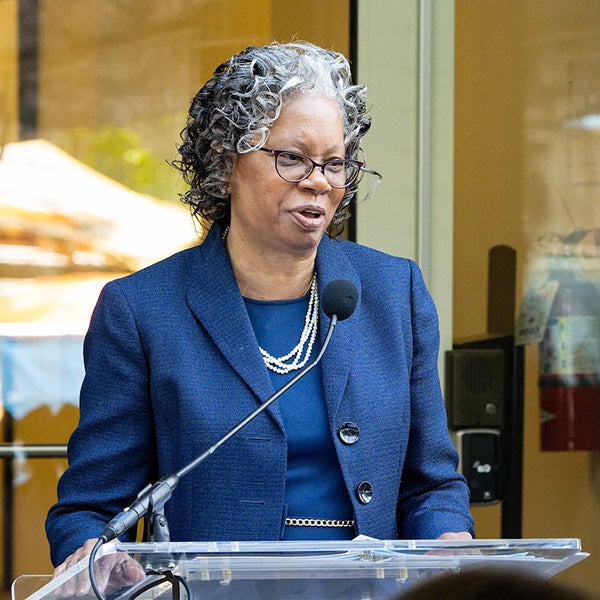 The founding director of the Ralph Lauren Center, Lucile Adams-Campbell, PhD, said the center will continue its steadfast mission to meet people where they are with targeted outreach and education.
"We are very pleased that we are part of the fabric of the community," said Adams-Campbell during the center's dedication on April 17. "The bulk of the work of the center happens in the community and includes venues such as churches, public housing, federally qualified health centers, local community clinics, homeless shelters and grocery stores, just to name a few places."
In addition to a renaming and renovation of the facility's interior, a significant grant from the Ralph Lauren Corporate Foundation allowed Adams-Campbell to hire two new patient navigators (now five total), a nurse practitioner, a certified health education specialist, public health nutritionist, health communications specialist, a lawyer (part of the Health Justice Alliance with Georgetown Law) and a data manager.
In addition to patient navigation, community outreach and educational programs, the team will work to share opportunities about participating in clinical trials.
"When you invite people to participate, when you educate people to participate, when you teach people the importance — they participate," said Adams-Campbell, who is also associate director for minority health and health disparities research at Georgetown Lombardi
Enduring Relationships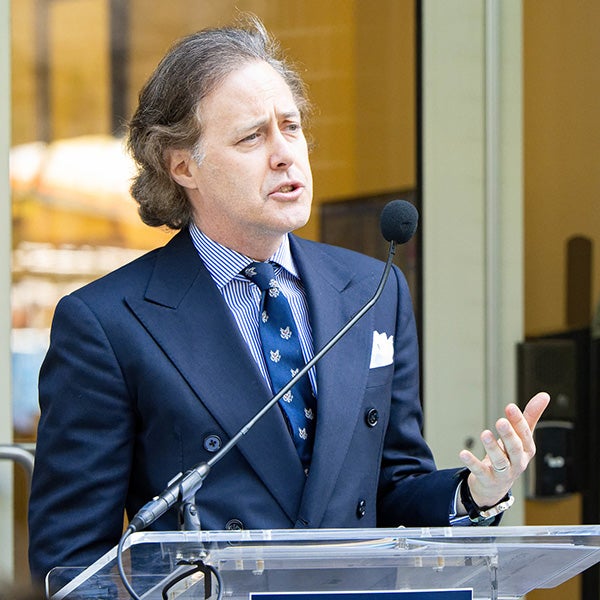 Ralph Lauren has a long-standing history of support and partnership with Georgetown Lombardi. In 1989, Lauren, alongside Katharine Graham, then-publisher of The Washington Post, co-founded the Nina Hyde Center for Breast Cancer Research at Georgetown Lombardi in honor of his close friend and former fashion editor Nina Hyde.
In 2022, the Ralph Lauren Corporate Foundation made a $25 million commitment in new grant funding to expand or establish five Ralph Lauren-named cancer centers in underserved communities across the United States. The center in Washington is the first to open.
"We have stayed involved and we've invested, and we're continuing to grow our partnership here with the Lombardi Center," said David Lauren, son of Ralph Lauren and president of the Ralph Lauren Corporate Foundation. "What we've done here is create a real experience, a real environment that will envelop people in the community and give them a sense of hope."
Care for the Community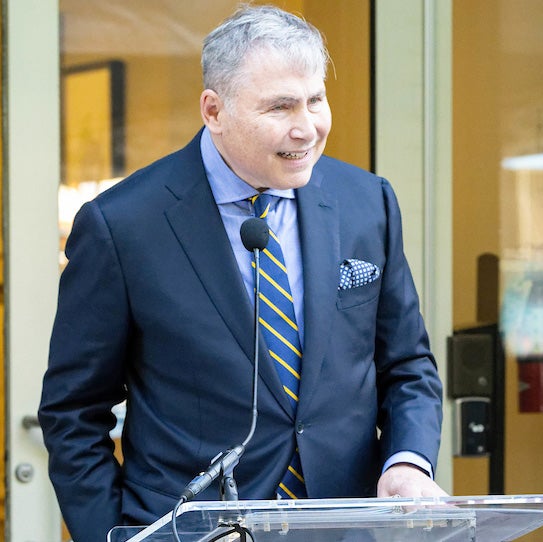 "Mr. Lauren's pioneering vision and his investment in Georgetown has led to remarkable progress over the years in cancer research and care," said Louis M. Weiner, MD, director of Georgetown Lombardi. "Our shared commitment to make [the] world a better place brought us together again."
Speaking at the dedication, Wayne Turnage, deputy mayor for health and human services, shared his optimism about the new center.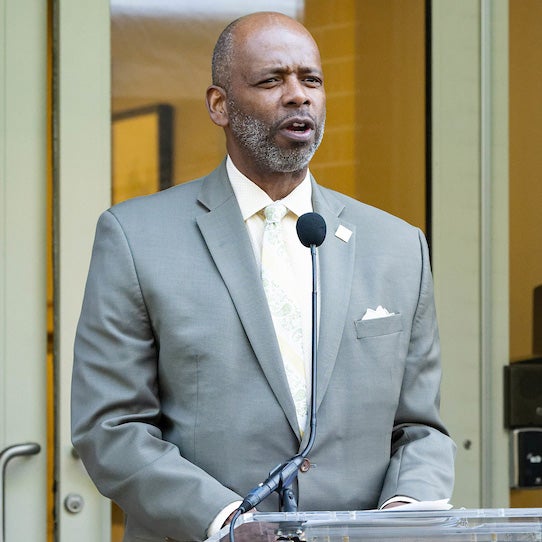 "The opening of this center on this side of town has not gone unnoticed by the administration, and we view it as a vital part of a larger effort underway to expand access to health care for residents in the east end of the city," he said. "We know from years of research that these residents, compared to their peers in the balance of the city, have much shorter lifespans. With this marvelous investment, these residents will now have greater access to cancer prevention and early detection services."
Southeast Washington has experienced a flight of health care options. Residents are forced to seek care where they can — if at all. The mission of the Ralph Lauren Center is to alleviate that barrier.
Partnerships in Action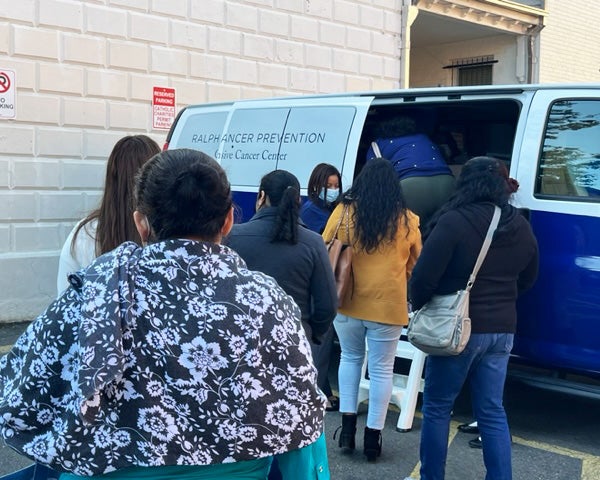 The center supports early detection as well as diagnostic and preventative measures and, when necessary, connects individuals to Georgetown University's academic health system partner, MedStar Health, for specialized care.
On a cool spring morning in April, Ralph Lauren Center Health Navigator Nathaly Garces Lenis made her bimonthly trek to the Catholic Charities clinic in the northwest DC, where she often connects with eight to 10 women from the underserved Latino community who are offered mammograms at no charge to them. Lenis arranges for them to get their breast cancer screening at MedStar Georgetown University Hospital or MedStar Washington Hospital Center.
"I fell in love with the job, the mission," Lenis said. "I like to help the community … that's my passion and love."
On this occasion, Lenis guided the women to the center's van wrapped in Ralph Lauren's signature navy blue to be transported to and from the Georgetown campus.
For 44-year-old Maria Cruz, screening is a priority, and the transportation is helpful since she doesn't drive.
"It's more easy that way and very important for me." Cruz said.
Transforming Care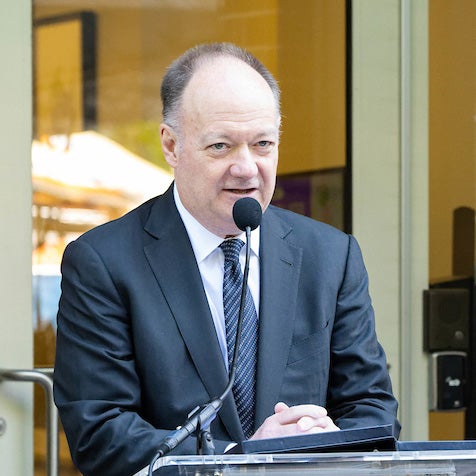 "Georgetown has been deeply engaged in addressing cancer and cancer disparities in Washington, DC, through the work of the Georgetown Lombardi Comprehensive Cancer Center and, since 2004, at Lombardi's Capital Breast Care Center," said Georgetown President John J. DeGioia, adding that the formation of the new Ralph Lauren Center is built on the partnership, collaboration and commitment of so many in our community.
"For some of our most at-risk underserved population, [Dr. Adams-Campbell's] efforts have been transformative," DeGioia added.
For David Lauren, connecting the Ralph Lauren Company name to confidence within the community is worth the investment.
"People want to come into a center where they feel love and where they feel someone will take care of them, and where they feel the doctors are expert and professional… with a sense of love and compassion for a community," Lauren said. "And what we hope, when you see this name up here, the Ralph Lauren Center for Cancer Prevention, you will see a sense of hope," Lauren continued. "When you see that, you will walk in here with a sense of strength and feeling like this place has made a difference in people's lives around the world already."
---
Introducing the Ralph Lauren Center for Cancer Prevention