Raising Issues and Developing Solutions at the Ruesch Center Policy Briefing
Posted in Lombardi Stories | Tagged cancer research, clinical trials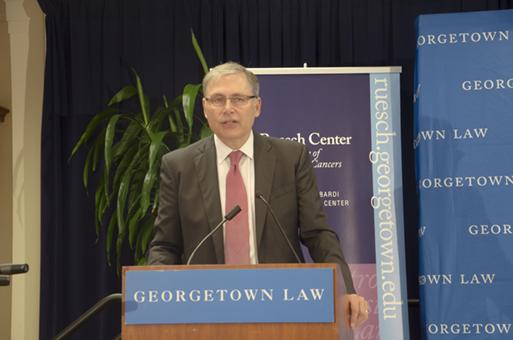 (September 16, 2016) — As a member of a blue ribbon panel working group that offered expert advice on the National Cancer Moonshot Initiative, Louis M. Weiner, MD, director of Georgetown Lombardi Comprehensive Cancer Center, felt energized when the final recommendations were made public. But without a way to pay for the research required to make the moonshot goals a reality, the initiative represents an unfunded mandate, Weiner said.
The moonshot was one of many topics discussed at a September 14 policy briefing held by the Ruesch Center for the Cure of Gastrointestinal Cancers at Georgetown Lombardi Comprehensive Cancer Center. Participants also discussed the growing cost of cancer research and the implications for policy makers, health care professionals, patients and society.
"We don't really have a source of additional funding to attack these important problems," Weiner said. "And one of the worst things I think we can do is identify great ideas and new directions that we all want to go in and then find out that we really can't do them because the resources don't exist."
"We all know, we're aware, that there is incredible progress being made in the world of cancer and cancer medicine," said John Marshall, MD, director of the Ruesch Center. "We are seeing improved outcomes, we are seeing incredible new discoveries in the world of cancer and cancer medicine, but it is coming at an increasing cost."
The high price of cancer medicine also has an impact on who has access to cancer care. "Only about one in seven people on our planet has access to cancer today," Marshall said. "So it's a part of our challenge too, not only on a local level but in a nation where we have so many resources is how do we extend those resources to those around us?"
The Cost of Clinical Trials
Advances in immunotherapy have dramatically changed the cancer care landscape, Weiner said. However, improvements in cancer care mean that clinical trial participants are living longer, requiring more resources from clinical trial administrators. "It creates an enormous stress on the whole apparatus of doing clinical research," Weiner said. "It's the kind of problem that we want to have but we still have to figure out how to pay for it."
Lengthy and expensive clinical trials ultimately increase the cost of cancer treatments once they reach the market. Patients with aggressive cancers should consider advocating for access to new experimental drugs earlier in the approval process, Weiner suggested.
"Maybe we can lower the bar for at least provisional approval so that we can actually have a less expensive investment in that drug and maybe that savings can be passed on to the consumer down the road," he said. "If you're trying to make a new drug for pancreatic cancer, I want to get it into the hands of doctors as quickly as possible."
Howard Dean, MD, senior advisor in the public policy and regulation practice at Dentons, agreed. "I think we need to have a different standard for drug safety for patients who have terminal diseases," he said. "I think patients ought to be allowed to take more risks if their condition is life ending."
Marshall also discussed a collaboration with Georgetown University Law Center to research the idea of decreasing the cost of drugs by adjusting a new drug's patent protection relative to its value. Such a system would offer shorter patent terms to therapies that make incremental improvements to a patient's life expectancy and longer terms to drugs that make significant steps forward, increasing the incentives for risk taking in drug development.
"We're trying to develop solutions, not just raise issues," Marshall said.
Kat Zambon
GUMC Communications