Over 200 Strong and $2.5 Million Later, Men's Event Marks 20 Years Fighting Cancer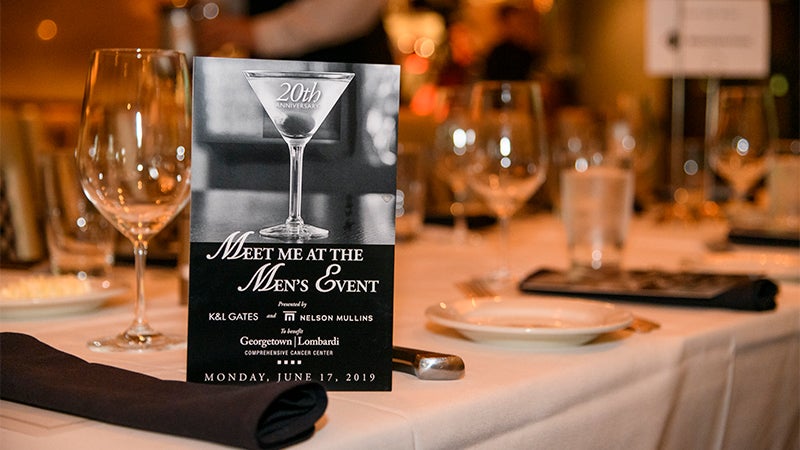 Posted in Lombardi Stories | Tagged Men's Event
(June 20, 2019) — A passionate philanthropist and former sports marketer took her skills and an idea and turned it into an annual event that has raised over $2.5 million for research at Georgetown Lombardi Comprehensive Center over two decades.
Held this year on June 17 at Morton's Steakhouse in downtown Washington, DC, the Men's Event raises funds for research and treatment for the most prevalent types of men's cancers. In total, this year the event raised more than $200,000 in proceeds and had over 200 attendees.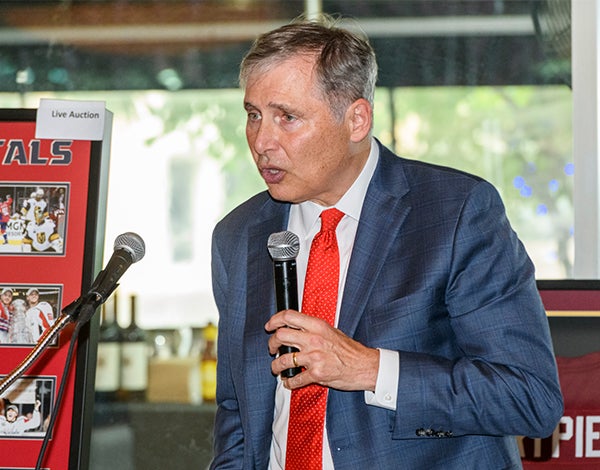 Its founder and organizer, philanthropist Daphne Baker, long revered by Men's Event attendees, announced her retirement. The event will continue, however, with event management and planning to be maintained by Georgetown Lombardi's advancement team.
"Georgetown Lombardi is endlessly grateful for the work you have done over the past 20 years. You have truly made a difference in the lives of so many," said Louis M. Weiner, MD, director of Georgetown Lombardi, after inviting Baker and her husband to the podium that evening.
Weiner also announced the launch of a new Georgetown Lombardi pilot project named in Baker's honor. The pilot will fund an investigator who is working toward the "next big breakthrough."
Baker Offers Gratitude to Committed Co-Chairs
After founding the Men's Event to benefit Georgetown Lombardi in 2000, it would go on to be much larger than Baker had ever anticipated, expanding and supporting cancer research in cities around the U.S., including Chicago, Philadelphia, Boston and Los Angeles.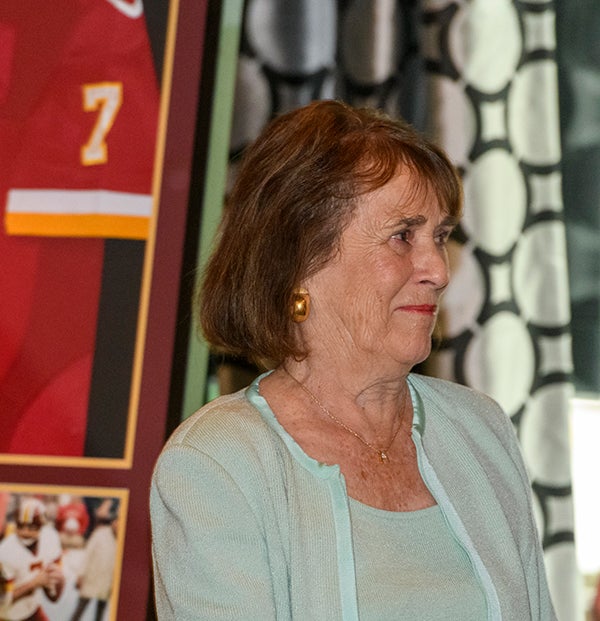 Though Baker's previous career in sports marketing served as the foundation for the skills and network that would lead to the success of the Men's Event, she credits the support she's received over the years from the event's co-chairs, including commercial real estate executives Paul Schweitzer and Skip Davis, as well as Clifford J. Alexander (L'69), an attorney, and several others.
"Paul has been absolutely invaluable," said Baker, who also founded the Women & Wine Dinner. "He sends out invitations to his personal network every year and he helps me with the nitty-gritty tasks, like laying out the tables at Morton's before guests arrive."
After 78 Men's Events in Washington and around the country, Baker believes its best years may be ahead. "I've been so happy and lucky that this event has grown the way it has in the last 20 years," Baker said, adding that she looks forward to watching the event develop further in the coming years.
Schweitzer is excited to continue serving as a co-chair. "One of the challenges of planning a 20-year-old event is keeping it fresh, interesting and engaging — things that Daphne has been very good at. Whatever we do, it will be Daphne's legacy."
Attendees Leave Feeling Informed and Supported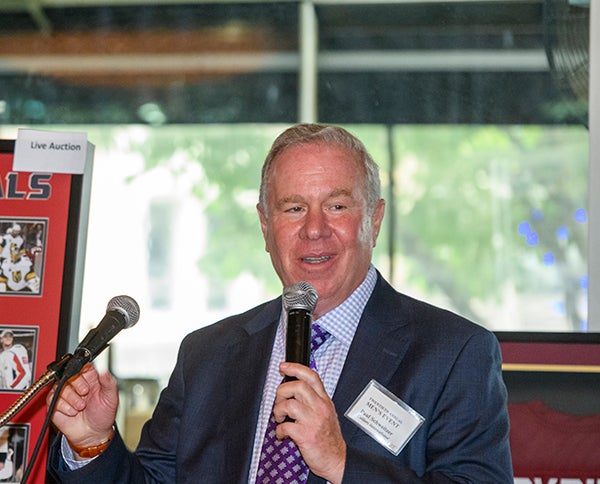 For many Men's Event attendees, the educational component — an hourlong cancer briefing before the festivities begin — is what makes the evening so special.
Over time, it has evolved into a space where men feel comfortable sharing how cancer has impacted them or their families.
"Someone would open up and talk about their personal experience with cancer, and that would encourage another person to share how they've gone through the same thing, and then another," said Schweitzer, who recently lost his own father to colon cancer.
During this year's cancer briefing, Weiner announced Georgetown Lombardi's renewed designation as a "comprehensive cancer center" by the National Cancer Institute (NCI) and the NCI's approval of Georgetown Lombardi as a research consortium with New Jersey-based John Theurer Cancer Center, part of Hackensack Meridian Health.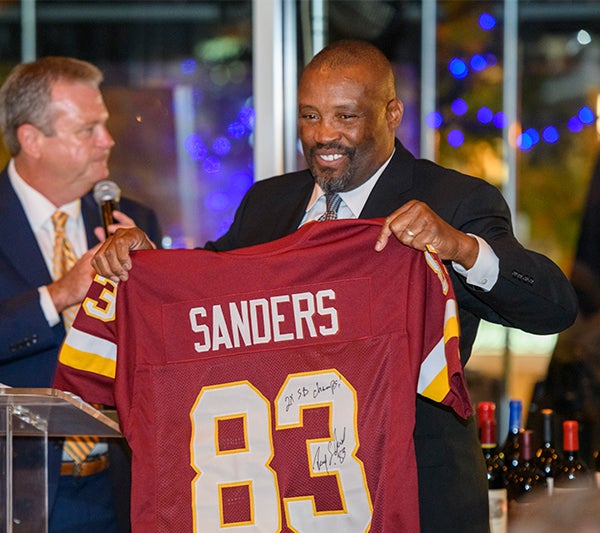 Weiner was joined by Keith Kowalczyk, MD (M'05), associate professor of urology at Georgetown Lombardi, and Anatoly Dritschilo, MD, chair of radiation oncology at MedStar Georgetown University Hospital, who spoke about developments with using proton therapy for prostate cancer, and the use of robotic surgery for prostate, kidney and bladder cancers, respectively.
"We're doing everything we can to be major leaders in moving research in areas like immunotherapy forward into the next decade," Weiner said. "Philanthropy is crucial in supporting this work."
"Daphne's retirement means that our team has big shoes to fill to ensure that this event continues to raise the vital funds required for men's cancer research," said Cristy Seth, Georgetown Lombardi's senior director for constituent events.
"However, we love a challenge, and I'm confident that our dynamic team can rise to the occasion and make Daphne and this special group of dedicated volunteers proud," Seth added.
Georgetown Lombardi wishes to thank this year's sponsors, volunteers and all others who helped make the Men's Event a success. View the complete list here.
Seren Snow
GUMC Communications