Lombardi Scientist Receives Innovation Grant for Research on Pediatric Cancer
Posted in Lombardi Stories | Tagged cancer, cancer research, Ewing sarcoma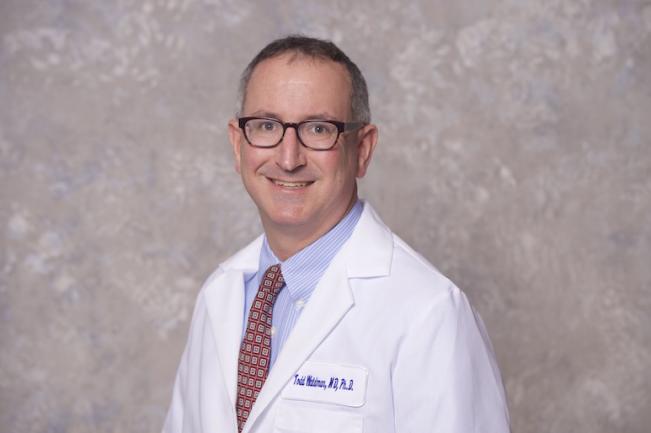 July 20, 2015 — There's good news on the horizon for children battling a rare form of bone cancer. Dr. Todd Waldman, a professor of oncology at Georgetown Lombardi Comprehensive Cancer Center, has been awarded an Innovation Grant from Alex's Lemonade Stand Foundation (ALSF) in support of his groundbreaking cancer research.
At the center of Dr. Waldman's investigation is Ewing sarcoma, an aggressive form of cancer that becomes difficult to treat once it spreads. Much research into the disease has focused on the inappropriate attachment of the so-called EWS gene to another gene known as FLI. While this translocation process appears to be a key driver of the cancer, identifying strategies to stop it has proven difficult.
This project will center instead on a gene called STAG2 in an attempt to understand another one of Ewing sarcoma's underlying causes. Dr. Waldman has a history of research into the STAG2 gene, which is one of the most commonly mutated genes in human cancer. He was the first scientist to describe its role in cancer in 2011.
"We are hopeful that understanding the role of STAG2 in Ewing sarcoma will enable the development of new drugs and targeted therapies to more effectively treat patients," says Dr. Waldman.
Investing in Cutting-Edge Research
2015 ALSF Innovation Grants were also given to 21 leading pediatric oncologists. The award provides $250,000 over two years to experienced scientists with promising new approaches to researching cancer. Other funded studies include explorations of leukemia, medullablastoma, glioma and spinal cord tumors. While such unique projects can struggle to secure NIH funding, ALSF says they prefer to take calculated risks in the pursuit of high-impact findings.
"Foundation support for early stages of research is critical to augment the serious funding cuts the National Institutes of Health have experienced," explains Waldman. "These are the kinds of projects that are so important because a successful outcome could change the course of cancer."
Alex's Legacy
While the science may be complicated, the goal behind it isn't. Every bit of ALSF funding is motivated by the message of organization founder Alex Scott: "All children want their tumors to go away."
The foundation got its start in 2000, with the selfless idea of a young girl. Alex was diagnosed with neuroblastoma as an infant, and after a stem-cell transplant at age 4, decided she wanted to start a lemonade stand to help other kids get treatment. Her first stand collected $2,000 for her local hospital and inspired others to follow her lead. While Alex passed away in 2004, she used her passion to raise over $1 million toward better treatments for fellow children. Her family established the foundation to carry on her mission, and continues to fund research with the aim of finding a cure for all childhood cancers.
Meghan Lasswell
Georgetown Lombardi Communications