Lombardi Gala: A 'Community of Dedicated Supporters and Believers'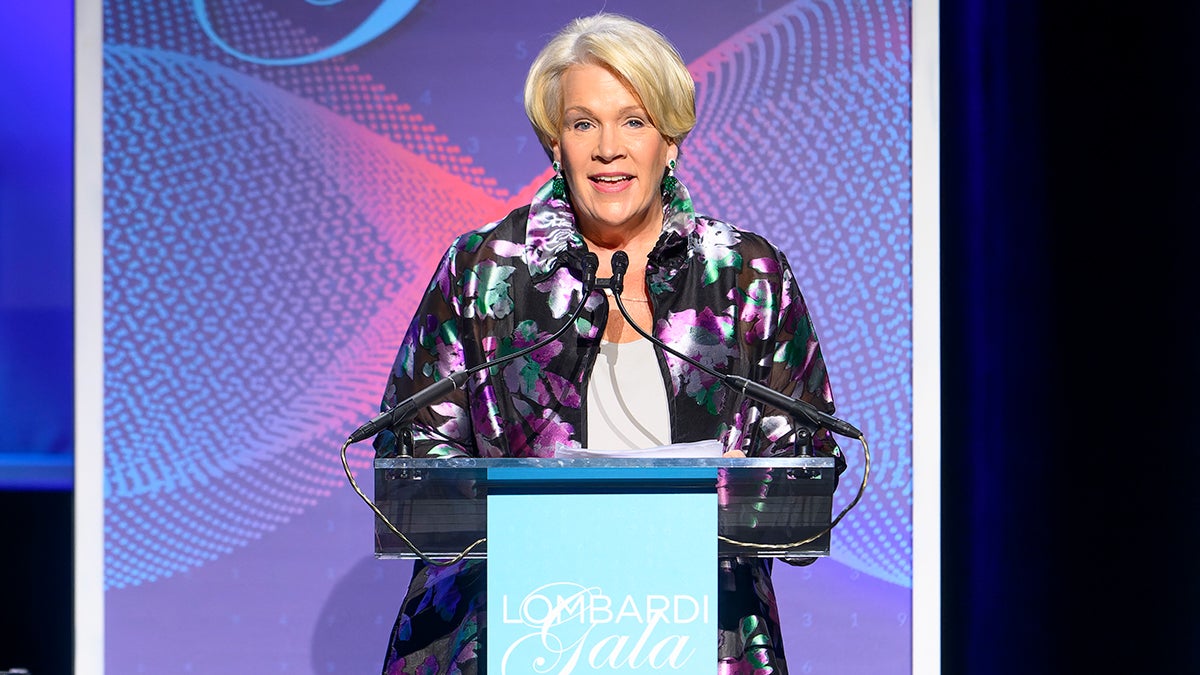 Posted in Lombardi Stories | Tagged Lombardi Gala, philanthropy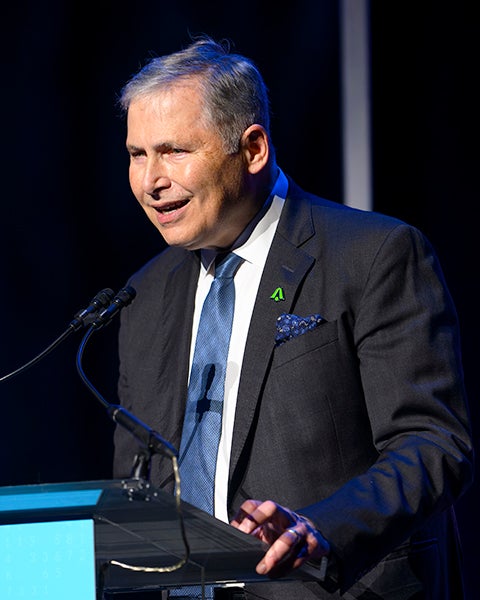 (March 26, 2022) — New and old friends of Georgetown Lombardi Comprehensive Cancer Center gathered for the 34th Annual Lombardi Gala to celebrate the mission and work of the cancer center and honor its steadfast supporters.
"I am delighted to be here tonight to thank you for your support in our fight to end cancer at the Georgetown Lombardi Comprehensive Cancer Center," said Louis M. Weiner, MD, director of the cancer center. "We are so lucky to be surrounded by a community of dedicated supporters and believers. Each person in this room is a part of our community, and that has never been more apparent than over the past two years."
The gala, held March 24 at The Anthem on the waterfront in southwest DC, has been held annually for decades but was the first since 2019 after the pandemic canceled in-person gatherings.
Enduring Legacy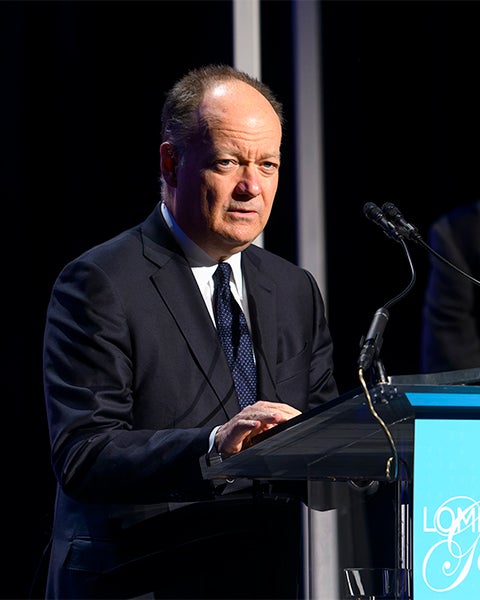 Georgetown President John J. DeGioia dedicated the evening to the memory and enduring legacy of John F. Potter, MD, who founded the cancer center in 1970 and obtained its recognition as an NCI-designated Comprehensive Cancer Center in 1974. Potter died in 2021.
"He made it his mission to create a framework for a center dedicated to the treatment and eradication of cancer," DeGioia said. "He understood that the battle against cancer would need to be fought on many fronts and ensured that collaboration of clinicians, scientists and patients is an important part of our model."
Each year, the John F. Potter, MD, Award is presented to two early career cancer investigators at Georgetown Lombardi. The 2021 recipients are medical oncologist Chul Kim, MD, and laboratory scientist Jinani Jayasekera, PhD. Both delivered scientific talks earlier this year in recognition of their award.
Record-breaking Fundraising
This year's gala was chaired by Elizabeth Shepard, the 2019 recipient of the Margaret Hodges Award.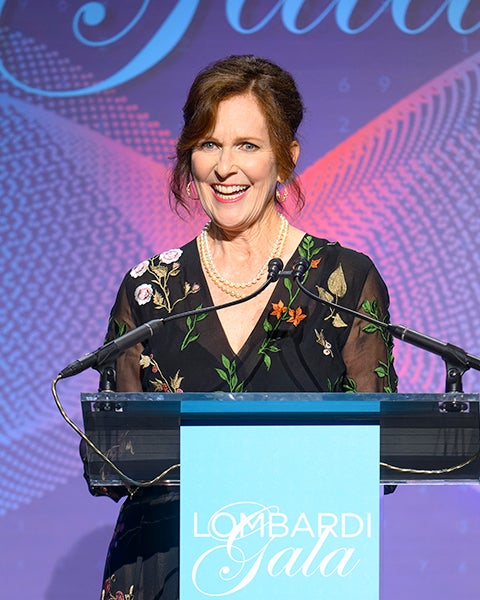 "As many of you know, my relationship with Lombardi over the last 22 years has truly been a labor of love," Shepard said. "And I am so proud of what we have accomplished during that time. There is so much to celebrate and so much to be thankful for."
The gala volunteer group led by Shepard and composed of several committees dedicated to raising unrestricted funds for cancer research for Georgetown Lombardi, set a record for pre-event fundraising, pulling in nearly $900,000 — an impressive feat for the organizers given the planned limited attendance due to COVID-19.
"Her passion is truly inspiring, and her energy is infectious," Weiner said of Shepard. "Her commitment to this cause is unmatched — and it has not wavered."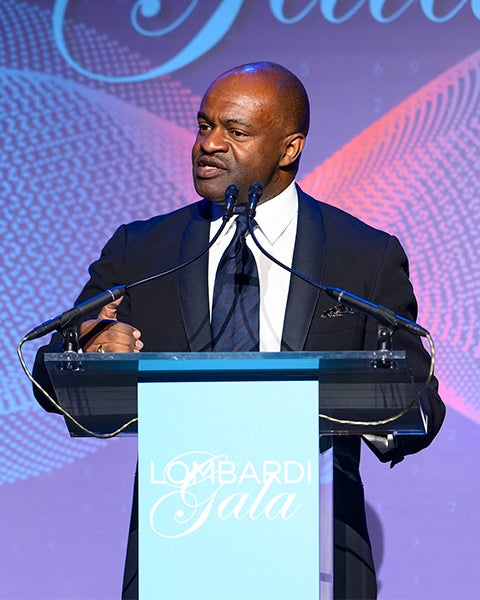 DeMaurice Smith, executive director of the NFL Players Association, returned this year to serve as honorary chair. Smith's wife, Karen, is a two-time cancer survivor.
"For every positive story, we know we have family members, friends, people that we love that continue to battle this disease," Smith said.
Transformational Gifts
Among the hundreds of gala attendees were Toni and Lee Verstandig.
"The transformational gift from the Verstandig Family Foundation and their son Grant Verstandig of $50 million dollars in support of our new medical/surgical pavilion project at MedStar Georgetown University Hospital is an inspiration, and we are so grateful for their generosity," Weiner said. MedStar Health is Georgetown's academic health system partner.
DeGioia recognized a new Georgetown donor, David Sumner, whose $10 million gift builds on the pioneering immunotherapy work of Samir Khleif, MD, to establish the Georgetown-Sumner Immune-Engineering & Vaccine Program.
"We're deeply grateful to David for his generosity, vision and leadership in supporting this work and advancing a cure for cancer," DeGioia said.
Khleif and his team conduct research on ways to reengineer the immune system in pursuit of more effective cancer therapies. This translational work includes milestone discoveries that have shown promise in overcoming resistance to immunotherapy leading to clinical trials.
Recognition and Awards
The Directors' Champion in Research Award was presented to Laurie Hodges Lapeyre (B'83). Lapeyre's experience with Georgetown Lombardi began with her father, Walter Hodges, who was a cancer patient at Lombardi in 1978. Her mother, Margaret Hodges, founded the Lombardi Gala in 1986.
Weiner said Lapeyre inherited her mother's commitment to philanthropy.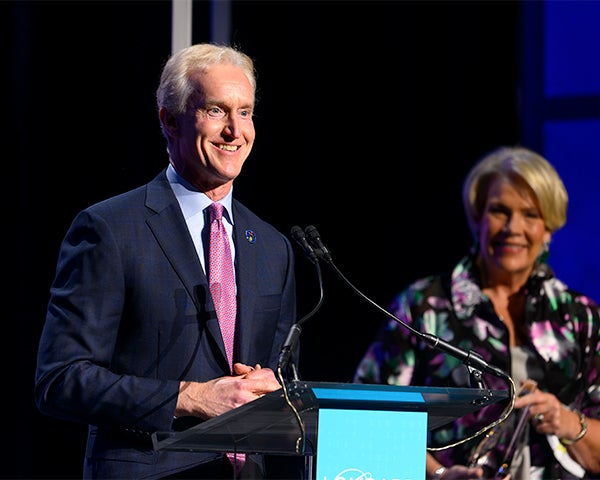 "Laurie's personal commitment to the Lombardi Gala has made an immeasurable difference, both to this event and to our cancer center as a whole," Weiner said. "Her dedication to our mission has included not only extraordinary philanthropic support, but also the devotion of time, energy and care. She is among our most inspirational advocates, and she is a committed partner and leader in the work that we do."
Lapeyre presented the Margaret L. Hodges Award to Kevin Reilly (B'91) and Hyundai Hope on Wheels. Reilly, a Georgetown alum, has been the owner and president of Alexandria Hyundai since 2001. He is a member of the Georgetown Lombardi Volunteer Leadership Board.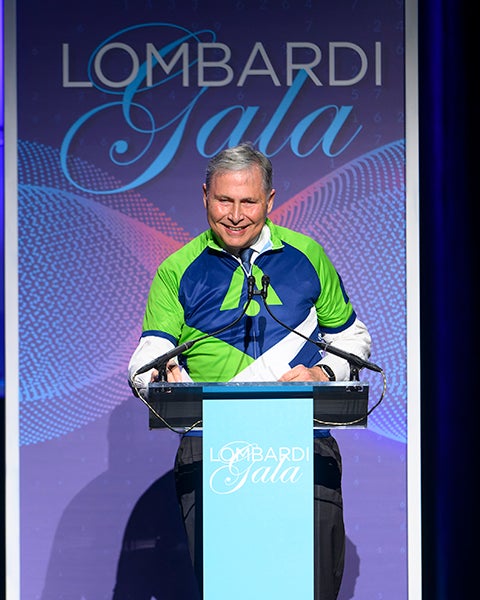 "Kevin is both a generous donor and volunteer leader for Georgetown Lombardi," Lapeyre said. "He is a supporter of the Lombardi Gala, 5 Days with Lombardi and the newly launched BellRinger Bike Ride. He is a volunteer and advocate for many of those same events, and always willing to pitch in to support the work of Georgetown Lombardi wherever and whenever asked."
During his remarks, Reilly recounted the words of a pediatric cancer patient, " 'Cancer is the worst type of club but the best type of people.' And as I think about it, cancer truly is the worst club. But from where I sit, I look at all of you, you all are the best type of people. You provide the best care, the best treatment and the best support that anybody could ever ask for. And on behalf of Hyundai Hope on Wheels, it is our honor to be in service with you to this wonderful institution we call Georgetown Lombardi."
The gala concluded with a lively appeal that brought out additional generosity of the attendees. At the end of the evening, the total raised by the Gala was close to $1.1 million.
---
Event Sponsors
The Lombardi Gala organizers wish to thank the following.
Marquee Sponsor
Tim and Linda O'Neill
Presenting Sponsors
Donohue Family Foundation
Bud and Kelley Hawk & Mitch and Cindy Stark
Laurie and Pierre Lapeyre
Kevin Reilly & Hyundai Hope on Wheels
Stan and Linda Sher
Shepard Straub Family
Paul and Chan Tagliabue
Winston & Strawn, LLP
Diamond Sponsors
Boeing
Ruesch Family Foundation
Paul and Randi Schweitzer & Colliers