Katie Couric is the Inaugural Speaker at Georgetown's Edward M. Kovach Cura Personalis Endowed Lecture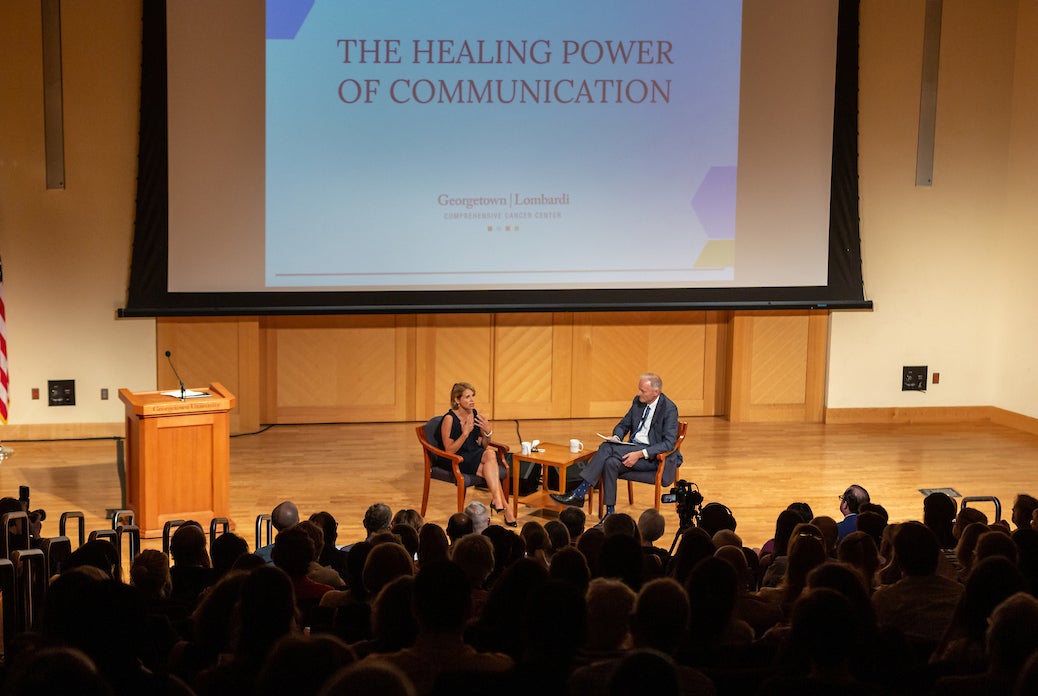 Posted in Lombardi Stories | Tagged cancer, gastrointestinal cancer
(August 10, 2019) — On Wednesday, August 7, 2019, Georgetown Lombardi Comprehensive Cancer Center welcomed Katie Couric, an award-winning journalist and the co-founder of cancer advocacy nonprofit Stand Up To Cancer, for the inaugural Edward M. Kovach Cura Personalis Endowed Lecture.
Couric's lecture, "The Healing Power of Communication," was moderated by Georgetown Lombardi medical oncologist John Marshall, MD, and took the form of a conversation. The lecture focused on holistic caregiving that celebrates the principle of cura personalis, or "care for the whole person," personified by the outstanding medical professionals who made Edward Kovach's experience as a patient such a positive one.
Edward Kovach attended Georgetown for both his undergraduate and law degrees.
In 2014, Kovach was diagnosed with pancreatic cancer and placed his trust and confidence in Georgetown, under the medical care of Marshall, a specialist in gastrointestinal cancers who directs the Ruesch Center for the Cure of GI Cancers at Georgetown Lombardi.
Kovach lived with this illness for another 3 1/2 years, a remarkable feat for patients with stage IV pancreatic cancer. Kovach's wife, Kathleen, their five children and their families have decided to show Kovach's gratitude and love for Georgetown by memorializing him with an endowed lecture, an effort led by his daughter Alexandra.
Watch the Inaugural Edward M. Kovach Cura Personalis Lecture featuring special guest Katie Couric on Facebook.
---
Presentation Highlights