Georgetown Lombardi Young Scholars Gain Hands-On Science Experience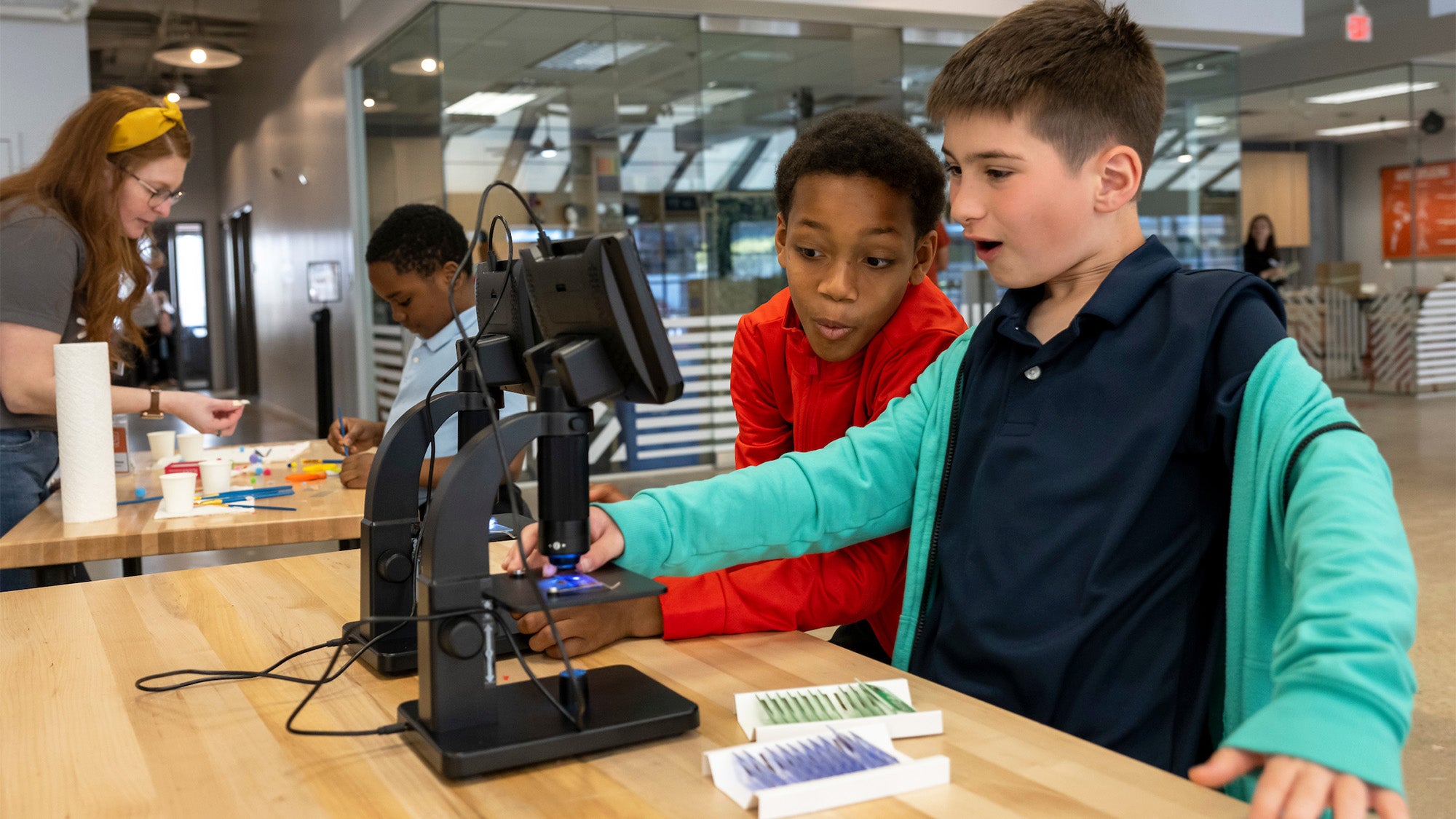 Posted in Lombardi Stories | Tagged community outreach, education, STEM programs
(April 30, 2023) — A team of eager third graders from Van Ness Elementary in southeast Washington, D.C., recently teamed up with volunteers from Georgetown University's Lombardi Comprehensive Cancer Center for hands-on experiences with robotics, programming, biology and engineering designed to encourage students to think about careers in science and medicine.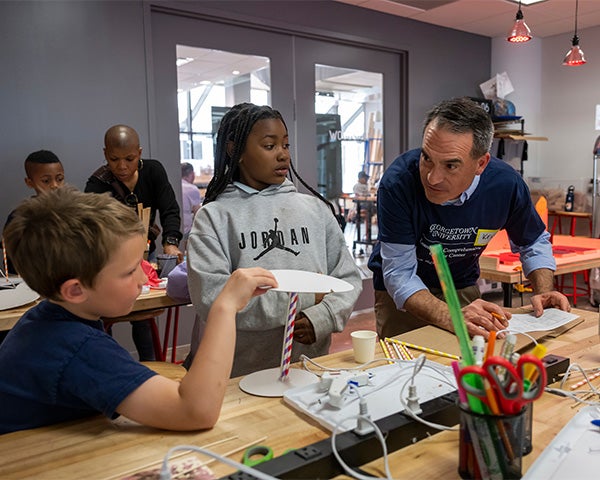 The April 12 field trip to KID Museum in Bethesda, Maryland, was sponsored by the Georgetown Lombardi Young Scholars Program as part of the cancer center's ongoing community enrichment activities. Motivated by the importance of inspiring the next generation of scientists and health care workers, Georgetown Lombardi faculty and staff volunteered their time to ensure that the program was a success.
"We want to inspire cancer research, education and training across the board, and that includes students in high school, middle school and elementary school communities," said Kenneth Tercyak, PhD, co-leader of Georgetown Lombardi's Cancer Prevention and Control Program and professor of oncology and pediatrics at Georgetown University School of Medicine.
"I think we really owe it to our community to engage everyone," said Rebecca B. Riggins, PhD, associate professor and associate director of education and training at Georgetown Lombardi. "Early exposure to exciting and meaningful science experiences needs to start as early in the learning process as possible."
"These students are young, but it's a pipeline to science careers in the future," said Chiranjeev Dash, MBBS, PhD, MPH, assistant director of health disparities research and associate professor of oncology at Georgetown Lombardi.
Connecting with KID Museum
In spring 2021, Riggins and Tercyak initiated a collaboration with KID Museum's executive director, Cara Lesser. "We connected with them to iterate on a daylong curriculum that focused on cancer biology and prevention," Tercyak said. "And it built off of an existing curriculum and teacher training designed by the museum."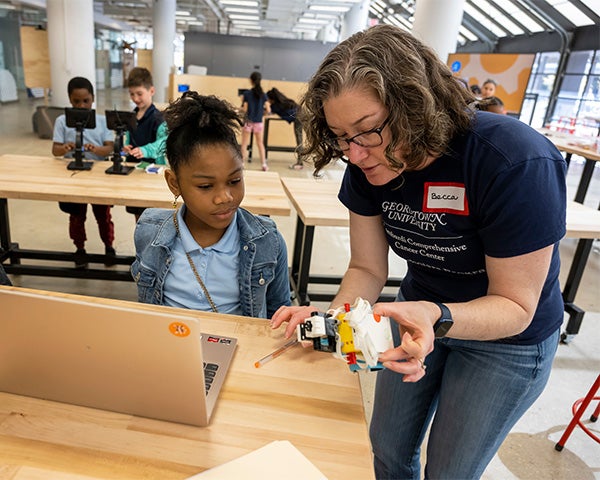 These early discussions led to the development and launch of a successful online program to teach young people about UV exposure and sun safety. In May 2022, the nascent program evolved through more resources for curriculum development.
The team at KID Museum fully embraced the opportunity. "They are so skilled at building hands-on maker learning experiences for children that are fun and meaningful," Riggins said. "We were able to integrate cancer prevention, risk reduction and cancer biology concepts into those experiences in an approachable way."
"We are proud to bring our curriculum and education expertise together with the health sciences expertise of Georgetown's Lombardi Comprehensive Cancer Center," said Lesser. "Through initiatives like this, youth from populations traditionally underrepresented in STEM fields learn skills and build confidence to advance future educational and career opportunities. We are grateful to partner on this important endeavor."
Exploration Stations
On the day of the field trip, students were greeted by cheerful KID Museum staff members. "You're going to practice perseverance today!" a KID staff member said. "It is okay to fail. If you fail, you can ask someone for help. You can try something new."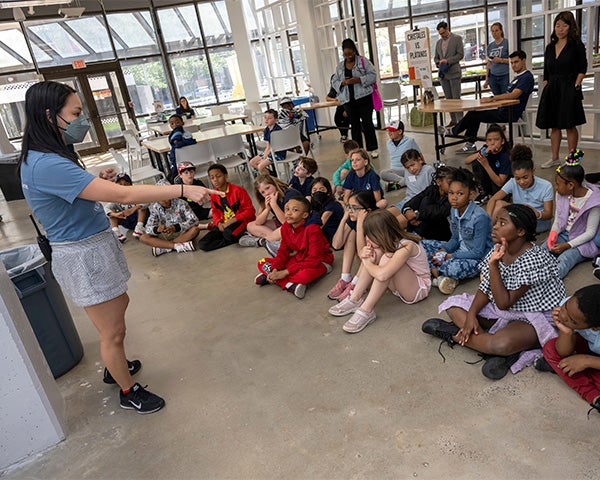 Half of the students started their activities by rotating among three different exploration stations. In the middle of a studio, four UV lights hung above solar panels that powered motors, causing pieces of cardboard to spin. A KID Museum staff member demonstrated that covering the solar panel with a piece of paper blocked the light and made the objects stop spinning.
"We're going to be bioengineers, and we're going to make something to protect our skin from UV rays," a KID staff member said as the students started to imagine and create structures to block UV light.
"These kids are making an umbrella, a hat, sunglasses and other wearable devices," Tercyak said as the students worked with craft supplies. "That is a success! That is a success right there!" he cheered as a student tested their creations.
At a computer coding station inspired by the immune system, students gathered around a table covered by a paper outline of a person with parts of their body shaded to represent different ailments: blue for bruises, green for an upset stomach, pink for a sunburn and red for an infection.
A KID Museum staff member explained that students would program a white blood cell — a robot with a color sensor — to detect and perform an action when it rolled over the red parts of the body by dragging and dropping commands on a laptop.
"When the color is red, you need to make the robot do something," the staffer said. "You can make the robot start spinning around like crazy." "Like a dance party!" a student said cheerfully.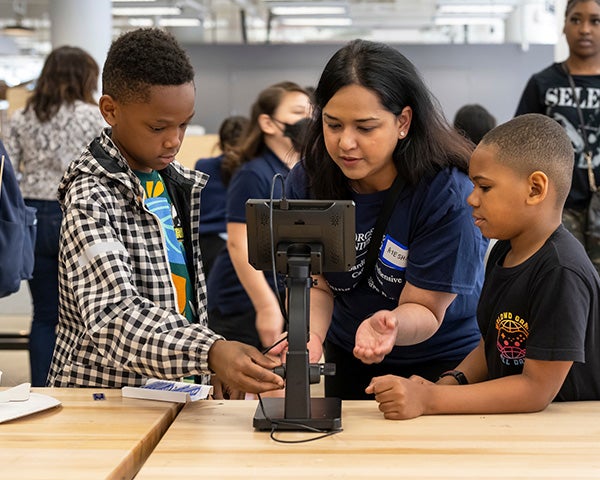 Pairs of students programmed the robots with laptops, excitedly pointing out the commands they'd written. One boy jumped to grab a robot before it rolled off a table. A student in a pink romper danced to music coming from a laptop as her robot spun around.
Riggins helped students troubleshoot their code. "You did it? I'm so proud of you! Good job!" she said to a girl wearing floral jeans.
Next to the robots, students learned how to use microscopes and make slides. "We are going to be using this really interesting tool to be a scientist," a KID Museum staff member said, showing the students the microscope's focus, lens and stage.
After looking at preset slides with microscopes, students made their own slides with pompoms, glitter foam, and markers and crayons on popsicle sticks. "Mom, come check this out!" said a student in a purple track suit as others joined her by her microscope.
"Under a microscope, you can see so many cool things," another student said.
Problem-Solving Practice
In addition to the rotation stations, students participated in an environmental biology case study, where they practiced the scientific method and bioengineering design process. Students started by interviewing Georgetown Lombardi volunteers who role-played different aspects of the environment.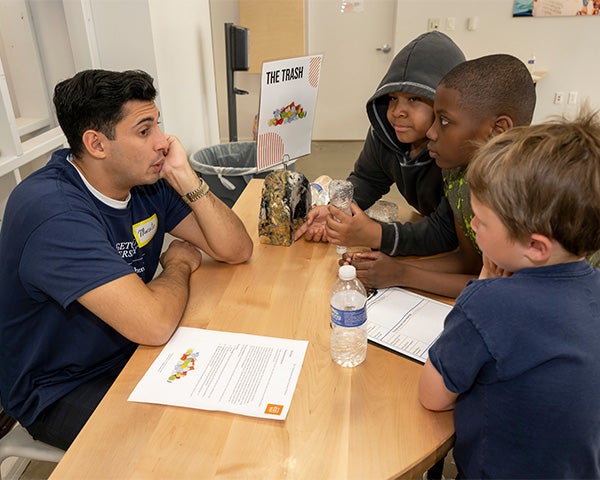 Marcelo Sleiman Jr., a project assistant in Georgetown Lombardi's Cancer Prevention and Control Program with Tercyak, role-played the trash in the community. "People always point at me and say that I'm the problem," Sleiman said to students, acting in character.
Having completed their interviews, the students worked in teams to determine the problem and brainstorm possible solutions. "The main problem is the water," said a student wearing a green shirt. "But hear me out," a classmate replied. "It's not the trash's fault. It's the people's fault."
When it came time to build a prototype device to solve the problem they identified, the students' creativity came alive as they made devices to remove trash from the water with rockets, magnets, motors and filters, using hot glue guns, plastic mesh, pipe cleaners, cardboard and masking tape.
A pair of students decided to create a device to separate the trash from the gravel. "We're helping the gravel and the trash because whenever people throw trash in the lake, they don't have their own homes," a student said.
With moments to spare before they ran out of time to work on their prototypes, students hurried around the workshop. "It's okay if you're not done," a KID Museum staff member said. "Two minutes left to achieve what you can achieve."
"I think we have achieved a lot," a student said.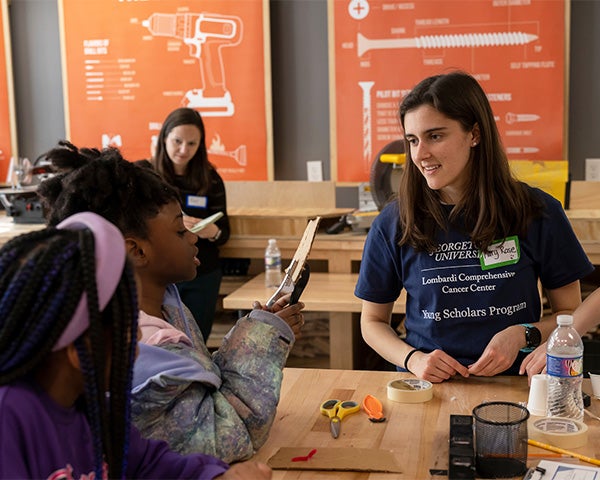 After cleaning up their work areas, the students presented their creations. Two students took turns explaining that their device, the Non-Pollution 3000, had a hole that sucked up trash. "I built a motor that can push the trash up to the trash can," another student said.
Mary Rose Yockel, also a research assistant in Georgetown Lombardi's Cancer Prevention and Control Program, role-played the people in the community. Hearing two students explain their creation was the most memorable part of her experience at the museum.
"They created a complex 'underwater garbage vacuum incinerator' which would help clean up the polluted lake," she said. "They elaborately modeled their contraption with popsicle sticks, pipe cleaners, tissue paper and plastic netting."
"As the students described their project, I realized that they not only understood the health-promoting message that the exhibit was trying to convey, but that they also were getting a lot of joy out of creating and problem-solving," Yockel added.
Continuing to Collaborate
Tercyak hopes that students at other schools will benefit from the curriculum that KID Museum developed for the Georgetown Lombardi program. "Nothing would make us happier than to know they're engaging with other schools," he said. "We hope to continue with them in those experiences."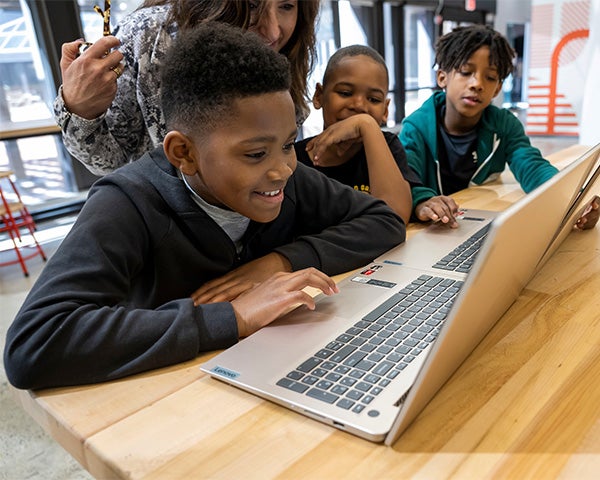 Going forward, Riggins would like to see the curriculum evolve over time. "We'd love for this to be a project that we grow to other elementary schools, potentially other stations and other concepts," she said.
In the future, Riggins and Tercyak agreed that the program could be supported by career development grants. "If you want researchers, physicians, nurses and everyone else in health care to reflect the community, that can begin right now," Tercyak said.
"You have to encourage and maintain children's interest in science and medicine and wanting to push discovery," Tercyak added. "That continues through to cancer research. And that, more than anything else, is what drives this."
Kat Zambon
GUMC Communications
---
More Scenes from the Day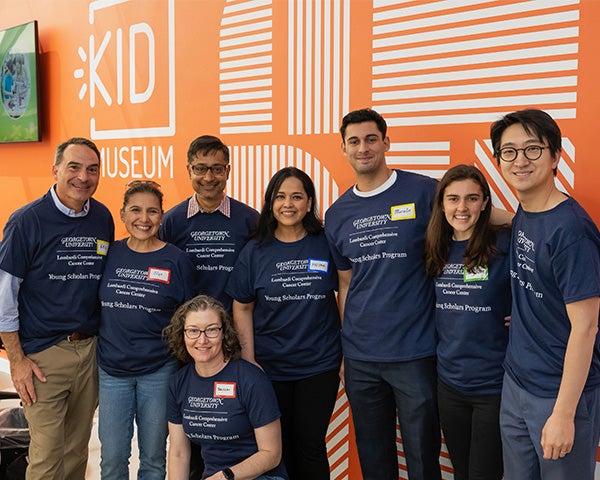 The Georgetown Lombardi team (from left): Kenneth Tercyak, PhD; Olga Rodriguez, MD, PhD; Rebecca Riggins, PhD (kneeling); Chiranjeev Dash, MBBS, PhD, MPH; Ayesha Shajahan Haq, PhD; Marcelo Sleiman Jr.; Mary Rose Yockel; and Chul Kim, MD, MPH
---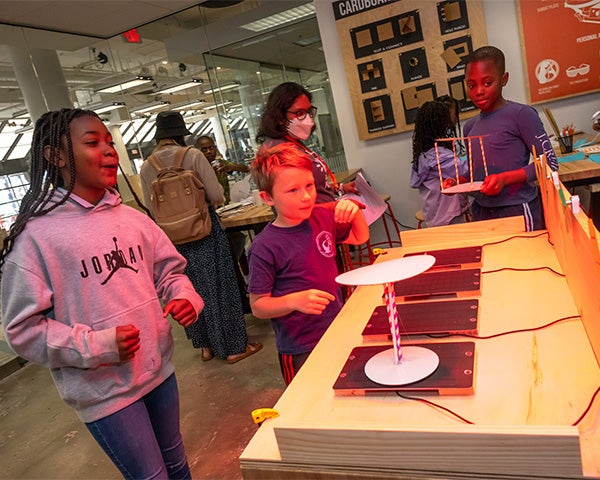 Students tested structures they created to block UV light at a table outfitted with solar panels that powered motors that spun pieces of cardboard. Blocking the lights hung above the table stopped the spinning cardboard.
---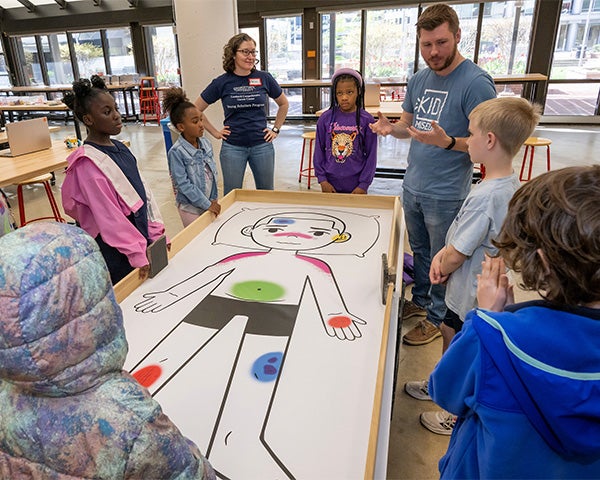 Rebecca Riggins and a KID Museum staffer assisted students at a computer coding station inspired by the immune system.
---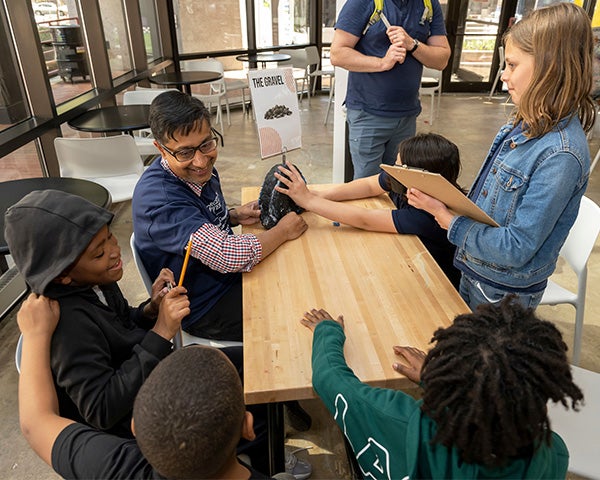 Chiranjeev Dash talked with students during an activity.
---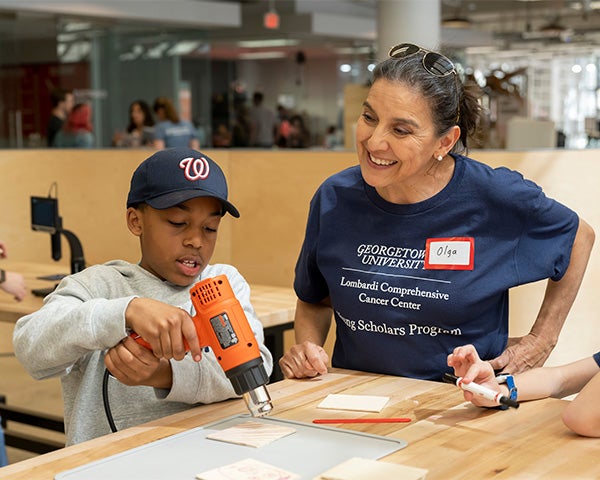 Olga Rodriguez supervised students using a heat gun.
---