Georgetown Lombardi Trainees Grateful to Director for His Commitment to Their Success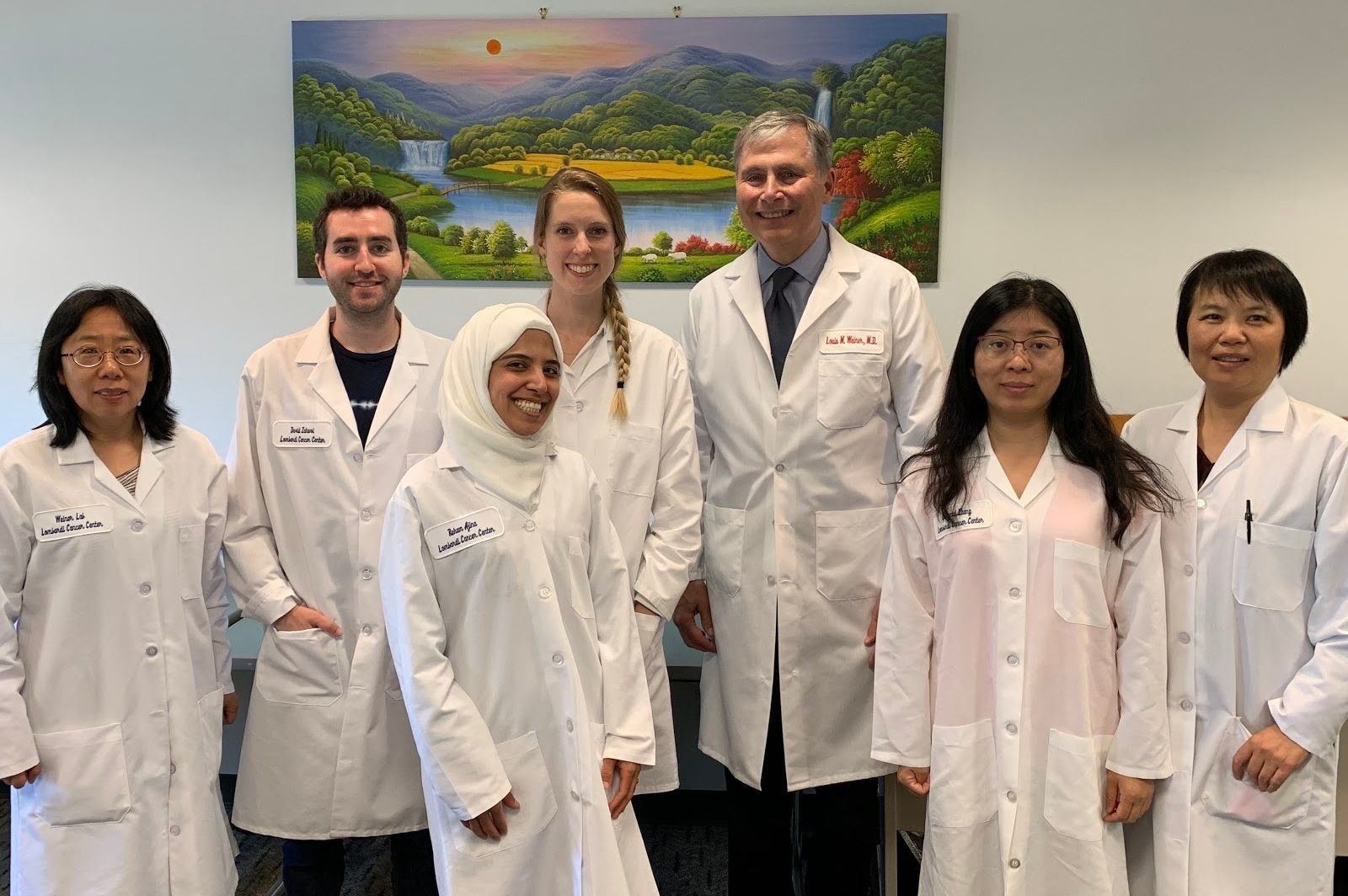 Posted in Lombardi Stories | Tagged education
(July 24, 2019) — Home to trainees from around the world and across the spectrum of education — from high school students to postdoctoral fellows and residents, the investigators at Georgetown Lombardi share a passion for preparing the next generation of scientists and physicians to help eliminate "cancer" from mainstream lexicon.
As both director of Georgetown Lombardi Comprehensive Cancer Center and an accomplished researcher, Dr. Louis M. Weiner's commitment to his lab's trainees represents how the cancer center's larger mission of preventing, treating and curing cancers for its constituent populations must take place in parallel with training and education.
"I feel very fortunate that as the director of Georgetown Lombardi I am inspired by my patients and colleagues, and also get to work with and train the next generation of talented investigators. These researchers are the backbone of our cancer center," says Weiner.
"We've hosted a high school student, several undergraduate students, and numerous master's and PhD students over the years," said Sandra Jablonski, PhD, an assistant professor of oncology at Georgetown Lombardi who manages Weiner's lab.
Jablonski works with students on their day-to-day projects, a responsibility she enjoys greatly. Whether they're a high school student looking for answers on attending medical school versus obtaining a PhD, or both, or a PhD student with questions about their latest experiment, Weiner enjoys offering guidance and advice to students and helping nurture their success, explained Jablonski.
"It's always so rewarding to see our students have the opportunity to work on their own ideas and pursuits, which gives them a great deal of confidence and perspective once they leave school and begin their careers," Jablonski added.
Elevating What Matters Most
Since she arrived in the U.S. from Saudi Arabia in 2013, Reham Ajina has forged a path for herself, first by earning a master's in biochemistry and molecular biology from Georgetown, then by becoming a PhD student in tumor biology.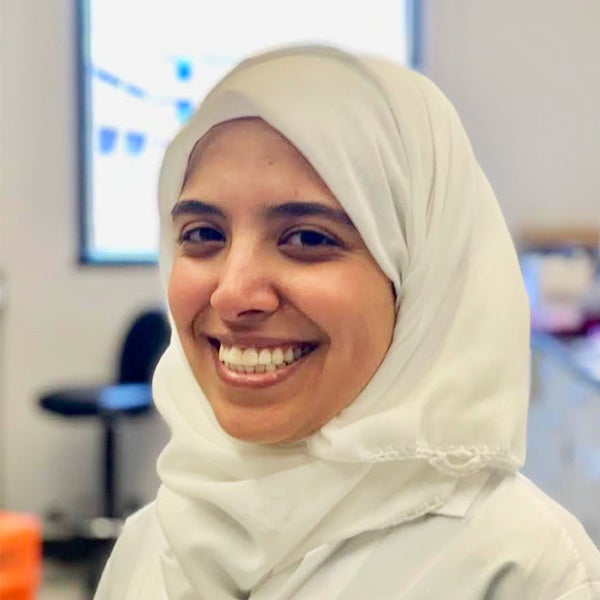 As a master's student, she initially worked in the lab of Albert J. Fornace Jr., MD, a professor in the department of biochemistry and molecular & cellular biology. Her master's thesis project was focusing on the effects of radiation on the T cell metabolome, which spurred her interest in cancer immunology. Later in 2014, she joined the Tumor Biology program as a PhD student. When Ajina did a PhD rotation in Weiner's lab, it only fueled that curiosity.
In 2016, Ajina started her thesis work with Weiner, researching immunity in pancreatic cancer. She has also taken the lead on two additional projects in the lab.
"To master three projects simultaneously, we established several collaborations with colleagues from Georgetown as well as investigators from Johns Hopkins University, Oak Ridge National Laboratory and Frederick National Laboratory," Ajina said.
Humble in her scientific successes, among the topics that thrill Ajina the most is her family.
"When I was pregnant with my daughter, I thought about spending more and more time in the lab working, figuring that I could spend time with my daughter once I graduated," said Ajina. "But Dr. Weiner always told me that family comes first, and he really meant it."
While raising a child as a PhD student has not always been an easy endeavor for her, Ajina has made it work, in large part because of her colleagues' unyielding support. One of her proudest moments at Georgetown was when she presented her lab research for the first time after she had her daughter.
"Everyone was so impressed," she recalls of the presentation, which took place during one of the tumor biology program's weekly data meetings.
Outside of the research, Ajina also credits Weiner and her colleagues with fostering a spirit of inclusivity. "As a Muslim, I have to pray and fast, sometimes even while we're in the lab," Ajina said. "I'm fortunate to be surrounded by peers, and a mentor who respects and accommodates this."
Achieving Her Full Potential
Long before she arrived at Georgetown in 2015, Alison O'Connell was exposed to the devastating impact cancer can have on families. Her mother is a two-time breast cancer survivor, and several other members of O'Connell's family have a genetic predisposition to the disease by way of the BRCA mutation.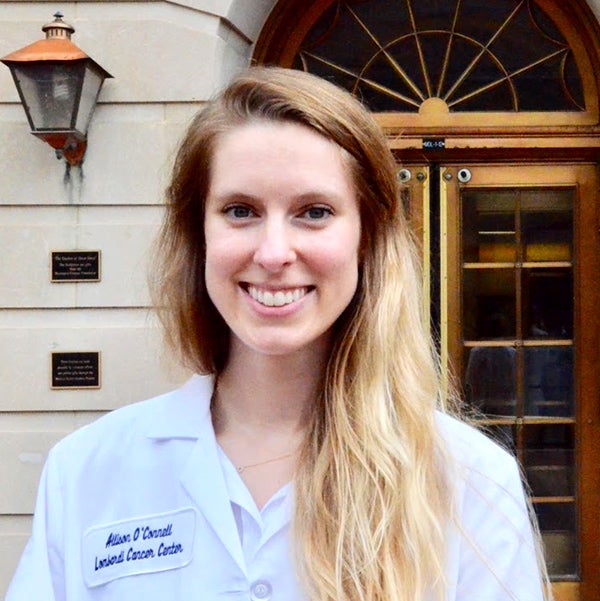 This experience had a profound impact on O'Connell's academic and career trajectory. "Instead of feeling hopeless about the situation at the time, I thought of ways I could actually gain a better understanding of the disease," said O'Connell, a first-generation college graduate.
Now as a Georgetown MD/PhD student, O'Connell is thankful to have become one of Weiner's protégés.
"Ultimately my goal is to learn to be a good clinical trial physician and scientist, and Dr. Weiner has a reputation for being one of the best clinical trials designers," she said.
But O'Connell recognizes that some clinical trial modalities didn't exist when Weiner was training, including ones that use extremely large data sets, an emerging field known as clinical translational bioinformatics.
To be well-equipped for the direction of cancer research, oncologists are exploring the molecular building blocks that make up each individual tumor — work spawning from the realization that cancer is not just one disease, but hundreds or even thousands of affiliated diseases.
"Dr. Weiner is so supportive of us learning other skills," O'Connell said, remembering on how enthusiastic he was during their first meeting after she mentioned her desire to explore clinical trial design.
Recently, Weiner served as O'Connell's sponsor for her successful pursuit of the Ruth L. Kirschstein National Service Award (F30) from the NCI, which provides five years of funding for her MD/PhD program.
Seeing the Bigger Picture
David Zahavi knew he wanted to rotate in Weiner's lab the moment he was accepted to Georgetown's PhD program in tumor biology in 2017. "I emailed him as soon as I got my acceptance letter," Zahavi recalls. In the intervening years, he had completed Georgetown's Special Master's Program (SMP) in Physiology.
He also worked as a research and laboratory technologist at Johns Hopkins University, where he saw firsthand both the transformative impact cancer immunotherapy could have on patients — and the unanswered questions that prevented some patients from responding to the drugs. Intrigued by this promising form of cancer therapy, Zahavi believed Weiner's expertise in the area would be invaluable.
Soon after he joined the lab, he was entrusted with designing experiments to address comments from journal reviewers on a paper co-authored by Dalal Aldeghaither, PhD, a former Weiner trainee. Because of Zahavi's efforts the paper was published in Cancer Immunology Research, a journal maintained by AACR.
"I think it's amazing all the responsibilities Dr. Weiner has to manage," Zahavi said. "Even though he's running the cancer center and performing a myriad of other activities, he still makes time to meet with us, his students, one-on-one on a weekly basis."
During those meetings, Zahavi has always appreciated Weiner's emphasis on connecting the research taking place in the lab to the "bigger picture." "He wants us to realize how what we're doing connects to a larger narrative about our work."
"Whether you've generated a piece of data or an insight from it, Dr. Weiner reminds us that everything we do should be focused on how it will eventually advance the field of oncology and, most importantly, help patients."