Georgetown Lombardi is Top Fundraising Team at Avon Walk for Second Year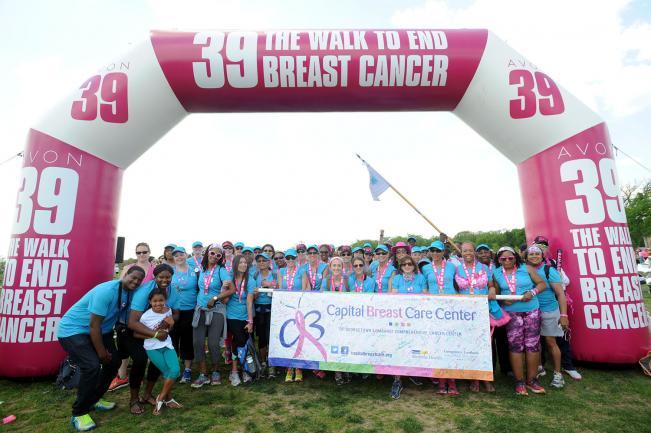 Posted in Lombardi Stories | Tagged Avon Walk for Breast Cancer, breast cancer, philanthropy, Ralph Lauren Center for Cancer Prevention
(May 6, 2015) — This past weekend Georgetown Lombardi once again distinguished itself as the lead fundraising team in the Washington region at Avon 39 The Walk to End Breast Cancer, raising $237,000.
On May 2 and 3, the nearly 100-member group of volunteers and patients put months of training to the test for the two-day, 39.3-mile walk on behalf of Capital Breast Care Center (CBCC), part of Georgetown Lombardi Comprehensive Cancer Center. CBCC is a community-based arm of Georgetown Lombardi that offers breast health services to underserved women, regardless of their ability to pay.
A Team Effort
The Avon Foundation for Women has been one of CBCC's biggest supporters since it provided an initial grant of $1 million to establish the center in 2004. Since then, it has supported CBCC with over $8 million in funding.
"Avon's support is extremely important to us here at Georgetown Lombardi, so every year I walk to show Avon how grateful we are," said team captain Jeanne Mandelblatt, MD, MPH, who serves as associate director for population sciences at Georgetown Lombardi and is the founding director of CBCC.
"I also walk for our patients — so that they are not alone and that together, we are fighting to find a cure."
Increasing Support
At the closing ceremony on Sunday, Avon presented a $200,000 check to CBCC—one of several local organizations Avon awarded grants to in support of their breast cancer screening and education efforts.
"This grant will help provide breast cancer screening services to nearly 2,000 women in the metropolitan area, many of whom are ineligible for public assistance and will require follow-up and evaluation," said CBCC program director Tesha Coleman, who accepted the check on the team's behalf.
There was a double-dose of gratitude felt this year when Avon also presented a $100,000 check to support the research of Robert Glazer, PhD, a professor of pharmacology and oncology at Georgetown Lombardi.
Glazer, together with Georgetown Lombardi's Claudine Isaacs, MD, and MedStar Washington Hospital Center's Marc Boisvert, MD, MBA, is conducting a diagnostic study to determine if a placental protein not present in the blood of non-cancer patients is present in different subtypes of breast cancer.
The team received a big boost from MedStar Health in the form of a generous $10,000 donation. MedStar Health is Georgetown Lombardi's clinical partner and provides clinical services to CBCC patients.
by Cherisse Cobrand
Georgetown Lombardi Communications