Georgetown-Led Study Leads to First FDA-Approved Drug in Decades to Improve Survival in Small Cell Lung Cancer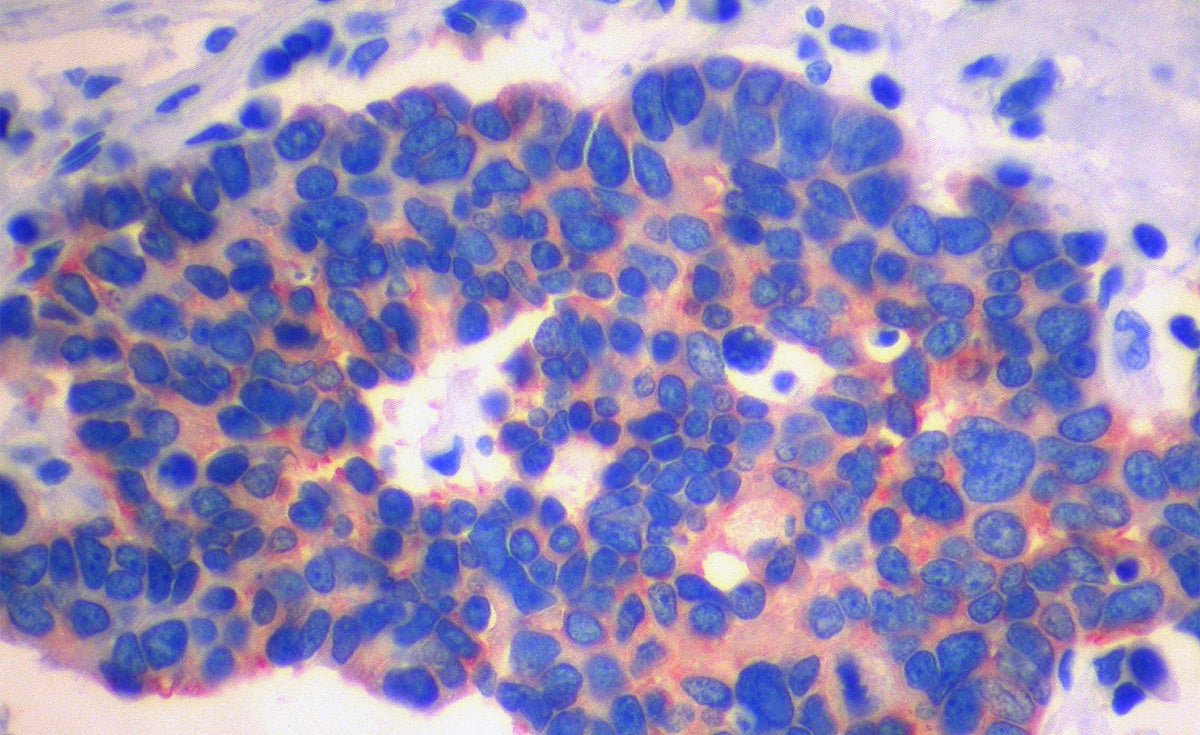 Posted in Lombardi Stories | Tagged cancer, lung cancer
(March 18, 2019) — The U.S. Food and Drug Administration's approval today of atezolizumab (Tecentriq®, Genentech) in combination with chemotherapy (carboplatin and etoposide) for the initial treatment of extensive-stage small cell lung cancer (SCLC) marks the end of numerous failed attempts to improve survival for those with the deadly disease.
"Atezolizumab, when added to standard chemotherapy, allowed us to achieve what we thought for decades was beyond reach: an improvement in survival for these patients," explains medical oncologist Stephen V. Liu, MD, a lung cancer specialist at Georgetown Lombardi Comprehensive Cancer Center who co-led the clinical trial leading to today's approval.
Small cell lung cancer makes up about 10 to 15 percent of all lung cancers in the United States. Almost all people who develop small cell lung cancer have a history of smoking, and, according to the American Cancer Society, only about six percent of people with the disease survive five years or more.
"Since the 1980s, our standard treatment for small cell lung cancer has been platinum-based chemotherapy. This regimen reliably provides an initial response that is often dramatic, but almost always short-lived," says Liu, also an attending physician at MedStar Georgetown University Hospital.
The regimen of carboplatin, etoposide and atezolizumab was first explored in an investigator-initiated trial at Georgetown Lombardi in 2016. It soon gave way to the global phase III IMpower 133 trial. Liu and Leora Horn, MD, of Vanderbilt University Medical Center served as co-principal investigators of the study.
Results were first presented by Liu at the World Conference on Lung Cancer in September 2018 and simultaneously published in The New England Journal of Medicine.
The international, randomized, double-blind, placebo-controlled trial, compared standard chemotherapy alone or given concurrently with atezolizumab, an anti-PD-L1 antibody. The addition of atezolizumab extended overall survival for a median of 10.3 months to 12.3 months without notably increasing side effects. As of now, there has only been about one year of follow-up so the full potential of atezolizumab is not yet known, Liu says.
"In the context of over 40 failed phase III clinical trials, the improvement in survival seen with atezolizumab represents an important achievement," Liu says.
"As SCLC is an unforgiving disease," says Liu, "our first attempt at treatment is often our only chance to impact the natural history of this highly lethal cancer."
The National Comprehensive Cancer Network (NCCN) has added atezolizumab to its treatment guidelines as the preferred treatment for extensive stage SCLC.
"With the addition of atezolizumab to chemotherapy, we have finally moved the needle in SCLC," says Liu. "It is now our charge to build upon these results and ensure that the next major advance is not another 20 years away."
Disclosure: Liu reports having received advisory board/consulting fees Apollomics, AstraZeneca, Bristol-Myers Squibb, Celgene, Genentech, Lilly, Merck, Pfizer, Regeneron, Taiho, Takeda.