Called To Be a Space Biologist, Postdoc Participates in Selective NASA Program
Posted in Lombardi Stories | Tagged NASA, postdoctoral fellows, radiation, space research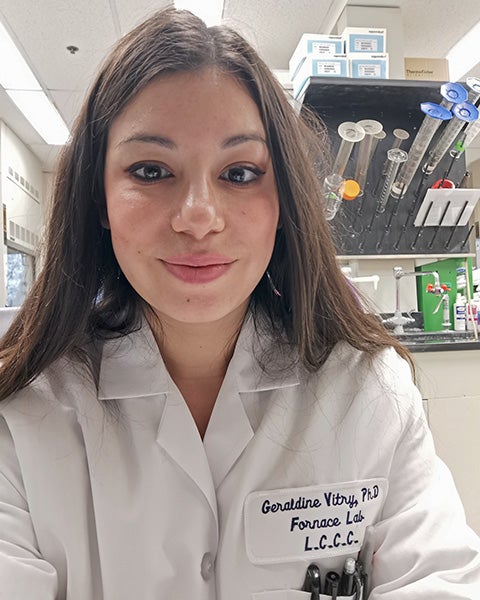 (November 20, 2023) — Georgetown postdoctoral fellow Geraldine Vitry, PhD, spent the first years of her educational career focused on human biology. A pivotal moment led her to her true passion, space biology. Now, a NASA program is putting her a step closer to realizing her goal of contributing to humans walking on Mars.
Vitry, who works in the laboratory of Georgetown Lombardi's Evagelia Laiakis, PhD, was selected in September to participate in the fourth cohort of the Spaceflight Technology, Applications and Research (STAR) program. This opportunity provides training for principal investigators, senior research scientists and postdoctoral scholars to help them enter the field of space biology and prepare to conduct spaceflight experiments using NASA and commercial platforms.
It's part of an educational journey that began at a point that most people consider a conclusion. After completing her PhD in cellular and molecular biology in 2020 at Laval University in Quebec, Canada, Vitry found herself in search of a next step.
Inspired to Pursue Space Studies
In October 2019, she had followed the news of the first all-woman spacewalk by astronauts Jessica Meir and Christina Koch, who were aboard the International Space Station at the time. Vitry recalls being surprised to note that Meir's educational background was in biology. "I thought only engineers and such went into space," she says.
Meir was a graduate of the International Space University (ISU) in Strasbourg, France. Vitry, a French native, was intrigued by this possible new path. "I wanted to see how I could join the space sector."
Vitry enrolled at ISU and earned her second master's degree in space studies. "I wanted to pursue research and pursue space biology because there is a lot to do to get humans safely longer and farther in the universe," she says. At the recommendation of a professor, she applied for a postdoctoral fellowship in the lab of Georgetown Lombardi's Laiakis, an ISU invited lecturer and frequent collaborator on NASA projects.
Research on Measuring Radiation Exposure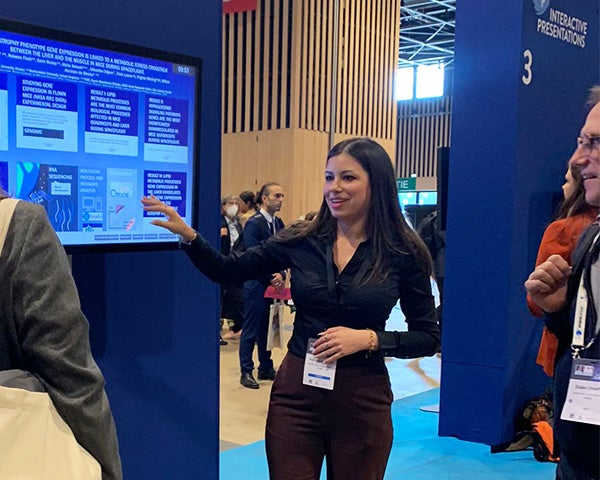 In Laiakis' lab, Vitry is contributing to a project intended to create a noninvasive method to measure how much radiation a person has received. Meant for rapid deployment in the wake of a nuclear disaster, the lab is developing a way to use changes in the microbiome of human skin to gauge radiation exposure. The end result will be a test that can be administered with a simple swab of the skin. While not developed for space applications, the method holds promise for use by astronauts and others exposed to increased radiation during space travel.
Laiakis recommended that Vitry apply for the STAR Program, based on her own experiences in the first cohort of the program. The virtual opportunity provides 29 participants with lectures on the first Tuesday of every month. Initially, these cover fundamental and applied space biology topics. As the weeks progress, they look more broadly at what kinds of experiments are suitable for space, how to apply for grants, and what NASA's priorities will be in the coming years.
The program is intended to support collaborations between new and experienced space biology researchers. Session facilitators encourage discussion among participants and ensure that their questions are always answered.
Eyes on Mars
Vitry is most looking forward to learning about the grant process for NASA projects, as well as how to design experiments for space. "There are a lot of parameters that are constraining the design of projects for space," she says. "So I'm really hoping to gain more confidence in designing a project."
She hopes to learn enough from the program to write a competitive research project and to submit it to NASA. And if she can design the project around her current biodosimetry work, all the better. "Radiation research is really one of my favorite subjects," Vitry says. "Radiation is everywhere in the universe. We cannot see most of it, we cannot touch it, but it can hurt us. This is so fascinating."
While she's still considering what her next steps will be careerwise, Vitry is clear on her ultimate goal. "I hope that all this research, not only mine, will contribute to the day when I turn on my TV and on the screen see the glowing red surface of Mars with a man on it," she says. "That's my dream, and my goal is making it happen."
Sarah K. Riehl
GUMC Communications