Breast Cancer Research Championed with Avon Global Scholars, Avon Walk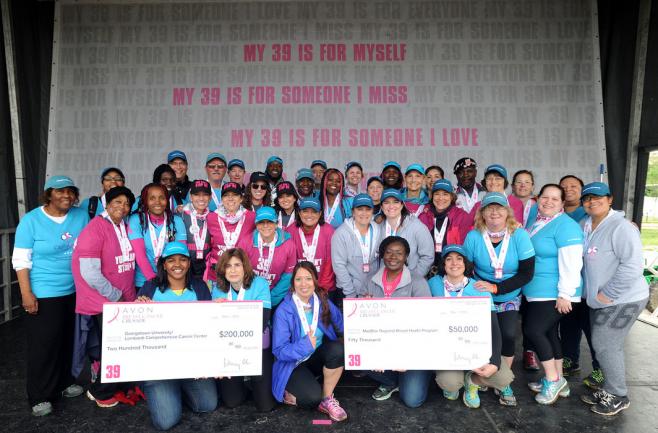 Posted in Lombardi Stories | Tagged Avon Walk for Breast Cancer, breast cancer, cancer, cancer research, philanthropy
May 5, 2016 — With a visit from the Avon Foundation Global Scholars Program and a team participating in Avon 39 The Walk to End Breast Cancer, supporters of Georgetown Lombardi's breast cancer programs had a busy weekend.
On April 29, Georgetown Lombardi hosted a group of men and women breast cancer specialists from around the world as part of the Avon Global Breast Cancer Clinical Scholars Program.
Training Global Breast Cancer Scholars
While in the US, the physicians received advanced training from breast cancer researchers at centers like Georgetown Lombardi that are affiliated with the Avon Foundation for Women.
Robert Glazer, PhD, Rebecca Riggins, PhD, and Bassem Haddad, MD, delivered presentations woven seamlessly between lab tours and poster viewings.
The group also heard a presentation from Capital Breast Care Center (CBCC) staff members on community outreach.
Nurse navigator Lyndsay Anderson, MSN, FNP-BC, pointed out the benefit of developing trust with clients in the community, particularly in underserved areas.
"While many patients do not trust the health care system, they do trust patient navigators," said Anderson, who helps connect patients with resources, such as primary care providers.
#PowerOf39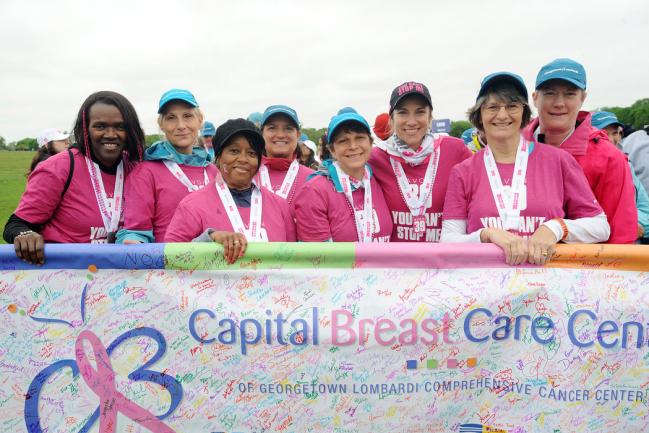 Later the same weekend, members of the Georgetown Lombardi community spent Saturday and Sunday on their feet at Avon 39 The Walk to End Breast Cancer.
For the 10th year in a row, Jeanne Mandelblatt, MD, MPH, associate director for population sciences at Georgetown Lombardi and foundation director of the CBCC, served as the captain of the Georgetown Lombardi/CBCC team. The Georgetown Lombardi/CBCC team raised upwards of $312,000.
This year, Avon awarded a $200,000 grant to CBCC to provide breast cancer screening services to more than 1,600 women in the metropolitan area, many of whom are not eligible for public assistance and will require follow-up evaluations.
Grant Funding For New Program
Additionally, MedStar Regional Breast Health Program and MedStar Georgetown University Hospital, which provides clinical support for CBCC, received a $50,000 grant to provide psychosocial patient navigation services to low-income patients in Prince George's County, Md.
"This grant will help us launch a new support program for those newly diagnosed with breast cancer and those in survivorship," said MedStar Georgetown's Bridget Oppong, MD, who is also a member of Georgetown Lombardi.
"A social worker and counselor will be hired to complement the oncology care patients receive locally to limit the stress of traveling to DC," she said.
"Through their support, Avon has helped us answer the request of many patients who feel affected by the lack of services encountered during treatment and life after cancer," Oppong said.
Christie Maillet
Georgetown Lombardi Communications