Georgetown Lombardi Fields Top Fundraising Team at Avon Walk
Posted in Lombardi Stories | Tagged Avon Walk for Breast Cancer, breast cancer, philanthropy, Ralph Lauren Center for Cancer Prevention
(May 12, 2014) — For Georgetown's team of 57 walkers, months of training and fundraising culminated this weekend at the Avon Walk for Breast Cancer, where their efforts distinguished them as the lead fundraising team in the Washington region.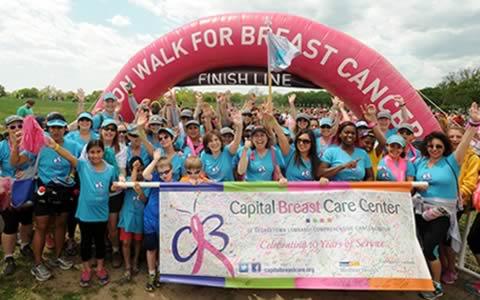 Volunteers, patients and survivors representing Capital Breast Care Center (CBCC), part of Georgetown Lombardi Comprehensive Cancer Center, took to the streets of Washington May 3-4 for the two-day, 39.3-mile walk. The Georgetown Lombardi/CBCC team brought in more than $186,000 for the Avon Foundation for Women.
At the closing ceremony Sunday at the Washington Monument grounds, Avon presented a $200,000 check to support CBCC — one of eight grants Avon awarded to local organizations to help support their breast cancer research, screening and education efforts. Tesha Coleman, CBCC's program director, accepted the check on behalf of the organization.
"This grant will help provide comprehensive breast cancer screening services to nearly 2,000 women in the metropolitan area, many of whom are ineligible for public assistance and will require follow-up and evaluation," says Coleman. "Thank you from the bottom of our hearts for this critical support."
Unwavering Dedication
Jeanne Mandelblatt, MD, MPH, associate director for population sciences at Georgetown Lombardi and founding director of CBCC, completed her 14th Avon walk this weekend — once again serving as captain and the centrifugal force of the 57-member team.
"My reasons for walking haven't wavered over the years," says Mandelblatt. "I walk every year to let Avon know how much their support means to us. I walk so that our patients know that they are not alone. We are walking with them every step of the way and I will keep walking until we have cured breast cancer."
Knit One, Cure One, a group Mandelblatt founded, brings together people who love to knit in support of the cause. Each year, group members hand knit items and sell them at various events, with 100 percent of proceeds donated to the Avon Walk. This year Knit One, Cure One raised $6,000 for the Lombardi/CBCC team.
This year's team trained together regularly for months leading up to the Avon Walk. Team members' walks have taken them all over the District, Maryland and Virginia, carrying their team flag designed by team member Larry Tyson proclaiming "One Team, One Fight."
Each team member has his or her own reasons for collecting donations and walking for two days. Gail Kouril, a breast cancer survivor who became involved with the Avon Walk in 2009, completed her fourth walk this year.
"In 2009 and 2010, I walked for myself in triumph for beating my own breast cancer. In 2013, I walked for those I knew personally who did not make it," she says.
This year alone, Kouril raised more than $20,000 for the cause.
"In my four walks I've raised $70,000," Kouril says. "I've tapped everyone I know on the shoulder and asked them to consider giving. I send e-mails, I have business cards, I use Facebook and I put up flyers in my neighborhood."
Critical Support
The Avon Foundation has been one of CBCC's main supporters since it provided an initial grant of $1 million to establish the center in 2004, and has since supported CBCC with more than $8 million in funding.
The team also received a generous $10,000 donation from MedStar Health, Georgetown Lombardi's clinical partner that provides clinical services to CBCC's patients.
CBCC, a program of Georgetown Lombardi's Office for Minority Health and Health Disparities Research, was founded in 2004. It is a community-based breast cancer screening clinic in the DC-metro area that provides screening and navigation services to women, regardless of their ability to pay.
See more event photos or visit the Lombardi/CBCC Avon Walk Team (new window) on Facebook.
By Sarah Reik
GUMC Communications