A Sabbatical … Just What the Doctor Ordered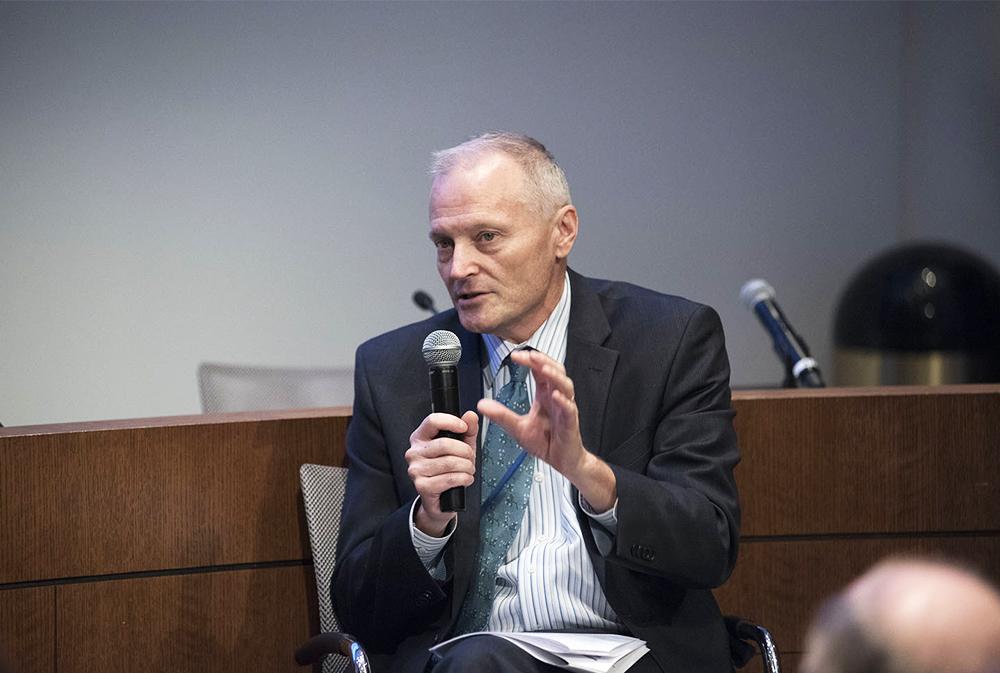 Posted in Lombardi Stories | Tagged gastrointestinal cancer, Ruesch Center
(May 30, 2019) — For many, a sabbatical — an extended time away from work — is a chance for academicians to focus on a single goal. But that's not how John Marshall, MD, views his pending sabbatical. Beginning on July 1, Marshall's time away will be spent at Oxford University developing an oncology training program, expanding the capacity of the GI Cancer Alliance Network and, in his spare time, he also plans to write a book with his wife.
But Marshall, associate director for clinical care of Georgetown Lombardi Comprehensive Cancer Center and division chief of hematology/oncology at MedStar Georgetown University Hospital, is the first to admit that time away from his clinical work and leadership duties will provide the break necessary to recharge (although, he admits, he will still be checking his email).
"It hasn't been an easy decision to make," says Marshall. "It's definitely not easy to remove myself and I've had to justify the disruption to the institutions I work for and with, as well as my patients and colleagues, who will have to step up while I'm away. But I've realized over the last few years that if I'm going to be a good physician for another 10 to 15 years, I need to take a break now," says Marshall, a 31-year veteran of Georgetown.
Over the last 10 years, Marshall, a medical oncologist specializing in gastrointestinal (GI) cancers, has been, in his own words, "frustrated by the slow pace of progress in GI cancer research, the lack of vision by grant reviewers, and the dramatic imbalance of funding for GI cancers," so he shifted his energies away from individual research projects and toward changing the landscape of GI cancer research.
Two Major Endeavors
In 2009, he founded the Ruesch Center for the Cure of GI Cancers at Georgetown Lombardi, which is designed to provide individualized curative therapies through research, care and advocacy. Ten years later, the center is self-sustaining, has funded over $1 million in grants, and is successfully meeting many of its goals.
"Throughout the center's life, we have emphasized the need to collaborate both regionally and globally if we are to truly achieve our aims. In 2014 we used external and internal funds to establish the GI Cancer Alliance Network [GI CAN]."
Under Marshall's leadership, GI cancer experts from academic medicine, the pharmaceutical industry and molecular profiling organizations formed GI CAN to develop "smart" centers for cancer care and research in the U.S. and around the world. Designed to respect local cultures, GI CAN will bring treatment to new communities and countries that do not yet benefit from the new science.
Marshall says, "Because of lack of infrastructure, cancer care is now considered a luxury item in many countries around the world. Georgetown University supports GI CAN because it meets the university's fundamental goals of serving society, educating the global community and extending knowledge. GI CAN members strongly support Georgetown University as GICAN's organizing institution and 'honest broker' for the public/private partnerships GI CAN embraces."
Marshall continued, "In 2018, the GI CAN Global Fellowship in Cancer Care was established — a new position to leverage the cross-functional capabilities of GI CAN's scientific leadership, laboratory capabilities, bioinformatics, information technology, legal, medical affairs and related resources. The aim is to expand access to cancer care through research around the world."
Program to Train Oncologists
Developing this alliance further was a deciding factor in his wish to take a sabbatical, says Marshall. From September to December 2019, Marshall and his wife, Liza, will be living on campus at Oxford University in the UK. There he will work with David Kerr, CBE, MA, MD, DSc, FRCP, FRCGP, FMedSci, a recognized world leader in global cancer care and cancer education, "to develop focused web-based, Oxford/Georgetown University certificate-granting coursework in collaboration with GI CAN global partner faculty to train oncology specialists in existing and emerging markets," Marshall explains.
"This effort will provide support for both research and marketing efforts for novel precision cancer therapies, and training programs as access to cancer care expands to underserved populations."
From January to June 2020 Marshall will primarily focus on establishing the global clinical research "Smart" Center network. One of the key elements of a sabbatical is to teach an "old dog new tricks," so he would also welcome the opportunity to serve as a visiting scholar with one or more strategic partners, focusing on "barriers and opportunities to improve collaborative cancer clinical research, studying research and regulatory barriers with the intention of reducing our constantly escalating 'red tape' burden."
Liza's Impact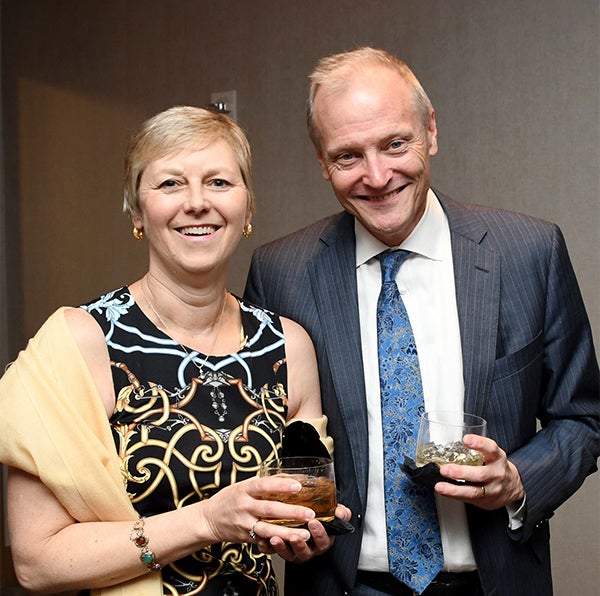 Marshall doesn't shy away from the fact that he also has personal reasons to take time out too. He admits that for years he was "envious" of the funding and focus given to breast cancer. But then 13 years ago his wife, Liza, was diagnosed with breast cancer and that all changed.
Initially her prognosis wasn't good, so as a reluctant new member of "the club," he was very grateful for the strides made in the development of treatments for breast cancer. He says this experience completely changed his perspective as an oncologist. "I used to have an emotional firewall, but I don't have that anymore," says Marshall.
His wife is in full remission now, but Marshall points out that "everything about my practice changed because of this experience. From how I talk to my patients and the language I use, to the clinical trials and the side effects of drug options. It influenced it all."
As a result of this, Marshall and his wife are going to write a book over the next 12 months to share this unique experience from their very different perspectives — the patient and wife, and the husband oncologist.
"We hope that people will find it interesting," he says.