Renowned Georgetown Cancer and Aging Researcher Receives Top Honor in Her Field
Posted in Special Stories | Tagged aging and cancer risk, breast cancer, cancer, faculty honors
(March 28, 2021) — When Jeanne Mandelblatt, MD, PhD, MPH, reflects on the arc of her research career, she sees no single standout moment that cemented her path. Instead, the revered member of Georgetown Lombardi Comprehensive Cancer Center and professor of oncology and medicine at Georgetown attributes her distinguished career to a continuum of work "based on persistence, curiosity and serendipity," coupled with work involving wonderful transdisciplinary teams of colleagues.
Mandelblatt was selected to receive the 2020 Joseph F. Fraumeni, Jr., Distinguished Achievement Award, the top honor given by the American Society of Preventive Oncology (ASPO). The 2020 meeting went virtual due to the COVID-19 pandemic, and the award presentation ceremony was deferred until the 2021 meeting, which takes place March 29. The Fraumeni award acknowledges her standing as "one of the world's foremost authorities in cancer control and the problems of aging and cancer," as Georgetown Lombardi Director Louis Weiner, MD, recently described her.
'First' Career Influences
Mandelblatt didn't start out as a clinical researcher. What she refers to as her "first" career was as a family doctor working in underserved community health centers in New York City in the 1970s and '80s.
A job she applied for in the internal medicine department at a large teaching hospital was the catalyst for her turn toward her present path and a career-long investigation of cancer and aging. She told the chief of ambulatory care that she wanted to teach residents how to perform gynecological exams with the clinic's mostly older clients. The chief replied that the clinic rooms were not equipped for that, Mandelblatt recalls. So she walked over to an exam table and pulled out the stirrups that were tucked in. "It's one of those moments in life you never forget," she says.
Mandelblatt took the job, and offered Pap smears to screen for cervical cancer in women. The average age of her patients was 75. Before long, she noticed a trend. A significant number of these women were testing positive for cervical cancer. Practitioners at the time believed older women "aged out" of the test, because signs of cervical cancer would have been seen earlier.
Mandelblatt was immediately intrigued. Why was the cancer showing up so late?
Mandelblatt pursued the question. Her conclusions were published in 1986 in the Journal of the American Medical Association, a top medical journal — her very first publication.
She speculated that advanced age in these women had diminished the capacity of their immune system to control latent infections that might be causing their cervical cancer. Later, HPV would become established in the etiology of cervical cancer, a virus that is immune-mediated in its ability to persist and cause cancer. Her second question — would treatment for the cancer in the aged be worth it to women and the public health community in terms of lives saved — was answered affirmatively in a second study also published in JAMA. This work led to coverage of Pap smears under Medicare — the first cancer early detection test covered in the program — in 1989. The combination of these studies became a signature focus of her career: assessing benefit and harm of screening and treatment among older women.
A Research Career is Born
While conducting her research, Mandelblatt undertook a two-year geriatrics fellowship at Montefiore and then began working on a master's (and later a PhD) in public health at Columbia University, where she had earned her medical degree.
After appointments at Cornell University and Memorial-Sloan Kettering Cancer Center, Mandelblatt joined Georgetown in 1994 and co-founded its Cancer Prevention and Control Program.
Her research focus turned to breast cancer screening with a question that hadn't been probed despite the advocacy for all women to receive annual mammograms.
She wanted to know if and when mammography tips the balance between benefit and harm: "Screening finds breast tumors that are treated aggressively, but may not need to be," she explains "That treatment may accelerate aging."
She spent two decades leading, as principal investigator, a large national study to examine outcomes from annual mammograms with the NCI's CISNET (Cancer Intervention and Surveillance Modeling Network) group. The analysis provided key evidence that supported the U.S. Preventive Services Task Force (USPSTF) in 2009 and again in 2016 when it recommended that "average risk" women 50-74 be screened every two years.
She also did work for the USPSTF on the upper age limits of screening and extended that work in a study led by her colleagues that showed that the upper age limit for breast, colorectal and prostate cancer screening depended on the underlying health of the individual. "Perhaps one of the best outcomes from this work could be the focus on shared decision-making between a caregiver and the individual to make the best decision for their individual health and preferences for screening (and treatment) harms and benefits."
As the science of both aging and cancer have evolved, Mandelblatt's more recent work has moved to translational research to understand the intersection of breast cancer treatment and aging. She's investigated if cancer-related cognitive decline — the fogginess and confusion after breast cancer and its treatments — is real.
Mandelblatt leads the "Thinking and Living with Cancer Study," the largest U.S. study of cognition in older cancer patients. She and her nationwide team of investigators found that within the first two years after diagnosis and treatment for early stage breast cancer, most women do not experience significant cancer-related cognitive problems that can be identified by medical testing. But a small subset of patients is affected: those who have an APoE4 gene. That gene is known to substantially increase risk for developing late-onset Alzheimer's disease.
"It is not that the chemotherapy or hormonal treatments cause Alzheimer's disease, but that these women may be at risk for both cancer-related cognitive problems and Alzheimer's — perhaps through a process of accelerated aging," Mandelblatt says.
Understanding Aging Through Basic Science
That study was published in 2018 in the Journal of Clinical Oncology (JCO), the same year that Mandelblatt and Georgetown neurologist and Alzheimer's disease expert William Rebeck, PhD, published a second study.
They found that doxorubicin, a common chemotherapy used for breast cancer, caused significant brain alteration in mice with the human ApoE4 gene.
The two studies took completely different approaches, yet told the same story: Doxorubicin produced significant cognitive changes when APoE4 was present.
These studies illustrate what Mandelblatt says she enjoys the most: translational research — taking results from population-based research to the lab to examine the findings in animal models, and then take what is learned back to helping women.
Now Rebeck and Mandelblatt are methodically testing other chemotherapy and hormonal agents as well as substances that could prevent cognitive decline. In the search for ways to prevent or treatment cancer-related cognitive problems, Rebeck, Mandelblatt and Georgetown breast cancer expert Marc Lippman, MD, are investigating inflammatory pathways linked to cognitive decline in the mice with APoE4. Targeted therapy to modulate these pathways might be helpful against cognitive problems in breast cancer survivors.
Research Recognition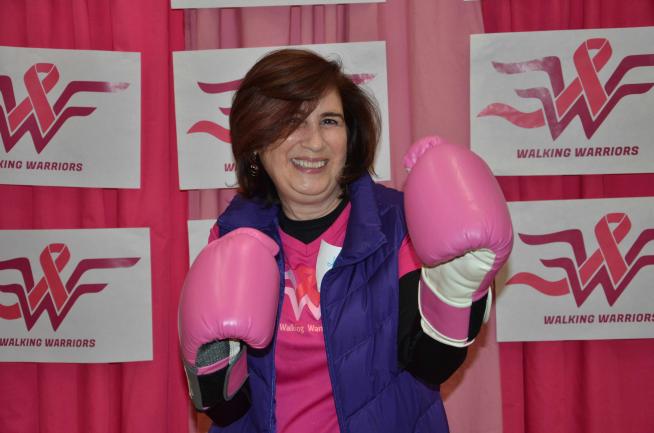 Mandelblatts's research excellence was recognized by the National Cancer Institute with an Outstanding Investigator Grant in 2015, the inaugural year these awards were given. Since the start of her research career, she has been supported by multiple grants from the NCI at the R01 level. Mandelblatt credits her 275 (and counting) journal articles to the enjoyment and satisfaction she feels at helping pioneer the field of cancer and aging with her colleagues.
Mandelblatt's success is complemented by her boots-on-the-ground approach to cancer research — or rather shoes on the ground. Outside of work, she has led at least 17 teams of walkers to raise more than $1.5 million for the Avon Foundation, and later as part of an organization she founded called Walking Warriors. This spring marks her 20th walk and third year leading the Walking Warriors Battling Breast Cancer.
"It is very exciting to have started my career in a public health community setting and ending up finding out how you can potentially improve that clinical picture through research and fundraising," she says.