Brain Cancer
Currently Available Clinical Trials from Georgetown Lombardi
– The Brain Tumor Center currently does not offer any clinical trials.
Search clinical trials available on NIH's national clinical trial database.
Joseph Watson, MD, Director, Brain Tumor Center
To make an appointment with a neuro-oncologist, call 202-444-5209.
You will be redirected our clinical partner, MedStar Health.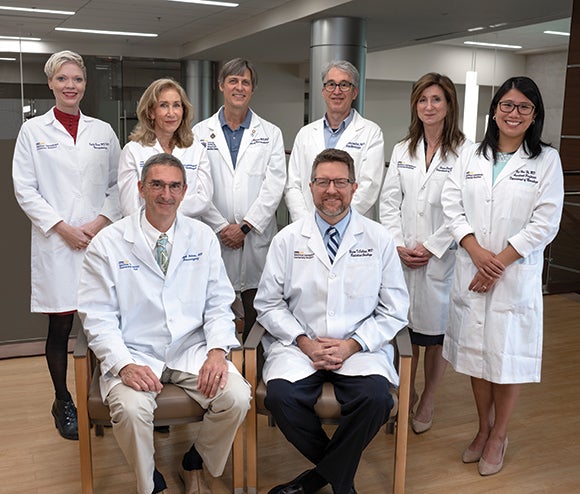 Cancer Care Information
The Brain Tumor Program at the Georgetown Lombardi Comprehensive Cancer Center provides comprehensive care to patients with a wide variety of primary benign and malignant tumors of the brain and spine.
The evaluation and management of brain tumors is complex, requiring a comprehensive approach with the involvement of experts from multiple specialties. Our care team consists of highly skilled neurosurgeons, medical and radiation oncologists, neuro-radiologists, neurologists, pathologists, social workers, case managers, palliative care practitioners, and clinical nurse coordinators. Our team is dedicated in its fight against brain tumors, and believes in combining expert opinion with state-of-the art technology to provide compassionate and holistic care to our patients.
The Brain Tumor Program at Georgetown Lombardi is under the direction of Joseph Watson, MD.
What We Offer
The Brain Tumor Center is a multidisciplinary clinic in which a neurosurgeon, radiation oncologist, and medical oncologist provide consultation and evaluation for patients with brain and spinal cord tumors. Several protocol treatments are available according to the needs of each patient. To make an appointment with a neuro-oncologist, please call 202-444-5209.
About the Cancer
Current information about brain cancer, incidence and survival statistics, treatment options, causes and prevention, coping strategies, clinical trials, and research is available online from the National Cancer Institute.
Georgetown Lombardi's world-renowned research faculty are discovering cancer risk factors, designing effective prevention strategies, and learning how to detect cancers earlier. They are developing and testing the cancer treatments of tomorrow — targeted therapies that will improve both survival and quality of life. They are making progress toward the ultimate goal: to eradicate cancer.