Washington Women Raise $735K for Breast Cancer Research at Georgetown Lombardi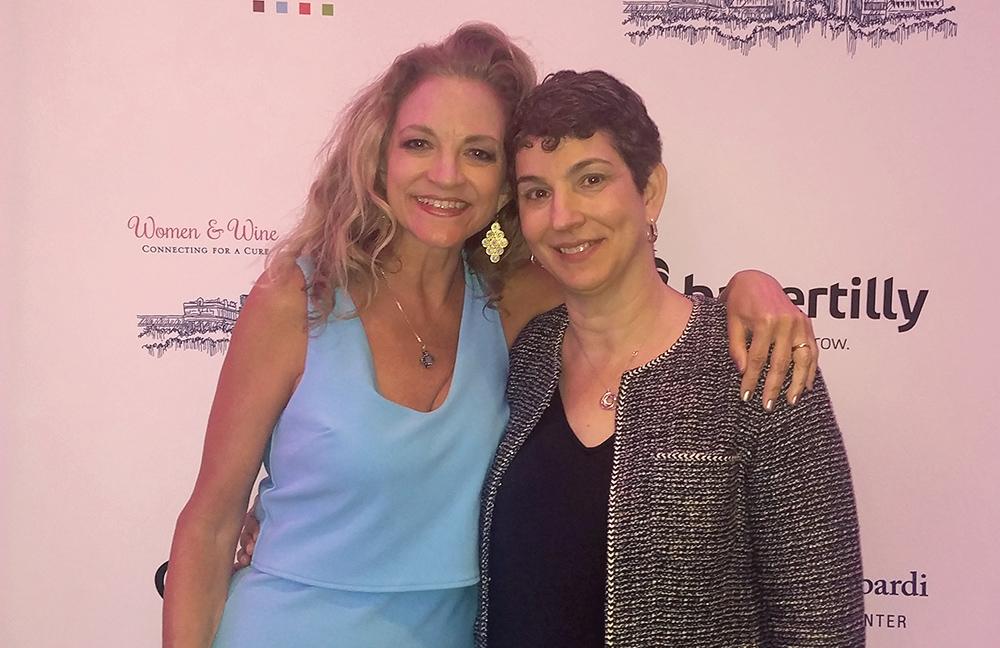 Posted in News Release | Tagged cancer, cancer research, Lombardi Women, philanthropy, Women & Wine
WASHINGTON (April 25, 2019) — Women & Wine, one of Washington's largest annual philanthropic events by and for women, raised over $735K at its April 24 annual event, with proceeds designated for research and treatment at the Nina Hyde Center for Breast Cancer Research at Georgetown Lombardi Comprehensive Cancer Center.
Women & Wine is one of the premier events for the Washington area's most influential women business leaders in the fight against breast cancer.
Since its debut in 2005, Women & Wine has raised more than $3.7 million for Georgetown Lombardi. Funds from the event, held last night at the Ritz-Carlton in Tyson's Corner, support important research leading to new data that scientists then use to apply for larger grants. To date, approximately $7 million in federal grants have been awarded to researchers based on work initially funded by Women & Wine.
Women & Wine began 14 years ago with a small group of businesswomen whose lives had been impacted by breast cancer. Championed by co-chairs Barbara McDuffie of Baker Tilly and Janet Davis of Brandywine Realty Trust, the annual event has grown to become one of the premier events for Washington women in the fight against breast cancer, with a record of more than 770 attendees in 2019.
The event, which features dinner, networking and inspiration, recognizes heroic women who have battled breast cancer — and those who support them.
Louis M. Weiner, MD, director of Georgetown Lombardi Comprehensive Cancer Center, told the packed ballroom, "It truly takes a village to continue moving the needle toward a cure for cancer. Thank you for making this evening, and all that we do at Georgetown Lombardi, possible."
The annual Lombardi Spirit of Life Award was presented to graphic designer and musician Lena Markley. In April 2014, Lena, a Washington native, was diagnosed with metastatic breast cancer and said her "world was turned upside down." Fortunately, within days, she found her way to the Georgetown Lombardi. Today, she is thriving and enjoying life thanks to her outstanding medical treatment, supportive network of friends and family, and her strong positive attitude.
During her acceptance speech Markley said, "I was blessed to be in the capable hands of Dr. [Claudine] Isaacs at Georgetown Lombardi. The day she said to me, 'You are going to do really well,' that was the most pivotal moment of my life. In that moment the dark clouds lifted and the sunshine came pouring in, and in that moment I became an optimist. I stand here this evening overjoyed to be in a room with over 700 fellow optimists. I know that we all believe that we are going to figure this breast cancer thing out, in our lifetime."
"I believe we all share the same dream," she continued. "That someday being diagnosed with breast cancer will just be a blip on the screen in someone's medical history. Diagnosed. Treated. On with your life."
Markley invited some of her "Lombardi family" care team to accompany her at the event. Her nurse practitioner, medical assistant and clinical trial nurse were asked to stand up, to the applause of the gathered guests.
"It takes a special kind of person to work with cancer. My team at Lombardi were with me every step of the way. I'm delighted that they are here with me tonight."
In mentioning her doctor, Isaacs, Markley said, "Her only weakness is that she is completely clueless when it comes to discussing 'The [Real] Housewives of Orange County' or 'The Bachelor,' for that matter. That is, of course, because when she gets home in the evenings she doesn't veg out in front of the TV. She is busy reading medical journals, writing reports, analyzing data, on and on and on. Just the kind of doctor I want. Thank you, Dr. Isaacs."
At the end of the evening, co-chairs Davis and McDuffie made a special announcement about the 2020 event. To hushed tones in the room they revealed the new name of this special annual gathering will be Lombardi Women: Connecting for a Cure.
In addition to the organizers, this year's event was made possible by over 70 sponsors and 200 auction donors. Top 2019 sponsors include Baker Tilly, Alpha Corporation, Brandywine Realty Trust and JBG Smith.
View images from the 2019 event on this website (password is "W&W," case sensitive).
---
About Georgetown Lombardi Comprehensive Cancer Center (new window)
Georgetown Lombardi Comprehensive Cancer Center is designated by the National Cancer Institute as a comprehensive cancer center — the only cancer center of its kind in the Washington, D.C. area. A part of Georgetown University Medical Center and MedStar Georgetown University Hospital, Georgetown Lombardi seeks to improve the diagnosis, treatment, and prevention of cancer through innovative basic and clinical research, patient care, community education and outreach, and the training of cancer specialists of the future. Connect with Georgetown Lombardi on Facebook (Facebook.com/GeorgetownLombardi (new window)) and Twitter (@LombardiCancer (new window)).
About Georgetown University Medical Center (new window)
Georgetown University Medical Center (GUMC) is an internationally recognized academic health and science center with a four-part mission of research, teaching, service and patient care (through MedStar Health). GUMC's mission is carried out with a strong emphasis on public service and a dedication to the Catholic, Jesuit principle of cura personalis — or "care of the whole person." The Medical Center includes the School of Medicine and the School of Nursing & Health Studies, both nationally ranked; Georgetown Lombardi Comprehensive Cancer Center, designated as a comprehensive cancer center by the National Cancer Institute; and the Biomedical Graduate Research Organization, which accounts for the majority of externally funded research at GUMC including a Clinical and Translational Science Award from the National Institutes of Health. Connect with GUMC on Facebook (Facebook.com/GUMCUpdate (new window)) and Twitter (@gumedcenter (new window)).