Ron Rivera, Washington Commanders' Coach, to Receive NFL Players Association Georgetown Lombardi Award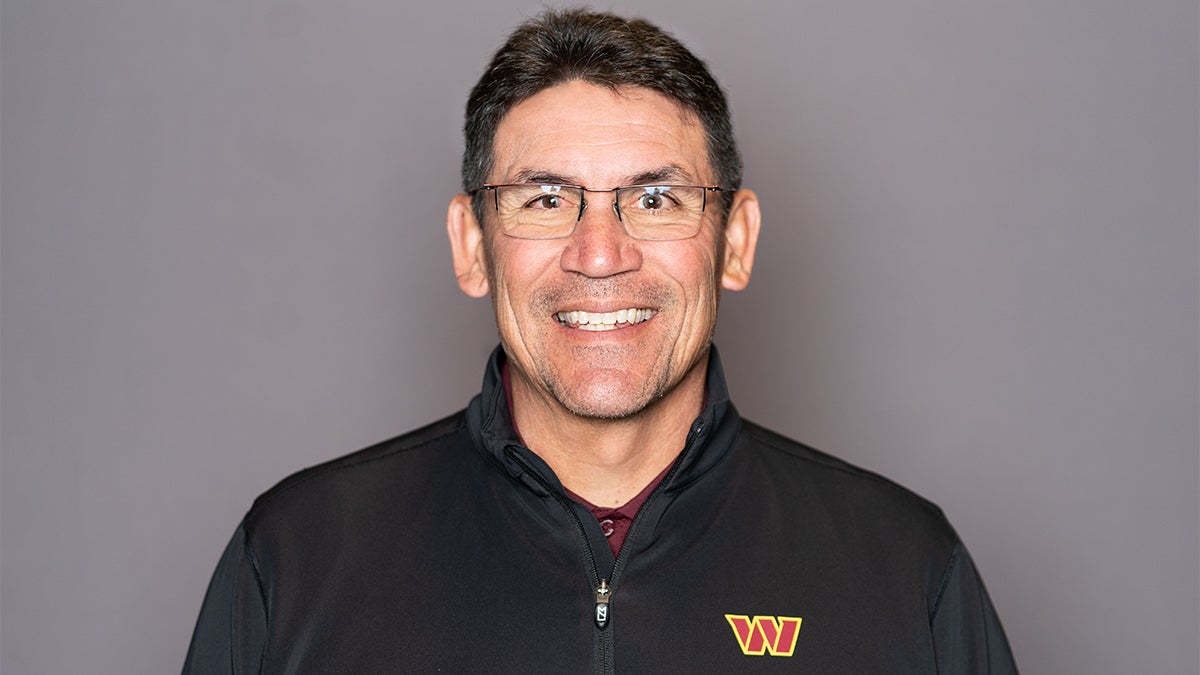 Posted in News Release | Tagged Lombardi Gala, philanthropy
WASHINGTON (January 5, 2023) — Georgetown University's Lombardi Comprehensive Cancer Center and the NFL Players Association are pleased to announce Washington Commanders Coach and cancer survivor Ron Rivera as the recipient of the 2023 NFLPA Georgetown Lombardi Award.
The annual award recognizes a sports figure who has faced cancer and who possesses the qualities that made the cancer center's namesake, Coach Vince Lombardi, an inspiration —dependability, courage, discipline and honor. Rivera will be presented with this year's honor at the Georgetown Lombardi Gala in Washington on April 29.
Rivera, in his 26th season coaching in the NFL and third as Washington's head coach, faced one of his toughest opponents after being diagnosed in August 2020 with squamous cell carcinoma. The cancer had invaded a lymph node in his neck. Treatment with chemotherapy and proton therapy caused him to lose 30 pounds and left him fatigued. Through it all, Rivera missed only three team practices and coached Washington to the NFC East title during the 2020 season. Today he is cancer free.
"It's truly an honor to present this award to someone who not only exemplifies all of the things that Coach Lombardi stood for as a leader, but also has proven to be a pillar of strength and courage within our sport," said DeMaurice Smith, executive director of the NFLPA and honorary chair of the gala. "His public bout with cancer has served to inspire so many, and by continuing to raise awareness, he is doing his part to encourage others as they fight this disease, just as he so valiantly did."
In addition to Rivera facing his own cancer, the disease has touched both his and Smith's family. Smith's wife, Karen, is a two-time cancer survivor, while Rivera lost his mother to lung cancer and a brother to pancreatic cancer.
According to the Skin Cancer Foundation, an estimated 1.8 million cases of squamous cell carcinoma (SCC) are diagnosed each year, and incidents have increased over the last 30 years. While curable when caught early, SCC left to grow can become disfiguring, dangerous and deadly. An estimated 15,000 people die from this form of cancer each year.
"No matter the cancer diagnosis or prognosis, this disease demands strength, focus and tremendous support from friends and loved ones," said Louis M. Weiner, MD, director of Georgetown Lombardi. "Clearly, Coach Rivera is an inspiration to many, and the love of his friends and family were critical to his recovery. I congratulate him and also salute those around him for their critical support."
Rivera joins past award recipients such as Stuart Scott, Devon and Leah Still, Robert Kraft, Larry Fitzgerald, Chris Mortensen and Mark Rypien.
---
About the NFL Players Association:
The National Football League Players Association is the union for professional football players in the National Football League. Established in 1956, the NFLPA has a long history of assuring proper recognition and representation of players' interests. The NFLPA has shown that it will do whatever is necessary to assure that the rights of players are protected — including ceasing to be a union, if necessary, as it did in 1989. In 1993, the NFLPA again was officially recognized as the union representing the players and negotiated a landmark Collective Bargaining Agreement with the NFL. The current CBA will govern the sport through the 2030 season. Learn more at www.nflpa.com.