Ninth Annual Women & Wine Event Raises Record Funds for Breast Cancer
Posted in Lombardi Stories | Tagged Lombardi Women, Women & Wine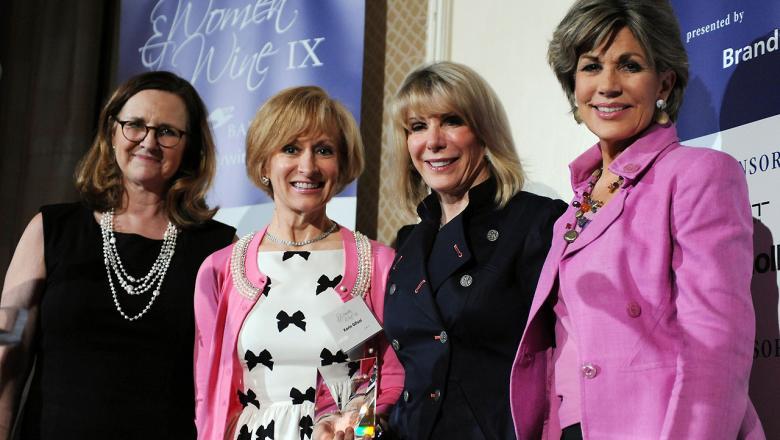 (April 7, 2014) — More than 400 women gathered at the Four Seasons Hotel in Washington on Tuesday, April 1 for the Ninth Annual Women & Wine event benefitting the Nina Hyde Center for Breast Cancer Research at Georgetown Lombardi Comprehensive Cancer Center.
Women & Wine is a women-only event bringing local businesswomen and friends together to support breast cancer research and treatment programs at Georgetown Lombardi. The event, which began nine years ago with 100 attendees, raised a record high of $259,000 this year.
The program began with a cancer briefing by Claudine Isaacs, MD, professor of medicine and oncology and co-director of the Georgetown Lombardi's breast cancer program, and Shawna Willey, MD, director of MedStar Health's regional breast surgery program and vice-chair of the department of surgery at MedStar Georgetown University Hospital. Their updates on the latest breakthroughs in breast cancer research and treatment were followed by a question-and-answer session with attendees.
Isaacs described research projects that were able to move forward over the past year due to philanthropic support. One of these projects, led by behavioral scientist Suzanne O'Neill, PhD, focused on decision-making regarding cancer risk management as it relates to genetic testing. O'Neil's pilot study examined women ages 18 to 25 and how they made decisions regarding their cancer risk management based on interactions with their health care providers.
Willey followed with a discussion of intraoperative radiation therapy, a single-dose radiation treatment.
"Radiation is a life-saving thing. But maybe, as with all treatments, we are able to get smarter and more precise about which patients need what treatment," stated Willey.
The evening included a cocktail hour and silent auction where vacation packages and items from top designer brands such Tiffany & Co. were available for bidding. Local companies and individuals donated the auction items in support of breast cancer research at Georgetown Lombardi.
After dinner, the evening's emcee, Greta Kreuz of WJLA-TV, presented the 2014 Spirit of Life Award to Karen M. Gifuni, supporter and committee member. The award is given each year to a person who exemplifies character and leadership in promoting breast cancer research and awareness.
View more event photos on Facebook.
By Cherisse Cobrand
Georgetown Lombardi Communications