'The Power of This Place is Its People'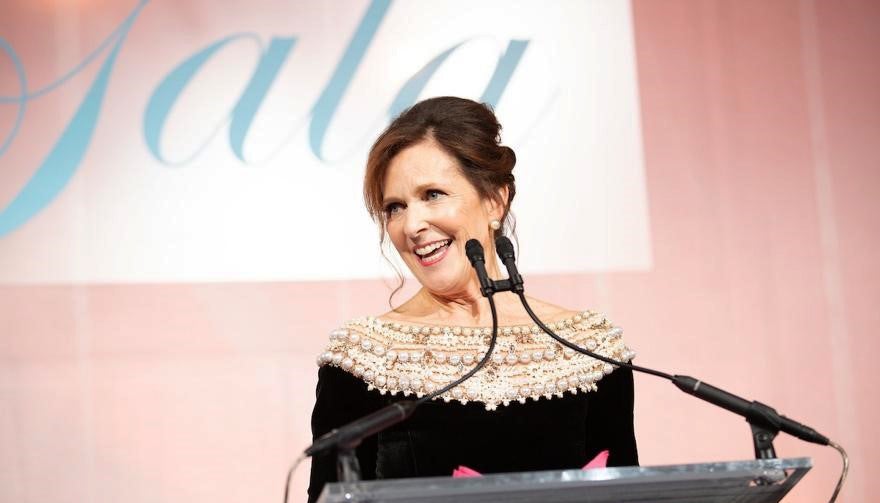 Posted in Lombardi Stories | Tagged cancer research, Lombardi Gala, philanthropy
The 33rd Annual Lombardi Gala Raises $1.4 Million for Cancer Research
(November 27, 2019) — Nearly 600 supporters, community partners and volunteers showed up in force to celebrate the extraordinary team of individuals who work tirelessly searching for new and better cancer treatments and therapies at Georgetown Lombardi Comprehensive Cancer Center.
This year's annual Lombardi Gala took place at Washington's Ritz-Carlton and spotlighted some of the very best supporters with whom the cancer center has been lucky enough to collaborate over the years.
This year's recipient of the Margaret L. Hodges Leadership Award was Elizabeth Shepard, for her commitment of time, energy, financial support and leadership to the Lombardi Gala for more than 20 years. Shepard attended her first Lombardi Gala in 1999 and has since raised over $700,000 for research at Georgetown Lombardi.
"The reason I still support Lombardi after all these years is I know that Lombardi researchers are pioneers in many world class treatment discoveries including the use of tamoxifen and the HPV vaccine."
Shepard first got involved with Lombardi when her sister Deborah Van Felter was diagnosed with stage IV metastatic breast cancer. Debbie died from the disease, motivating Shepard's involvement in the work towards a cure.
"If we can help push research forward so that just maybe a family won't suffer the loss of their child, that a husband won't lose his beloved wife, and that just maybe this effort will protect another sister from losing her sister," Shepard continued.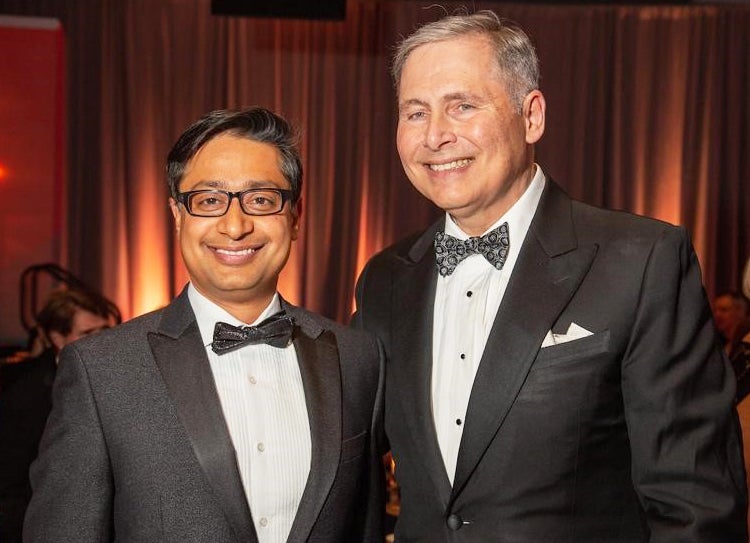 In recognition of his work, Dr. Chiranjeev Dash was awarded the 2019 John. F Potter, MD award for early career researchers.
"Dr. Dash is an inspiring young researcher whose work to combat breast and colorectal cancers and their related health disparities represents the best of what we stand for at Georgetown and the Lombardi Cancer Center," said Louis M. Weiner, MD, director of Georgetown Lombardi Comprehensive Cancer Center and the MedStar Georgetown Cancer Institute.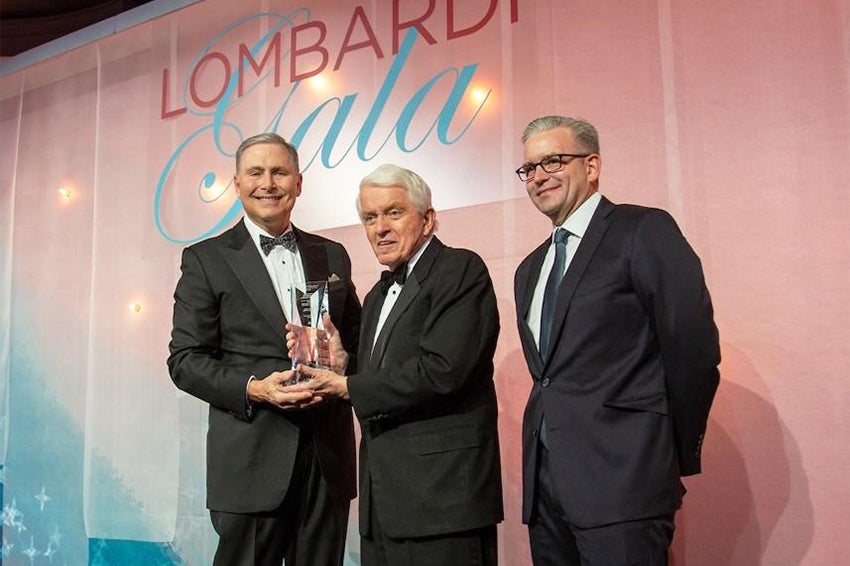 Thomas Donohue received the Directors Champion in Research award from Weiner for his many years of philanthropic support of the cancer center and especially his recent support of hematology research. He and his eldest son accepted this award in memory of his late wife, Liz.
In accepting his award, Donohue spoke about the Lombardi medical staff, oncology nurses and assistants, describing them as "the angels among us."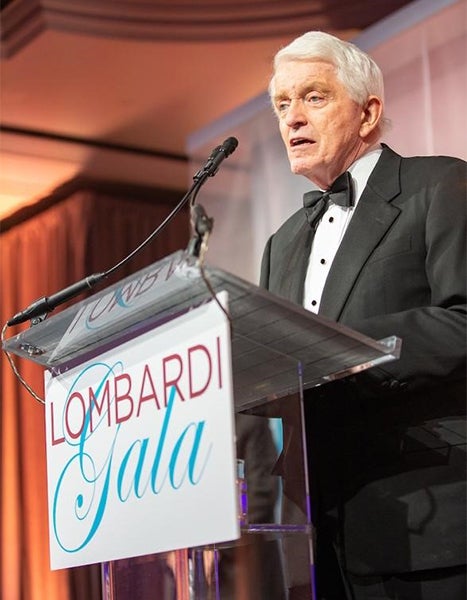 Donohue continued, "A member of our extended family was so impressed by the gentleness and warmth of the Lombardi staff that they asked us where all these amazing people had come from…. The answer was simple, God sent them. The power of this place is its people."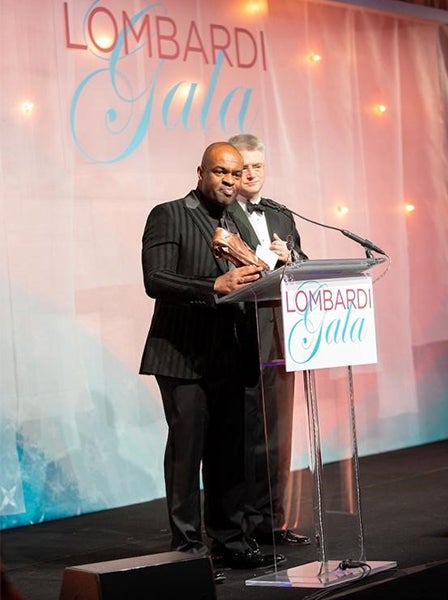 The final award of the evening was the 2019 NFL Players Association Georgetown Lombardi Award, given to remarkable individuals who possess the qualities that made legendary coach Vince Lombardi an inspiration to many — dependability, courage, discipline and honor. Presented by the Gala's honorary chair and NFLPA Executive Director, DeMaurice Smith, and Vincent T. Lombardi II, Vince Lombardi's grandson, this year's recipient was NFL legend of the game and Hall of Fame honoree Bobby Mitchell.
No. 49, Mitchell's unique and record-breaking NFL career amassed jaw-dropping statistics: 521 catches averaging 15.3 yards, a 26.4-yard average on kickoff returns and four trips to the Pro Bowl. At the time of his retirement, his 14,078 total yards stood third in NFL history and his 92 touchdowns stood fifth all-time. Even today, Mitchell's on the field moves are considered highlight-reel worthy, his career and accomplishments listed in "Who's Who Among Black Americans.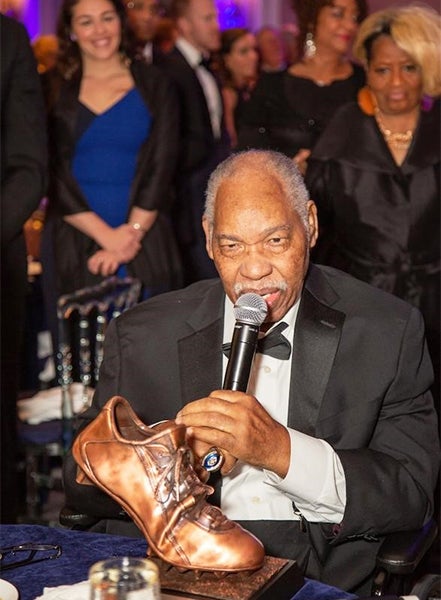 Following a lengthy standing ovation from the gathered guests, Mitchell accepted his award and spoke fondly of Coach Lombardi. "The things he did for us players in such a short amount of time, you could never imagine. He was everything people talk about."
Mitchell said Lombardi inspired him to volunteer. "The thing I really liked about him, aside from the winning, was that he always had another job for you, and those jobs would be doing things for other people. I even ended up working on behalf of the Leukemia and Lymphoma Society for over 20 years."
In addition to establishing himself on the gridiron, Mitchell has championed educational, social and charitable causes. He has distinguished himself within the Washington, DC, community and has generated $8.5 million toward blood cancer research.
Toward the end of the evening, the audience reacted enthusiastically to a surprise announcement from Tom Donohue that his guests, representatives from Boeing Corp., matched donations raised during the fundraising appeal. These additional funds meant that the 2019 Gala was the most successful Lombardi fundraising event to date.
Thanks to the generosity and enthusiasm of assembled guests, the Gala raised more than $1.4 million in support of Georgetown Lombardi. The event co-chairs of this year's Lombardi Gala were Jerry and Catherine Conway Castro (B'88) and Bruce Merlin Fried and his wife, Lisa Hill, who together have raised almost $4 million since they assumed their roles three years ago.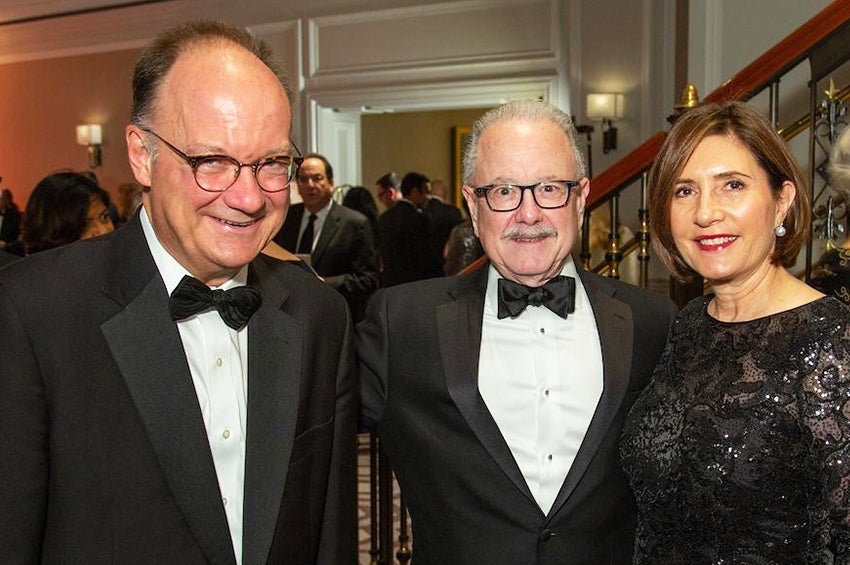 Georgetown Lombardi wishes to thank this year's sponsors and all others who helped make the Gala a success. View the complete list of event sponsors.
Additional Scenes From the Evening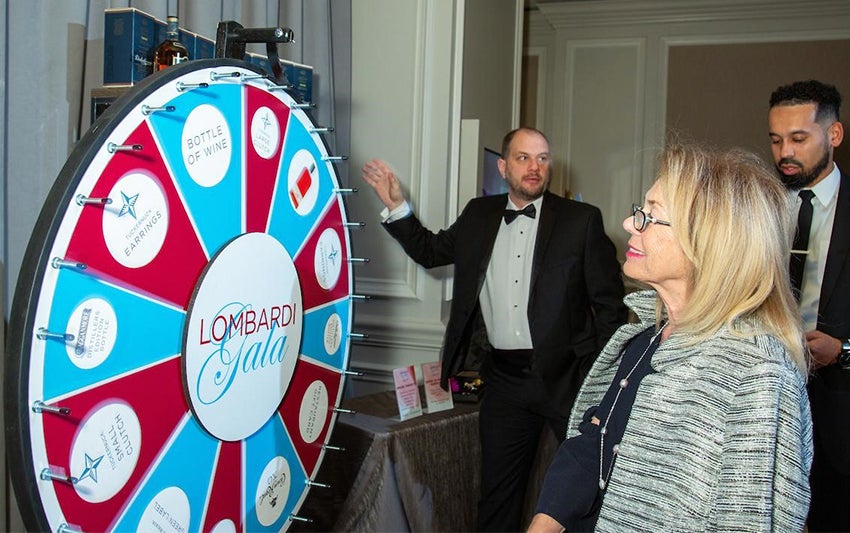 Something for everyone. Lines of guests quickly gathered around a new addition to the 2019 Gala fun, The Lombardi Wheel of Wonder. Attendees were invited to spin the wheel for the chance to win ladies fashionable accessories sponsored by Tuckernuck or liquor from Diageo.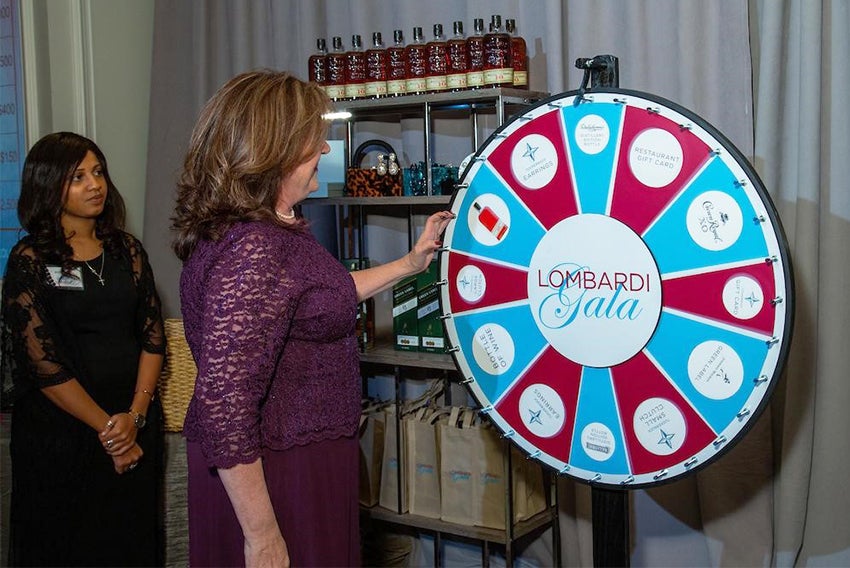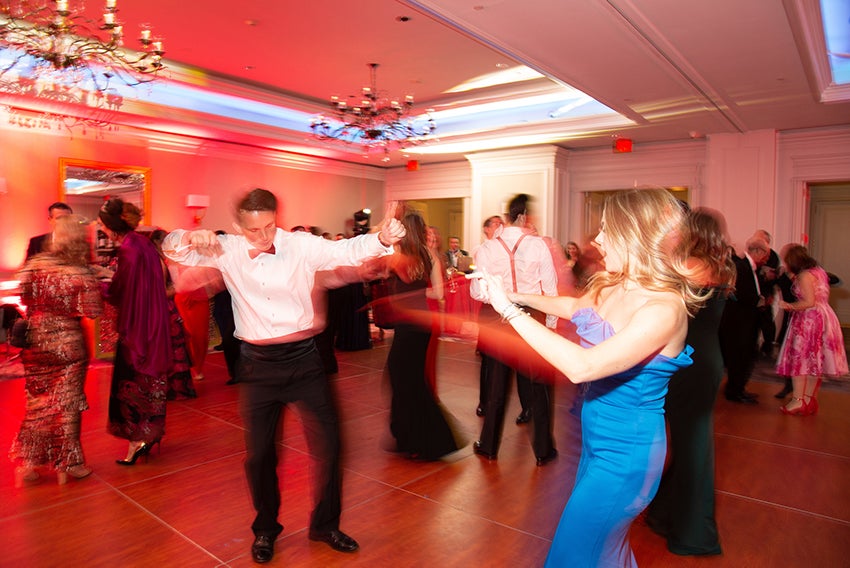 The After Party: The dancing continued late into the evening for some dedicated guests.