Tenth Annual Women & Wine Event Marked by Record-Breaking Growth in Community Support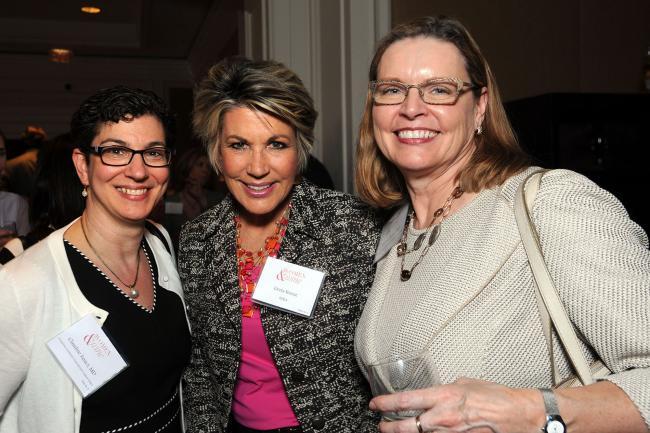 Posted in Lombardi Stories | Tagged breast cancer, Lombardi Women, philanthropy, Women & Wine
April 24, 2015 —This year marked a tremendous demonstration of community support for the Women & Wine event, which hosted an unprecedented 600 attendees and raised a record high of nearly $400,000. Now in its 10th year, Women & Wine benefits the Nina Hyde Center for Breast Cancer Research at Georgetown Lombardi Comprehensive Cancer Center.
The women-only fundraiser was held at the Ritz-Carlton in Tysons Corner, Va., and brought together local businesswomen and cancer advocates for an evening to support breast cancer research and treatment programs at Georgetown Lombardi.
The evening began with a light cocktail reception, followed by a cancer briefing led by Shawna Willey, MD, director of MedStar Health's Breast Surgery Program and vice-chair of the department of surgery at MedStar Georgetown University Hospital.
Willey engaged the audience with a discussion about the dichotomy between oncologists who want to lessen the amount of surgeries and radiation patients receive, and patients who opt for more extensive treatment, such as mastectomies.
She also talked about the difficult decisions for preventive surgery made by healthy women at a high risk of breast cancer such as actress and filmmaker Angelina Jolie Pitt.
"At Georgetown we have inter-operative radiation therapy. So when we talk about limiting therapy, this is one of the things we can do so that a person gets all of their local regional treatment in one trip to the operating room," said Willey.
"The other end of the spectrum is: why so many mastectomies?" Willey added. "I would contend part of the reason is we know more about genetic testing, more and more patients are doing genetic testing, and we have better restructuring techniques."
Claudine Isaacs, MD, followed Willey's speech with an update on novel drug therapies that have been introduced to the breast cancer community over the last decade. Isaacs, a professor of medicine and oncology and co-director of Georgetown Lombardi's Breast Cancer Program, also discussed the prevalence of genetic testing as a means of determining how patients can receive targeted, more personalized therapies.
"One of the things we really have been looking at and trying to understand is how we can better target individuals and how we can spare many women the toxicities of therapies," said Isaacs.
"In the area of hereditary genetic breast cancer we've seen a dramatic change in the landscape," Isaacs continued. "We now can offer testing much more broadly than just BRCA1 and BRCA2 and we're really trying to look at how we incorporate those tests."
Following the cancer briefing, guests participated in a silent auction equipped with high-end luxury goods and services from over 200 donors—all through the convenience of their wireless devices.
After dinner, honorary chair and former WJLA-TV journalist Greta Kreuz presented the 2015 Lombardi Spirit of Life Award to Donna Hopkins, a two-time breast cancer survivor and advocate.
Hopkins founded Hopkins Breast Cancer Inc., The Helping Hand in the Community, which provides financial assistance to aid in the treatment and related costs for disadvantaged breast cancer patients who reside in the Washington metropolitan area.
Each year, the Spirit of Life award is given to a woman who exemplifies character and leadership in promoting breast cancer research and awareness, while instilling hope and a spirit of life in all who meet her. Special Service recognition was also given to Tiffany & Co., a long-time supporter of the event.
View photos from Women & Wine X.
By Cherisse Cobrand
Georgetown Lombardi Communications