Team Georgetown Lombardi Wins Hands on Hope Competition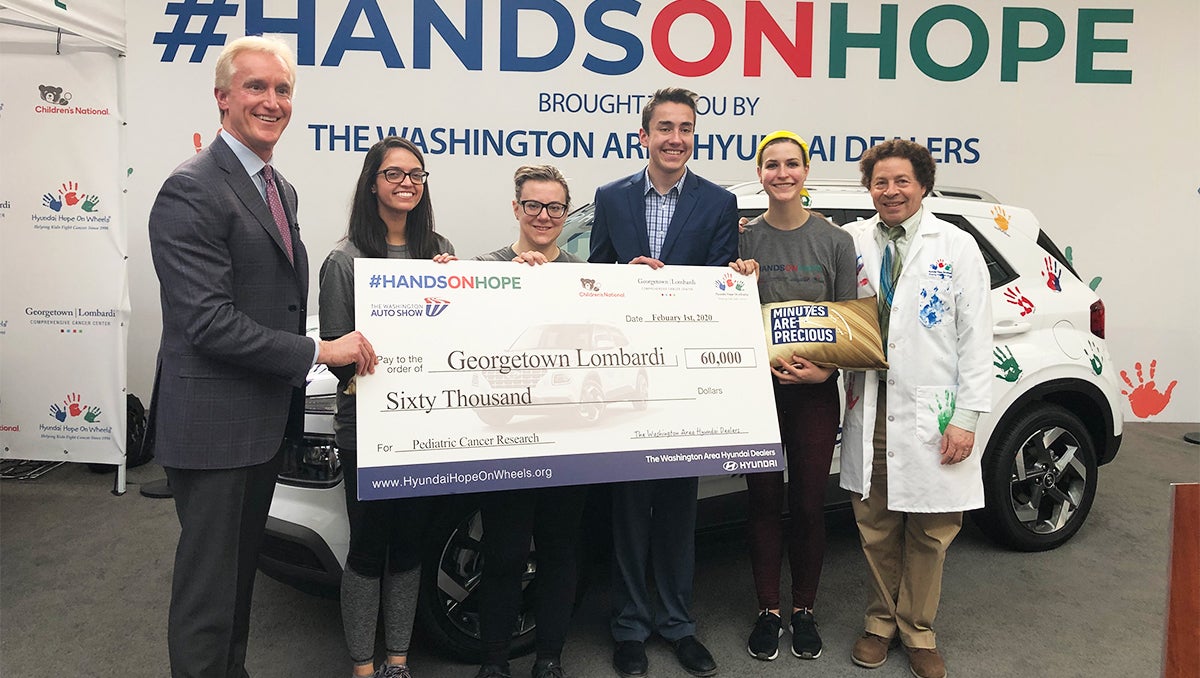 Posted in Lombardi Stories | Tagged Hands on Hope, pediatric oncology, philanthropy
(February 2, 2020) — A pediatric nurse, research assistant and research administrator — members of Team Georgetown Lombardi — won the 2020 Hyundai Hands on Hope contest at the Washington Auto Show. Their success secured a $60,000 pediatric cancer research grant for Georgetown Lombardi.
For 50 straight hours beginning January 30, the trio, Olivia Rebro, Emily Maisonet and Dana Hunter, were required to stay in physical contact — by hand or other body part — with a new 2020 Hyundai Venue.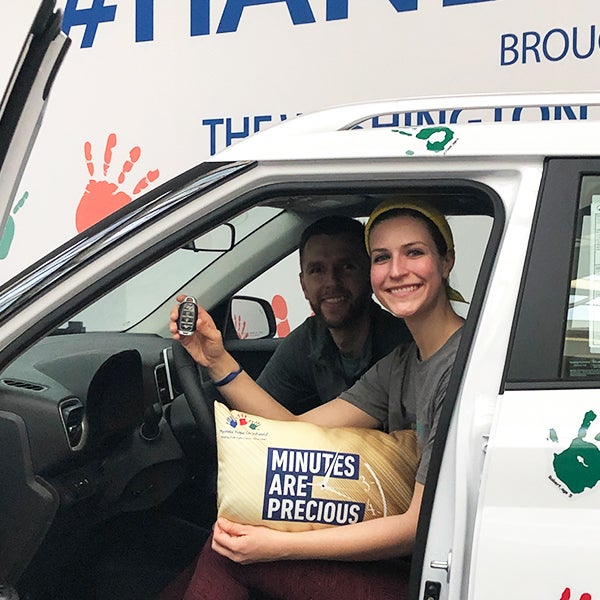 At the Feb. 1 closing ceremony marking the end of the contest, the Georgetown Lombardi team members, along with their three competitors from Children's National, took turns starting the Hyundai Venue. Each had a different key; only one would start the car.
A New Car and Research Grant
Pediatric nurse Rebro, fourth in line to pick a key, comfortably took her seat behind the wheel of the Venue. The sound of the starting engine was drowned out by screams of excitement from the crowd that had gathered for the dramatic moment.
"I'm going to drive it around and make sure everyone knows what Hyundai does," a joyous Rebro said. "[Pediatric cancer research] is a passionate cause near and dear to my heart."
'Proud to Partner'
Kevin Reilly (B'91), owner of Alexandria Hyundai and chairman of the Washington Area Hyundai Dealers, and the driving force behind Hyundai's pediatric cancer research charity work in DC, shared a sobering statistic informing the philanthropic event.
"Every 36 minutes, a child is diagnosed with pediatric cancer, which means that 83 children have been told they have cancer since the start of this competition 50 hours ago," Reilly said.
"We are so proud to partner with such a great organization that wants to end childhood cancer as much as we do," said Georgetown Lombardi scientist Todd Waldman, who explained how his 2017 Hyundai Hands on Hope scholar grant helped his lab's work on understanding Ewing sarcoma, an aggressive pediatric bone cancer.
"Georgetown Lombardi Comprehensive Cancer Center has greatly benefited from the Hyundai Hope on Wheels program," he added.
A Memorable Experience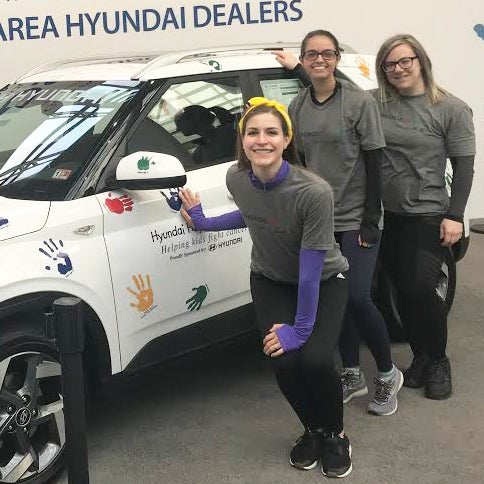 Team members anticipated having to set aside their physical comfort during the event. Finding the right position while remaining in contact with the car was a necessary part of successfully completing the competition. Team Georgetown Lombardi contestant Dana Hunter, a research outreach and assessment associate in Research Development Services, slept wedged under the car just behind the front wheel.
However, the experience transcended the test of endurance. "I thought this would be just a bit of fun and a good story to have, but it has been a really great experience," Hunter said. "I hope I have been able to do my part in raising awareness and hopefully bring a nice amount of research money to Georgetown."
"This has been such a unique and memorable experience," agreed teammate Emily Maisonet, a research technician in the Histopathology & Tissue Shared Resource. "We all rallied around the same goal, which is to walk away with a generous grant for pediatric cancer research. The opportunities these grants will offer will be incredibly important, and I'm proud to have had a small hand in it."